June 21th - June 23rd; Belgium, Germany
---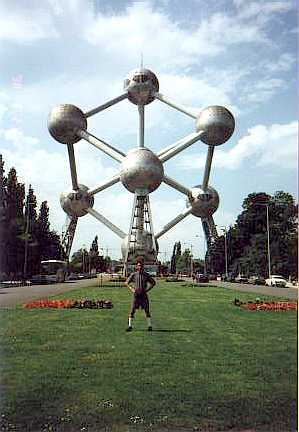 Belgium; Atomium
This structure was built during the 1958 Belgian
International Exposition. As you can guess, it is a
model of an enlarged atom. It doesn't look all
that big from this photo but check out the next
one.

---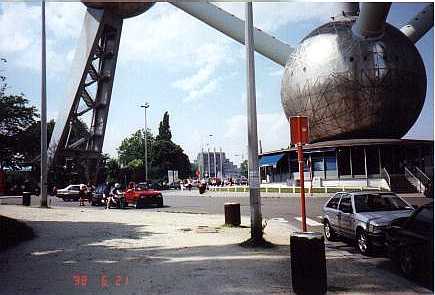 Belgium; Atomium
This is a little closer to structure which was huge. Apparently there was
an elevator which would take you up to the top for a view of the area
but I didn't get a chance to take it.

---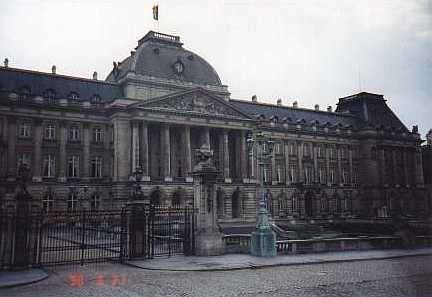 Brussels; House of Parliament
The Royal Palace was also in this area as well as large park. It was
pretty quiet as one would expect on a Sunday.

---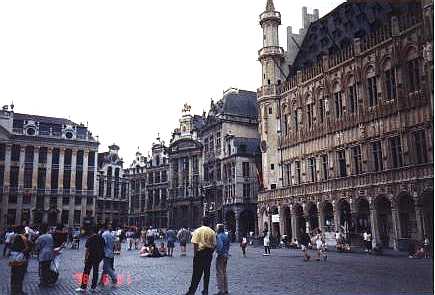 Brussels; Grand'Place
This is the ancient town center of Brussels and many of the buildings
seen in this photo are hundreds of years old.
place.

---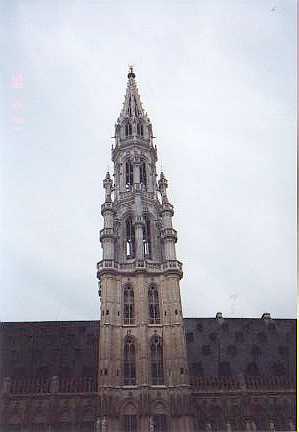 Brussels; Grand'Place
This is the famous Hôtel de Ville where the
Brussels city council meets. At the very top
(you can't see it from this photo) is a statue
of St. Michael who was the patron saint of the
city.

---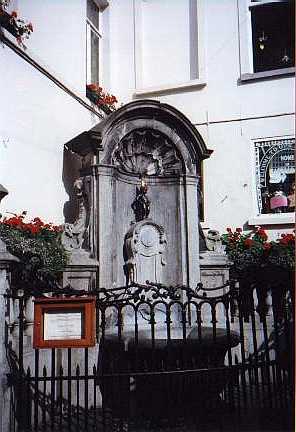 Brussels; Manneken-Pis
Literally translated as the "pissing boy". You can't
quite see it from this photo but it is a statue of
a little boy taking a leak. The locals are fond of
the statue and usually dress it up. In this photo
you can just barely make out a party hat on his
head.

---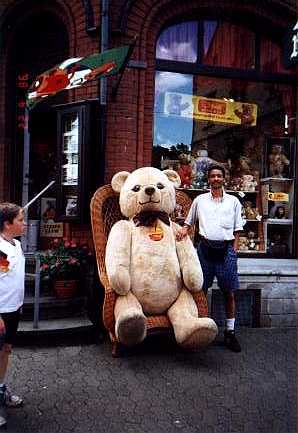 St. Goar
St. Goar is a nice little town just off the Rhine
in Germany. There were shops to buy beer
steins (I have one from a previous trip four years
ago) and yes, teddy bears. If you thought that
Beanie Babies were expensive check out the price tag
on this large bear --- 4,000 marks ($2,500 US)!
The shop itself sold Stieff teddy bears and even the
smaller ones were several hundred bucks.

---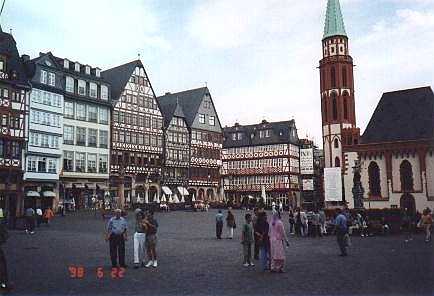 Frankfurt; Romerplatz
This is another medieval town center but the big difference that you
can notice compared to the one in Brussels is that all of the buildings are
relatively new. Frankfurt was heavily bombed during World War II and
many of the buildings were heavily damaged or destroyed.

---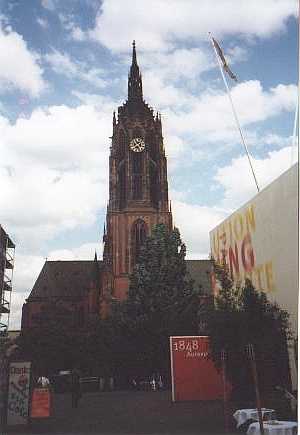 Frankfurt; Dom St. Bartholomew
Ah yes, another awesome cathedral to climb up!

---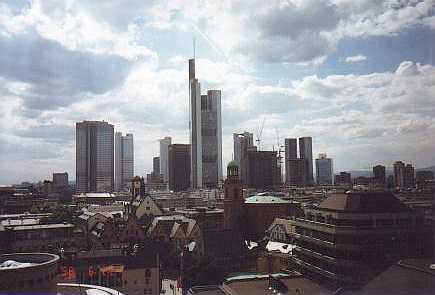 Frankfurt; top of Dom
For 3 marks, I climbed up to the top of the Dom and it offered a
fantastic panoramic view of Frankfurt. This is a photo of the skyscraper
filled financial district where the Bundesbank resides.

---
[Return to the Fiend's Summer Vacation Page]
[Return to the Fiend's SuperBear Page]