June 7th - June 11th; Scotland
---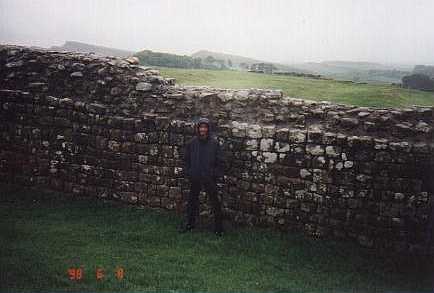 Scottish Border; Hadrian's Wall
It was a good thing I brought a good rain coat. My first foray into
Scotland was a wet one! This was part of the famous Roman
structures built in the second century to keep their soldiers busy. It
also kept out the fierce Picts who were native to the region and
remained independent from the Romans.

---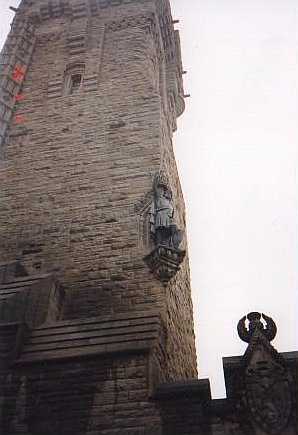 Stirling; Monument to William Wallace
Stirling was a nice little town off the beaten path.
Long before Braveheart, William Wallace's exploits
were celebrated by this 300 foot tower. The
statue featured on the tower is of Wallace.

---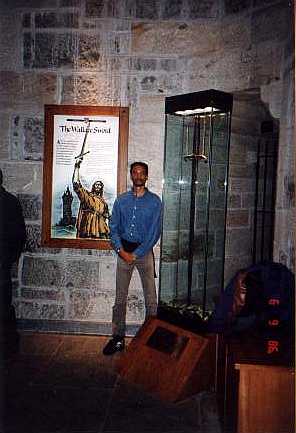 Stirling; The Wallace Sword
The sword that Wallace used was five and a half
feet long! Scholars speculate that Wallace would
have been about six and a half feet tall to wield
it (Mel Gibson was shorter by almost a foot).
The sword is stored in the Wallace Monument and
there were plenty of other exhibits that covered
the known events of his life including the famous
Battle of Stirling.

---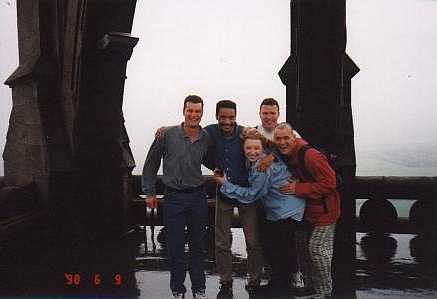 Stirling; Monument to Wallace
There were some great views at the very top of the monument but it
was not a good day to stay long because it was very windy and rather
cold.
---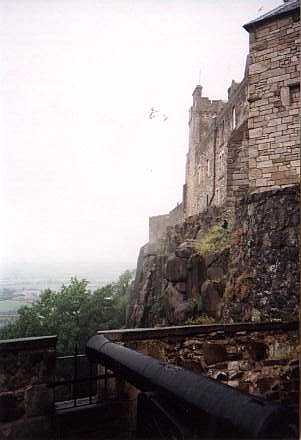 Stirling; Stirling Castle
A lot of important battles occurred over this
castle during the Scottish Wars of Independence.
---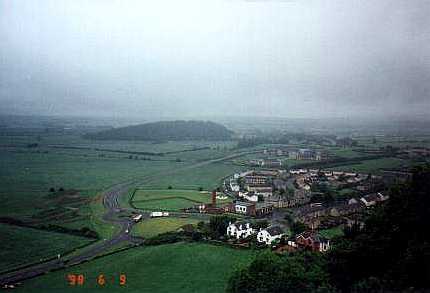 Stirling; Stirling Castle
This is a view from the castle. It is easy to see why the castle was of
such strategic importance. Not much chance of a sneak attack.

---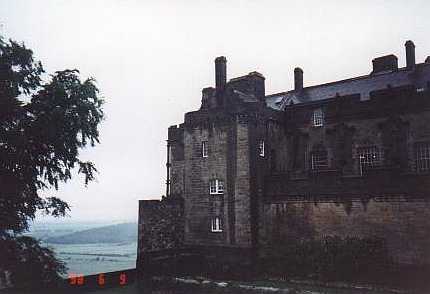 Stirling; Stirling Castle
The castle is centuries old and has been updated extensively in that
time.

---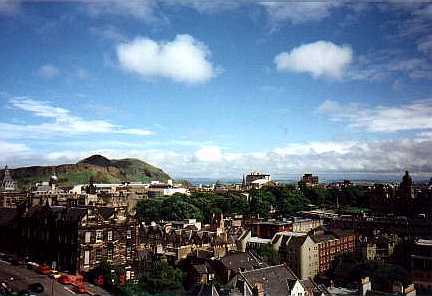 Edinburgh; Edinburgh Castle
This is a few from the castle on a rare sunny day. The photo can't
do justice to the actual view which allowed one to see far to the
horizon on all sides.

---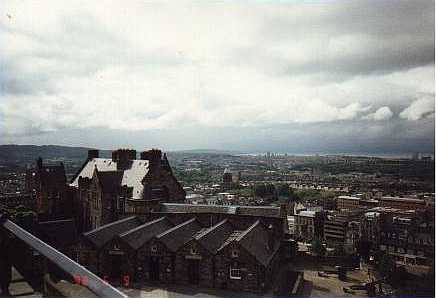 Edinburgh; Edinburgh Castle
Another view from the castle.

---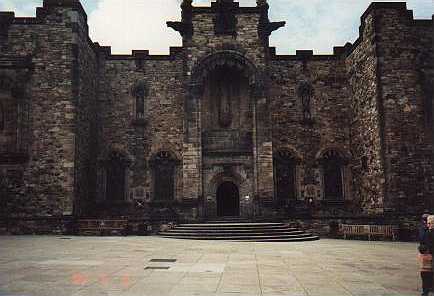 Edinburgh; Edinburgh Castle
This photo is from the interior court area. I got to check out the
Scottish crown jewels (no photos allowed) and the Stone of Scone
which was removed by England's Edward I in 1296 and not returned
until 1996!

---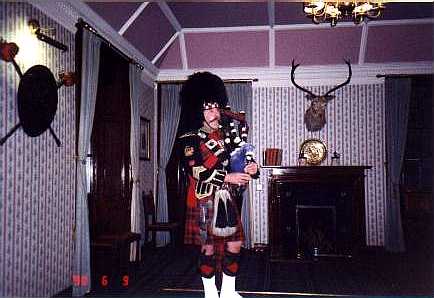 Edinburgh; Hawes Inn
No trip to Scotland would be complete without some bagpipes and
haggis! Yes, I ate the stuff which was supposed to be sheep entrails
among other things. It was really spicy but not too bad mixed with
potatoes and eaten rapidly. The bagpiper put on a great show.

---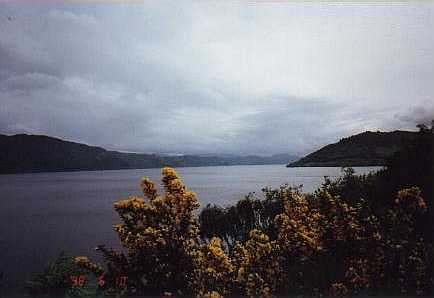 Near Inverness; Loch Ness
The famous loch (or lake) where the prehistoric monster is supposed
to live. I went to the "Nessie" museum to look at a few of the goofy
photos of the beast and it was clear that there a lot of folks
(especially the ones selling "Nessie" trinkets) are really into the myth.
Luckily, the loch is very, very murky so no one can disprove that the
monster exisits.

---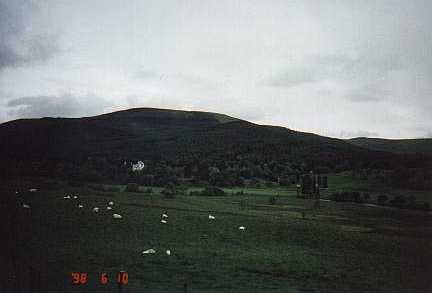 Near Fort Williams
The weather remained poor throughout my visit to Scotland, but the
countryside remained beautful. As a city kid, I've never seen so many
sheep (those little white dots in the photo) before. Everything was
green, green, green...the rainy weather does have some advantages
and I'm sure the sheep never run short on fresh grass to eat.

---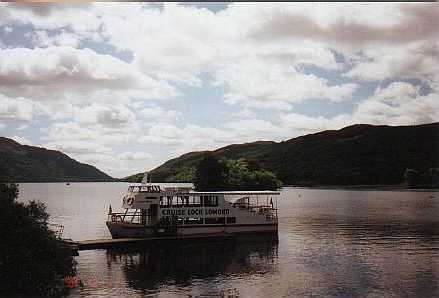 Loch Lomond
There wasn't a monster in this lake so I got to go on a nice cruise
through it while eating lunch.

---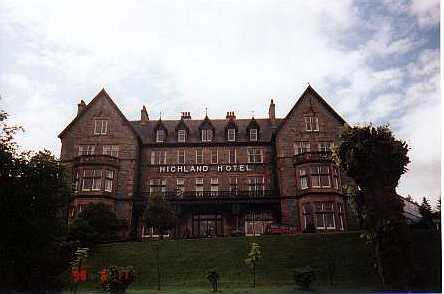 Fort William; Highland Hotel
A good old fashioned hotel. This high up north, the sun (if you could
see it) didn't set until 11pm! The view from my room overlooked Loch
Linnhe.

---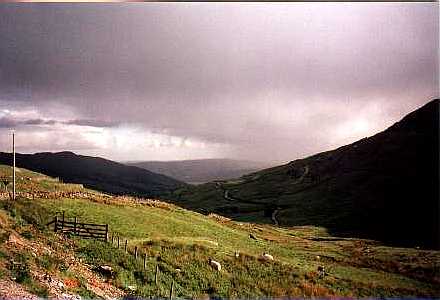 Scottish Highlands
An amazing country. Certainly a place to go to get away from the
congested cities. There was one place that allowed you to rent a dog
to go walking with you!

---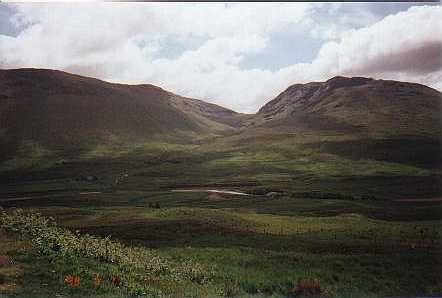 Scottish Highlands
There is no way that a few photos are going to depict the beauty of
this almost completely unspoiled region.

---
[Return to the Fiend's Summer Vacation Page]
[Return to the Fiend's SuperBear Page]