April Jobs Report Disappoints with BLS Fudging the Numbers

By the Curmudgeon with Victor Sperandeo
Introduction:
Hiring in the U.S. unexpectedly slowed in April, a sign the nation's economic recovery is not progressing as most analysts had forecast. Stagnant, much weaker-than-expected April 2021 payrolls and unemployment reconfirmed that the U.S. economy is not yet close to recovering from its pandemic-driven collapse.
With all the Biden administration's promises to regain jobs lost during the (still ongoing) pandemic, there were 8.2 million fewer Americans working compared with February 2020. At first glance, it's hard to conceive of a situation where employers are having trouble finding workers to fill positions.  However, there are reasons, which we enumerate in this post.

We look behind the numbers of the April jobs report and examine significant structural changes ongoing now in the U.S. economy. Victor adds his incisive comments and conclusions. 
Our End Quotes are particularly relevant as they relate to the U.S. government's secret Ponzi schemes, which Victor alludes to in his comments.
Review of the April 2021 Jobs Report (Curmudgeon):
In Victor's May 2020 post titled, "Sperandeo/Curmudgeon: The Hokium of a "V" Recovery and Stock Market Rally we stated that "widespread joblessness will cause a lasting strain for the economy to rebound."  That is clearly evident now.
The Bureau of Labor Statistics (BLS) reported on Friday, that non-farm payrolls (as per the Establishment Survey) increased 266,000 in the month, much less than the 1,000,000 expected.  The unemployment rate ticked up to 6.1% in April from 6% a month earlier.  However, it was likely much higher [1.] due to a surge in "Unemployed" misclassified by the BLS as "Employed." 
A broader measure of unemployment is estimated to be about 8.9%.  It includes people who have stopped looking for work since the onset of the pandemic or who may be misclassified in the BLS data.
The change in total nonfarm payroll employment for February was revised up by 68,000, from +468,000 to +536,000, and the change for March was revised down by 146,000, from +916,000 to +770,000. With these revisions, employment in February and March combined is 78,000 lower than previously reported (note that mainstream media journalists did not report this downgrade).
Note 1.  Shadowstats John Williams:
The BLS acknowledged continuing misclassification of some "unemployed" persons as "employed," in the Household Survey. The count of the understated unemployed had an "upside limit" of 1.2 million persons in April 2021, against 636,000 persons in March 2021. The difference would be a potential headline U.3 of 6.84% in April instead of today's headline 6.09%. Fully adjusted for COVID-19 disruptions, based on BLS side-surveys of Pandemic impact, and with more than six million people missing from the headline U.S. labor force, actual headline U.3 unemployment still should be well above 10%, the highest unemployment rate since before World War II, outside of the Pandemic and possibly at the trough of the 1982-1983 recession.
……………………………………………………………………….
"The weakness is totally baffling," said Thomas Simons, an economist with Jefferies. "Nothing in the lead-up to today suggested that we would see a weak number," he added.
"It turns out it's easier to put an economy into a coma than wake it up," Diane Swonk, chief economist for the accounting firm Grant Thornton, said of the disappointing report.
Behind the Headline Job Report Numbers:
In April, the number of persons jobless less than 5 weeks increased by 237,000 to 2.4 million, while the number of persons jobless 15 to 26 weeks declined by 188,000 to 1.2 million. The number of long-term unemployed (those jobless for 27 weeks or more), at 4.2 million, was essentially unchanged in April but is 3.1 million higher than in February 2020.  The number of discouraged workers, a subset of the marginally attached who believed that no jobs were available for them, was little changed at 565,000 in April but is 164,000 higher than in February 2020.
The supposedly "hot" manufacturing sector lost 18,000 jobs last month, even though consumer demand for goods has been strong.  Construction jobs were flat in April but are 196,000 below the February 2020 level.
While the manufacturing sector has bounced back, it has only added about 60% of the jobs lost during the pandemic.  This suggests many factories are ramping up automation in a way that allows them to do more with fewer workers.  "We gotta do more with less" has become the mantra of business management.
Leisure and hospitality added 331,000 jobs, but there were losses in temporary help, retailing, business support services, couriers and messengers.  Temporary help jobs declined by 111,000 in April and are 296,000 lower than in February 2020.
Some economists say that mismatches in the supply and demand for labor may be starting to hold back the U.S. economic recovery.
<![if !supportLists]>· <![endif]>After more than a year of the coronavirus pandemic, some workers may have cut ties with their former employers, moved, or are dealing with a reconfigured family situation that hinders their capacity to return to work. 
<![if !supportLists]>· <![endif]>Some public transport systems are running on limited schedules, curbing some workers' mobility. 
<![if !supportLists]>· <![endif]>Supply chain holdups are forcing factories and construction sites to slow production or even shut down for a while.
Some businesses are cautious about ramping up hiring, given the end of pandemic related uncertainty. Others are reporting they can't find enough workers due to: expanded unemployment benefits (a disincentive to actively search for a job), workers' fear of contracting Covid-19 and child-care burdens due to school closures.
GOP's Negative Reaction:
Republicans seized on the slowdown in job creation as evidence that President Biden's policies are failing to generate a rapid economic rebound despite widespread vaccinations and benefits to many families from a new round of stimulus checks.

"The Biden Burden on our economy is starting to have a devastating impact on hard-working families," said Steve Scalise, a senior Republican in the House of Representatives.
"Unless President Biden stops doubling down on his failed tax-and-spend agenda, unless he works with Republicans to rebuild our economy, his crisis-era policies will continue to trap Americans in a cycle of fear," said House Minority Leader Kevin McCarthy (R-CA).
"This is a stunning economic setback, and unequivocal proof that President Biden is sabotaging our jobs recovery with promises of higher taxes and regulation on local businesses that discourage hiring and drive jobs overseas," Rep. Kevin Brady (Texas), the top Republican on the tax-writing House Ways and Means Committee, said in a statement.
Great Reassessment of Work in the U.S.:
The Washington Post thinks that there may be a great reassessment going on in the U.S. economy. And it's happening on a lot of different levels.  For example, people are still hesitant to return to work until they are fully vaccinated, and their children are back in school and day care full time.
Corroborating that latter assessment is that all the job gains in April went to men. The number of women employed or looking for work fell by 64,000.  Since women disproportionately bear the brunt of taking care of children, they are hesitating to return to full-time employment. That's a reminder that child-care issues continue to be a drag on increased employment.
There is also growing evidence, both anecdotal and in surveys, that a lot of people want to do something different with their lives than they did before the pandemic. The coronavirus outbreak has had a dramatic psychological effect on workers.  As a result, many people are reassessing what they want to do and how they want to work, whether in an office, at home or some hybrid combination.
The types of jobs in the economy are changing and workers are taking a while to figure out what new jobs they want or what skills they need for different positions.
"Clearly, there are industries in both manufacturing and services that are eager to beef up staff as the pace of economic activity accelerates. But those efforts are being frustrated. In some cases, the problem is a mismatch in skills. You can't train a one-time courier on a bike to become an IT specialist overnight," said Bernard Baumohl, chief global economist at the Economic Outlook Group.
Among those who have jobs, people are rethinking their options. Front-line workers are reporting high levels of burnout, causing some to seek a new career path. There's also been a wave of retirements as workers over 50 quit because they don't want to return to teaching, home health care or other front-line jobs. Other over 50 workers have taken buy out packages or were laid off permanently.
More affluent Americans say they are retiring early because their retirement portfolios have surged in the past year and the pandemic has taught them that life is short. They don't want to spend as much time at a desk, even if it is safe.
Companies are also doing a reassessment of how many workers they need and in what capacities. Economists have been warning for months that some jobs won't come back, especially jobs like hotel check in desk workers, valets, toll booth collectors and some serving jobs that can be automated. There's also an ongoing decline in employment of administrative support staff. Temporary office help declined by 115,000 in April.
Clearly, the past year has fundamentally changed the economy and what many Americans want in their working life. This big reassessment - for companies and workers - is going to take a while to sort out and could continue to manifest itself in surprising ways.
……………………………………………………………………
Victor's Analysis of Jobs Report:
<![if !supportLineBreakNewLine]>
<![endif]>
Does 2+2=3?  It does for the U.S. government!  As I've been saying for years, "You can't trust ANY government numbers unless you verify them with your own research."
Let's examine the BLS fudging of the current real vs seasonal adjusted payroll numbers to decipher this head scratching riddle.
The BLS says that in April +266,000 non-farm payroll jobs were added (1 million were estimated by economists). These are seasonally adjusted numbers.
However, the Birth/Death model (BDM) numbers are "NOT seasonally adjusted."  The April BDM estimate shows a net +298,000 new jobs (with adjustment? added). That number is derived from the start-up of new business vs. the closing of old businesses in April 2021. 
How can the BLS say that more BDM jobs were created in April than all new hiring jobs combined for that month?
Also, the total nonfarm over-the-month change (preliminary estimate including BDM assumed, or made-up jobs) in April totaled 1,089,000.  Do you really believe that?
Why would the BLS put out these distorted job numbers which exaggerate the jobs actually created last month?  I believe it's to prevent criticism of the federal government spending trillions (largely financed by the Fed's "printing press" or "keystroke entries") without achieving the desired result of REAL job creation. 
This nascent Modern Monetary Theory (MMT) is now being used to finance trillion-dollar U.S. government budget deficits.
Why did the greatest miss of estimating jobs in U.S. history cause the stock markets to rally Friday?  It's because of the belief that Fed "money printing" will continue with no tapering anytime soon.
U.S. Government Spending (Victor):
It looks like $10 trillion dollars in new federal government spending for fiscal 2021, but the actual amount depends on what bills are passed through reconciliation in the U.S. Congress.
Why is the Biden administration getting GOP condemnation for its Niagara Falls - like spending, while the real GDP estimate for the 1st quarter was +6.4% and 2nd quarter estimates still higher?  It's likely because the government spending programs are NOT TO HELP THE REAL ECONOMY.  Instead, they're an integral part of the Democratic party's socialist agenda to spend, spend, spend. Meanwhile, the GOP's relationship with big business may be changing, but apparently not for H-1B visas.
Sidebar- Selling Out American Workers:
H-1B visas are for high skilled, lower paid foreign workers (usually from India) who are mostly software programmers. 
In December 2020, Utah Senator Mike Lee (R) succeeded in passing legislation in the Senate that would eliminate per-country-caps on recipients of H-1B visas, a policy change that would effectively monopolize the visa system for nationals of large countries such as India.
The Fairness for High-Skilled Immigrants Act has been called the greatest corporate welfare program for Big Tech in recent memory. Big Tech monopolies such as Apple, Google and Microsoft have fervently lobbied in favor of eliminating per-country H-1B Visa caps, seeking to replace their American workforces with de facto indentured workers who accept lower wages and worse working conditions. The pervasive use of the H-1B visa in the American technology industry has displaced countless American workers from their careers.
………………………………………………………………….                                                                                                                                          
Victor's Conclusions:
The U.S. government (in this case the BLS) continues to use "Tokyo Rose" propaganda tactics for accomplishing their agenda. This is backed by the so-called mainstream media, who never criticizes the current administration, because they have the same goals, e.g., open borders for low wage workers, no tariffs for imported cheap goods, illegal immigration, and strong support of H-1B visas (see Sidebar above).
Whom do you think our Senate and House members represent - U.S. citizens or the large multi-national corporations?
End Quotes:
1. Douglas Rushkoff:
<![if !vml]>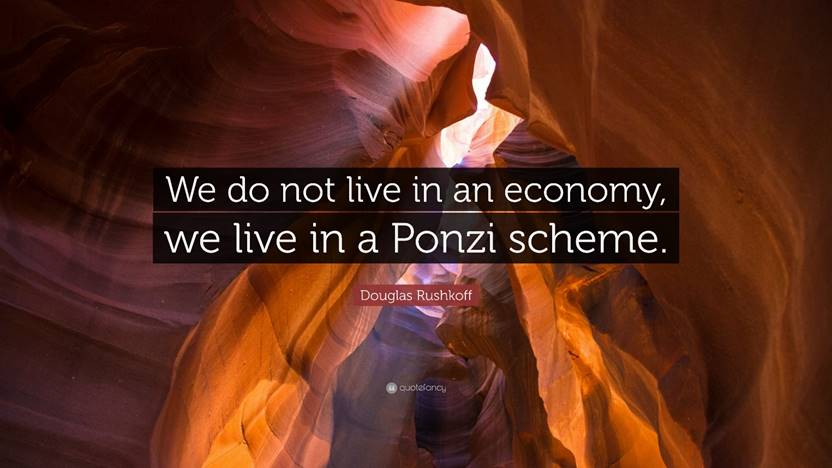 <![endif]>

2. Michael Zuckhoff:
<![if !vml]>
<![endif]>

…………………………………………………………………….
Stay safe, be healthy, optimism is the word, and till next time……
The Curmudgeon
ajwdct@gmail.com
Follow the Curmudgeon on Twitter @ajwdct247
Curmudgeon is a retired investment professional. He has been involved in financial markets since 1968 (yes, he cut his teeth on the 1968-1974 bear market), became an SEC Registered Investment Advisor in 1995, and received the Chartered Financial Analyst designation from AIMR (now CFA Institute) in 1996. He managed hedged equity and alternative (non-correlated) investment accounts for clients from 1992-2005.
Victor Sperandeo is a historian, economist and financial innovator who has re-invented himself and the companies he's owned (since 1971) to profit in the ever changing and arcane world of markets, economies and government policies.  Victor started his Wall Street career in 1966 and began trading for a living in 1968. As President and CEO of Alpha Financial Technologies LLC, Sperandeo oversees the firm's research and development platform, which is used to create innovative solutions for different futures markets, risk parameters and other factors.
Copyright © 2021 by the Curmudgeon and Marc Sexton. All rights reserved.
Readers are PROHIBITED from duplicating, copying, or reproducing article(s) written by The Curmudgeon and Victor Sperandeo without providing the URL of the original posted article(s).