Technology Fab Five Biggest Winners from Covid-19 Pandemic

By the Curmudgeon with Victor Sperandeo
Introduction:
The tech industry is actually two industries. There are the five tech giants, who operate on an almost unimaginable scale, and then all the others. 
Alphabet, Amazon, Apple, Facebook, and Microsoft all reported earnings for the March quarter this week with spectacular numbers that show how dominant they are. In many cases, relatively small business units buried within the tech giants are generating more revenue than many name brand tech companies.
Amid the euphoria on Wall Street, concerns about potential intervention by regulators to curb the power and profits of big tech were quickly forgotten. Shares in all but Apple were at or very close to all-time highs after the latest numbers were released this past week.
When we last wrote about this topic - Tech Companies Dominate the Stock Market but For How Long? - we were somewhat skeptical of their continued dominance:  "The big tech companies could face severe monopoly-like restrictions or could be broken up into smaller pieces, such that they would no longer have the same scale and power they have today."
Now, we're not so sure big tech can be stopped anytime in the near future.  Their growth and dominance continue to accelerate in defiance of the law of large numbers. We examine that and more in this week's blog post. Please read Victor's Conclusions and our End Quote, which provide provocative food for thought.
Recap of Tech Fab Five Financial Results:
The past week, the 1st quarter 2021 financial results from Apple, Microsoft, Amazon, Facebook, and Google-parent Alphabet Inc. recorded revenue growth near or above its fastest pace in years.
Those five tech giants set records for sales and profits:
<![if !supportLists]>· <![endif]>Apple, the world's most highly valued company, increased revenues by 54 percent to the highest level ever for the first three months of 2021.
<![if !supportLists]>· <![endif]>Amazon logged its fourth straight record quarterly profit—a stretch when its total earnings exceeded those of the previous three years combined. 
<![if !supportLists]>· <![endif]>Alphabet Inc. posted revenue of $55.31 billion, up 34 percent from a year earlier, and net profit more than doubled to $17.93 billion in the first quarter. It was the third straight quarter of record profit for the company.  Advertising revenue rose 32 percent in the quarter spurred by strong demand for search marketing.
<![if !supportLists]>· <![endif]>Microsoft's revenue rose to $41.7 billion for the fiscal third quarter, up 19 percent from a year earlier, its biggest quarterly increase since 2018. Profits jumped 44 percent to $15.5 billion.  Sales of commercial cloud products generated $17.7 billion in revenue, up 33 percent from a year earlier. Revenue from Azure, Microsoft's flagship cloud computing product, rose 50 percent, while commercial Office 365 products grew 22 percent as corporate customers embraced running their computing and other tools on the cloud.
<![if !supportLists]>· <![endif]>Facebook reported revenue of $26.17 billion for the quarter, which was up 48 percent compared with a year earlier. Facebook's net income grew 94 percent to $9.5 billion, from $4.9 billion a year prior.
"It's been an unbelievable tech reporting season for the biggest of the big," said Jim Tierney, a fund manager at AllianceBernstein. What an understatement!
The combined market value for the five big tech companies is now over $8 trillion, accounting for nearly a quarter of the total value of all the companies in the S&P 500. That is nearly double the percentage of five years ago.
Tech Giants Revenue per Minute:
CNBC looked at the most recent quarterly earnings reports those companies filed with the SEC in recent weeks.  It then computed how much revenue they each made for every minute of the first three months of 2021. (There were 90 days, and 129,600 minutes, in the first quarter of 2021.)
<![if !supportLists]>1. <![endif]>Amazon: $837,330.25 revenue per minute
<![if !supportLists]>2. <![endif]>Apple: $691,234.57 per minute
<![if !supportLists]>3. <![endif]>Alphabet: $426,805.56 per minute
<![if !supportLists]>4. <![endif]>Microsoft: $321,805.56 per minute
<![if !supportLists]>5. <![endif]>Facebook: $201,936.73 per minute
The company average revenue per minute was $373,606 in the 1st quarter, slightly less than they averaged in the previous quarter. Both Apple and Amazon posted record revenues in their final quarters of 2020, helping to boost the overall average, with Amazon pulling in over $950,000 in revenue per minute in that quarter.
In 2021′s 1st quarter, Amazon led big tech by pulling in more than $108.5 billion in revenue. That breaks down to $837,330 per minute during that three-month period.  Amazon topped $100 billion in revenue for the second quarter in a row.  Amazon has a market value of $1.76 trillion.
Amazon founder Jeff Bezos (who announced he's stepping down as Amazon CEO during the company's last quarterly earnings report) has even seen his personal net worth top $200 billion.  He is now the world's richest man, eclipsing Elon Musk who briefly held that title earlier this year.
Apple followed Amazon in the breakdown of revenue-per-minute, pulling in $691,234 every minute of the first quarter of 2021. The company posted revenue of $89.6 billion for that quarter, with iPhone sales that grew by 65.5% from the same period a year earlier.  Apple also has the largest market value of any company in the world, at more than $2.2 trillion, as of April 30th.
Apple's "wearables, home and accessories" unit, which includes Apple Watch, audio add-ons such as AirPods and HomePods, and other home devices such as Apple TV, booked more than $ 7.8 billion in revenue in the last quarter. That is more than HP's laptop business. HP's last quarter ended January 31st, as opposed to Apple's quarter which ended March 31st, covered the holiday buying season. Yet it only accounts for 8.7% of Apple's overall sales.
Google's parent company, Alphabet, which has a market cap of about $1.6 trillion, pulled in $426,805 per minute, based on its most recent quarterly results.  YouTube, the video platform of Google, grew advertising revenue 49% in the last quarter.  Its revenues this year are set to top those of Netflix - once dubbed a peer in a collection of "FAANG" stocks.  Nevertheless, YouTube is a relatively small business for Google, accounting for only 13% of its advertising revenue.
Microsoft, with a market cap of $1.9 trillion, reported $41.7 billion in quarterly revenue this past week, an increase of 19%. That translated to $321,805 in revenue per minute.  
"Over a year into the pandemic, digital adoption curves aren't slowing down. They're accelerating," said Satya Nadella, chief executive of Microsoft.
Microsoft's LinkedIn has booked over $3 billion in advertising revenue over the past year, more than that of Snap or Pinterest. Yet that's only a drop in the bucket for Microsoft, which has made more than $121 billion in advertising revenue in the last nine months.
Facebook, with $925 billion market value, had $201,936 of revenue per minute and $26.2 billion in total revenue for the 1st quarter of 2021.  Facebook, Instagram, Messenger or WhatsApp (the latter three are owned by Facebook) were used at least once by 3.45 billion people within the last month. That's up nearly a sixth from the 2.99 billion figure a year earlier. As people stuck at home lived more of their lives online and sought out more information and interaction, the company's seemingly ubiquitous reach grew even further.
<![if !vml]> <![endif]>
 
……………………………………………………………………………
Sidebar:  Cloud Computing Fuels Revenues and Profits
Amazon's market-leading AWS cloud business grew revenue 32% in the first quarter, a faster pace than analysts had expected and accelerating from 28% growth in the fourth quarter.  Microsoft's revenue has skyrocketed since it invested billions of dollars to build a massive, interconnected cloud computing platform.  Revenues for its Azure cloud offering were up 50% in the quarter. Meanwhile, revenues at Google's Cloud business grew 46% this past quarter.  However, Google continues to be a distant third to Amazon and Microsoft in the cloud business.
All three cloud providers are making a big push into edge computing and 5G "cloud native" core networks.   That effectively makes them leaders in those new tech markets, with the traditional network providers playing a subservient role.  For example, Dish Network will build its 5G core network using the AWS cloud infrastructure and services.
These big three cloud businesses are in reality massive cloud (Internet) resident data centers with high-speed interconnections. There's no reason to think growth will slow any time soon. Were they stand-alone businesses, they would be the three largest enterprise-software entities in the world.
<![if !vml]>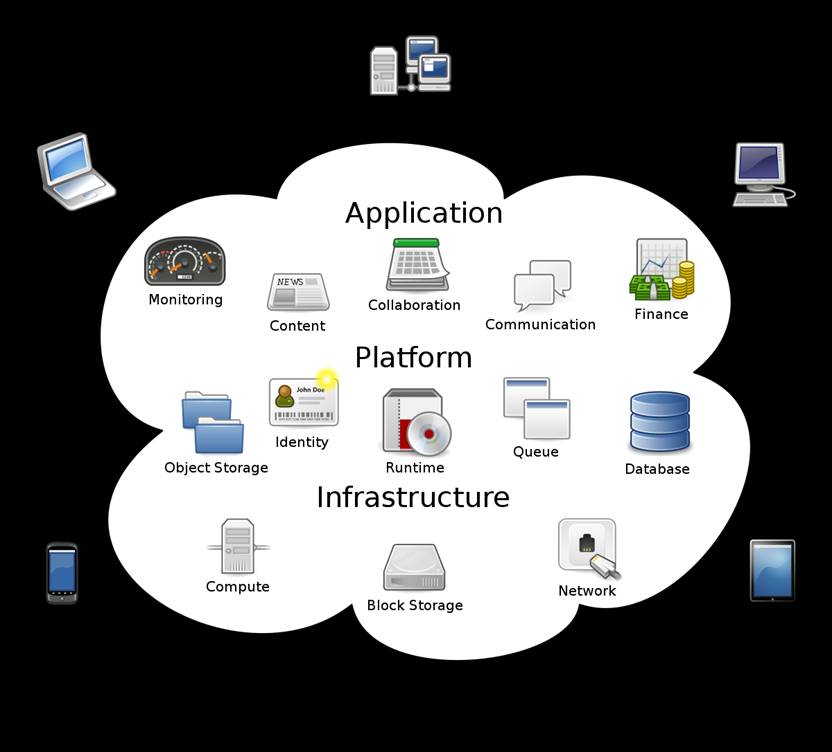 <![endif]>

Cloud Computing offers Infrastructure, Platform and Applications as Services.  It also offers Storage as a Service.
……………………………………………………………………………
Digital Advertising Keeps Growing:
Early in the pandemic, it looked like Facebook and Alphabet would be badly hurt by a big decrease in advertising, as key industry verticals such as travel, and retail retrenched.  But that really didn't happen. 
Facebook's revenue [1.] in the quarter beat Street estimates by almost $2.5 billion, while Alphabet topped consensus by $3.7 billion. Amazon's "other" revenue category, almost entirely its ad business, was up 72% in the quarter. As the economy reopens, retailers, restaurants, airlines, hotels, and other businesses that suffered are going to be pushing to aggressively lure back customers. And the recovery is just getting started.
Note 1.  In 2020, about 97.9% of Facebook's global revenue was generated from advertising, whereas only around two percent was generated by payments and other fees revenue.
"Pre-pandemic, we were seeing a deceleration in digital advertising growth, but the pandemic has juggled a lot of things," said Brian Wieser, head of business intelligence at GroupM, part of advertising group WPP.  Brand owners developed a new appreciation of digital advertising during the pandemic as they became more reliant on online sales, he added, while the many new businesses formed over the past year have turned naturally to online channels to find a market.
Whatever Happened to the Law of Large Numbers?
As companies grow their revenues and profits, they've previously encountered the "law of large numbers," which (for finance) states that a large entity which is growing rapidly cannot maintain that growth pace. That's happened before to other large tech companies, like IBM, Cisco Systems, Intel, HP and many others, where growth slowed precipitously.
Conventional wisdom dictates that generating $500 million in new revenue is a lot harder than generating $50 million.  Thereby, it's much harder to grow 50% from $1 billion than from $100 million.
However, the nature of today's huge technology platforms (cloud, mobile, video, consumer electronics, app stores, etc.) turns that law upside down. When a tech business achieves truly massive scale — like the fab five tech giants with multiple businesses that reach more than 1 billion customers — it's easier to grow by collecting additional streams of revenue from a massive installed base than it is to invent new business areas from scratch or attract customers from bigger competitors.
The tech behemoths acquire data from their already-massive operations to learn about their customers to sell them new products effectively (i.e., targeted advertising). They also leverage existing customer relationships to sell add-on products. That, in effect, stifles competition.  
They can use their cash flow or stock to buy promising new upstarts or clone them.  Apple also buys its own stock, thereby artificially increasing earnings per share.
Nothing Makes a Dent:
It certainly seems that nothing can stop the tech fab five.  They brush off congressional hearings, fines from regulators, antitrust investigations, complaints from disgruntled employees, age discrimination lawsuits, unionization drives and negative press like so many mosquitoes.
When the Covid-19 pandemic slammed into the economy and shut down most of the world, they thrived as people worked and entertained themselves on-line. Now that Covid restrictions are easing up in the U.S., the tech giants continue to thrive as evidenced by their most recent earnings reports.
"Consumers once valued choice, but what they value now is dependability," said Gene Munster of Loup Ventures. "That has led them to concentrate more of their attention and spending on a handful of familiar, easy-to-use platforms like the iPhone, Google's search engine and Facebook's Instagram," he added.  Those deeply ingrained "screen habits" have come to play a central part in all facets of life.
<![if !supportLineBreakNewLine]>
<![endif]>
What Could be Next:
Nevada Governor Sisolak has proposed legislation for consideration in the 2021 Legislative Session to authorize the establishment of "Innovation Zones," a unique form of local government on private land. 
To lure new industries to Nevada, the governor proposed letting technology companies establish such "Innovation Zones" with powers similar to those of local government, if they commit to invest $1.25 billion and possess at least 78 square miles (202 square kilometers) of land.
That could set a dangerous precedent whereby tech companies set up their own local governments which would further entrench their dominance.
Victor's Conclusions:
What can one say?  The numbers are extraordinary. It implies the bulk of the money and power in the U.S. is flowing into these effective tech monopolies.    The newly created wealth is being used for stock buybacks, acquisitions, and to expand their already humungous platforms.
This distortion of wealth may continue till the markets involved will be owned by just a few individuals.   That power will cause an oligopoly so large that government may be unable to change it.
What looks good on paper is a systematic risk to society. How does this concentration of the tech business occur with the Sherman anti-trust law on the books?  The companies involved must own the lawmakers.
End Quote:
"Technological progress is like an axe in the hands of a pathological criminal."   Albert Einstein
……………………………………………………………………………….
Stay safe, be healthy, optimism is the word, and till next time……
The Curmudgeon
ajwdct@gmail.com
Follow the Curmudgeon on Twitter @ajwdct247
Curmudgeon is a retired investment professional. He has been involved in financial markets since 1968 (yes, he cut his teeth on the 1968-1974 bear market), became an SEC Registered Investment Advisor in 1995, and received the Chartered Financial Analyst designation from AIMR (now CFA Institute) in 1996. He managed hedged equity and alternative (non-correlated) investment accounts for clients from 1992-2005.
Victor Sperandeo is a historian, economist and financial innovator who has re-invented himself and the companies he's owned (since 1971) to profit in the ever changing and arcane world of markets, economies and government policies.  Victor started his Wall Street career in 1966 and began trading for a living in 1968. As President and CEO of Alpha Financial Technologies LLC, Sperandeo oversees the firm's research and development platform, which is used to create innovative solutions for different futures markets, risk parameters and other factors.
Copyright © 2021 by the Curmudgeon and Marc Sexton. All rights reserved.
Readers are PROHIBITED from duplicating, copying, or reproducing article(s) written by The Curmudgeon and Victor Sperandeo without providing the URL of the original posted article(s).