China's Economy Outpaces All Other Developed Countries in 2020
<![if !supportLineBreakNewLine]>
<![endif]>
By the Curmudgeon
Introduction:
What Coronavirus?  China's economy ended last year on a high note – as if there was no pandemic or lockdowns in 2020. 4th Quarter growth was reported at a very impressive 6.5% year on year (YoY), bringing the country's overall gross domestic product (GDP) growth for all of 2020 to 2.3%.
-->China is the only developed country to avoid an economic contraction last year!
In this brief post, we look behind China's numbers and provide analysis and commentary.
Yes, we know many of you don't trust any economic statistics from the Communist controlled country.  We share your concern.
For example, the government said it created almost 12 million new urban jobs last year.  But the official jobless rate only tracks people who have been resident in cities for at least six months.  The millions of temporary or migrant workers that didn't return to urban areas after lockdowns were lifted are not counted as unemployed.  Yet official data showed the number of rural migrant workers dropping by 5.2 million in 2020 from 2019.
Analysis and Perspective of China's Economy:
Recall that China GDP declined in early 2020 (-6.6% in the 1st Quarter) for the first time in more than four decades after authorities imposed an extensive lockdown to stem the pandemic's initial outbreak. After effectively controlling the spread of the virus, China's economy recovered quickly.  Indeed, the pace of China's recovery exceeded expectations, as the IMF and World Bank had predicted 1.85% and 2.0% growth for 2020 in their latest economic outlooks, respectively.
The 6.5% 4th Quarter growth was the highest of any quarter since 2018.  Nonetheless, the 2.3% growth for all of 2020 was the worst YoY GDP result since 1976.  The chart below clearly shows a "V" recovery for China's economy, probably the only country that's achieved such a sharp rebound.
<![if !vml]>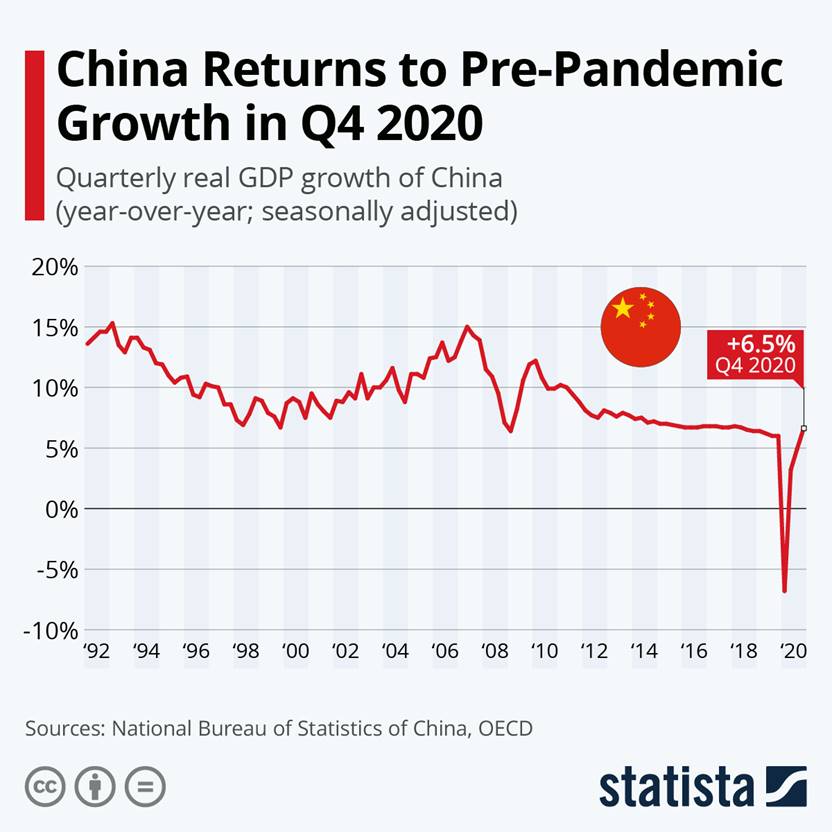 <![endif]>

The GDP figures were released days after China recorded its highest-ever monthly trade surplus in December, stoked by three consecutive months of double-digit exports growth. Exports, which have been supported by demand for medical equipment and lockdown-related products, rose 18% last month compared with the same period in the previous year.
"Amid all the noises on de-coupling and de-globalization, somewhat unexpectedly, the pandemic has deepened the ties between China and the rest of the world," wrote Larry Hu, chief China economist for Macquarie Capital, in a research report for clients.
Industrial production rose a brisk 7.3% in December, 7.1% in the 4th Quarter compared with 5.8% in the previous quarter.  Indeed, China has become an industrial powerhouse as its industrial economy hit new records in 2020. Crude steel output rose above 1 billion tons, and the production of rolled steel, pig iron, and aluminum also hit new highs as exports and investment in infrastructure and real-estate climbed, spurring demand for metals.
"China's economy seems to be firing consistently on all cylinders," said Eswar Prasad, a China finance expert at Cornell University, who added that it was "leaving other major economies in the dust."
Ning Jizhe, head of the National Bureau of Statistics, was not as sanguine.  He said the economy "recovered steadily" last year but cautioned that the "changing epidemic dynamics and external environment pose a multitude of uncertainties and that the foundation for economic recovery is yet to be consolidated."
Retail sales have lagged behind the industrial sector, adding 4.6% in the 4th Quarter. December's reading was also 4.6% which was a bit below the 5% per cent year-on-year growth in November and below expectations.  That underscores the reality that China cannot yet rely on its domestic market as much as it would like to.
More politically troubling for China's Communist Party (CCP) is that income inequality has widened substantially in recent years.  Bloomberg reports that the poorest Chinese still earn only a fraction of the income of the wealthy.  The richest 20% of Chinese had an average disposable income of more than 80,000 yuan ($12,000) last year. That was more than triple the median and 10 times what the poorest 20% received, according to data released by China's National Bureau of Statistics.

Stronger Economic Growth Forecasts:
Economists at Credit Suisse upgraded their forecasts for China's 2021 growth to 7.1% from 5.6%, noting domestic consumption as the main driver of growth. 
-->That would be quite a change as retail sales are slowing as noted above.
Chaoping Zhu, global market strategist at JPMorgan Asset Management, suggested that domestic economic activities are "likely to improve in 2021" with further support from a global economic recovery. "Particularly, in the first quarter of 2021, we expect to see strong growth readings as the escalating pandemic control measures start to take effect," he told the Financial Times.
The International Monetary Fund (IMF) said this month that China should maintain some policy support for the economy this year, but steps are needed to spur private demand and achieve more balanced growth over the medium term.
Nomura Holdings had estimated China's economy would surpass the U.S.'s in 2030, but China's economic performance in 2020 caused the firm to shorten that timeline to 2028, extrapolating from International Monetary Fund projections, or to as early as 2026 if renminbi appreciation continues.
China's GDP will grow 5.7% per year until 2025, followed by 4.5% annually until 2030, CEBR estimates, while the U.S. economy will grow 1.9% per year from 2022 to 2024 and then 1.6% per year "for the rest of the forecast horizon."
China Wins Trade War with U.S.:
We've commented on this topic extensively in the context of the so-called U.S. - China "trade deal."  Please reference previous Curmudgeon posts, like this one and this one.  China's blow out export numbers "seal the deal" in that China's trade relationship with the United States has become more imbalanced than ever. 
In particular, China's trade surplus with the U.S. rose to $317 billion in 2020, a 7% increase from the year prior and the second highest amount on record, according to Iris Pang, chief economist for Greater China at ING. The amount is just $7 billion shy of 2018 levels, when Trump launched a blistering trade war to right what he called a lopsided relationship with the world's second largest economy.
"Judged by the surge of U.S. imports from China in 2020, it seems fair to say that Trump's trade war with China has failed," said Louis Kuijs, head of Asia economics at Oxford Economics.
"After having recovered from its own Covid-19 crisis, China was open for business when the pandemic triggered huge demand in the U.S. (and other countries) for Covid-19 related goods.  As [China] plays a critical role in many supply chains and remains a fundamentally very competitive place to produce, it is much easier said than done to 'decouple' from it," Kuijs added.
Closing Quotes:
"The pandemic dealt a much larger blow to the U.S. economy than to China's economy. Time will tell, but in our view, there is a high likelihood that 2026 will be the milestone at which China re-emerges as the world's largest economy."  Nomura Holdings Report to clients.
"For some time, an overarching theme of global economics has been the economic and soft power struggle between the United States and China.  The COVID-19 pandemic and corresponding economic fallout have certainly tipped this rivalry in China's favor." CEBR report.
                                                                                                   
Good health, stay calm, safe, persevere under stress, and till next time….
The Curmudgeon
ajwdct@gmail.com
Follow the Curmudgeon on Twitter @ajwdct247
Curmudgeon is a retired investment professional. He has been involved in financial markets since 1968 (yes, he cut his teeth on the 1968-1974 bear market), became an SEC Registered Investment Advisor in 1995, and received the Chartered Financial Analyst designation from AIMR (now CFA Institute) in 1996. He managed hedged equity and alternative (non-correlated) investment accounts for clients from 1992-2005.
Victor Sperandeo is a historian, economist and financial innovator who has re-invented himself and the companies he's owned (since 1971) to profit in the ever changing and arcane world of markets, economies and government policies.  Victor started his Wall Street career in 1966 and began trading for a living in 1968. As President and CEO of Alpha Financial Technologies LLC, Sperandeo oversees the firm's research and development platform, which is used to create innovative solutions for different futures markets, risk parameters and other factors.
Copyright © 2021 by the Curmudgeon and Marc Sexton. All rights reserved.
Readers are PROHIBITED from duplicating, copying, or reproducing article(s) written by The Curmudgeon and Victor Sperandeo without providing the URL of the original posted article(s).