U.S. – China Trade Agreements; Will a New Administration Have Better Luck?
By the Curmudgeon
Introduction:
In July 2020 we wrote about last January's highly touted U.S. - China trade deal and reported that the results had been quite disappointing.  We now conclude the deal was an outright failure, primarily because of China's non-compliance. 
Let's first examine the origins of the trade war, the terms of the trade pact and an assessment of its success or failure.  The expiration of exclusions for China tariffs as well as President elect Biden's position on same are detailed. The NYSE delisting of China state owned telecommunications companies and the way they're controlled by China's Communist Party is also described.
Finally, conclusions from the Brookings Institute are presented along with the Curmudgeon's main gripe about the deteriorating U.S. - China trade relationship.
Origins of the U.S. - China Trade War:
President Trump launched the U.S. - China trade war to pressure Beijing to implement significant changes to aspects of its economic system that facilitate unfair Chinese trade practices, including forced technology transfer, limited market access, intellectual property theft, and subsidies to state-owned enterprises. Trump argued that unilateral tariffs would shrink the U.S. trade deficit with China and cause multi-national companies to bring manufacturing jobs back to the United States.
Between July 2018 and August 2019, the U.S. announced plans to impose tariffs on more than $550 billion of Chinese products, and China retaliated with tariffs on more than $185 billion of U.S. goods. 
A September 2019 study by Moody's Analytics found that the trade war had already cost the U.S. economy nearly 300,000 jobs and an estimated 0.3% of real GDP. Other studies put the cost to U.S. GDP at about 0.7%. A 2019 report from Bloomberg Economics estimated that the trade war would cost the U.S. economy $316 billion by the end of 2020, while more recent research from the Federal Reserve Bank of New York and Columbia University found that U.S. companies lost at least $1.7 trillion in the price of their stocks as a result of U.S. tariffs imposed on imports from China.
Capsule Summary of Trade Deal:
Signed with great fanfare in January 2020, the "Economic and Trade Agreement Between the United States of America and the People's Republic of China: Phase One" went into effect on February 14, 2020.
The U.S.-China trade agreement called for China to purchase a combined $200 billion of certain U.S. goods and services over 2020 and 2021 from 2017 levels. China committed to purchase no less than an additional $63.9 billion of covered goods from the United States by the end of 2020 relative to the 2017 baseline. Defining the 2017 baseline using US export statistics implies a 2020 target of $159 billion.  Nothing in the text of the agreement indicates China must meet anything other than the year-end targets.  Also, the U.S. tariffs placed on certain imported goods from China were not reduced or removed by the trade pact (more below).
A complete implementation of the trade deal was intended to help both countries while paving the way for Phase 2 talks on other key issues such as subsidies, cybersecurity and digital trade, officials said at the time.
"Amid increasing bilateral tensions across the relationship, working together to improve trade and grow commerce can provide important benefits to both economies and help to improve relations," they wrote in the letter.
Missing from the trade deal was any forward movement on subsidies, state-owned enterprises, and China's uses of industrial policy to advantage its own firms over foreign competitors. Those topics were to be addressed in Phase 2 of the deal, which is now on hold pending actions of the Biden administration (see subheading below).
Tracking the Trade Pact:
The Peterson Institute of International Economics (PIIE) notes that through November 2020, U.S. exports to China of products covered by the trade pact were $82.0 billion, compared with a year-to-date target of $141.7 billion. Through the first eleven months of 2020, China's purchases of all covered products were thus only at 58% of their year-to-date targets.
The charts below track China's monthly purchases of U.S. goods covered by the deal, relying on data from the U.S. Census Bureau (for U.S. exports). It then compares those purchases with the legal agreement's annual targets, prorated on a monthly basis based on seasonal adjustments, above a baseline scenario.
<![if !vml]>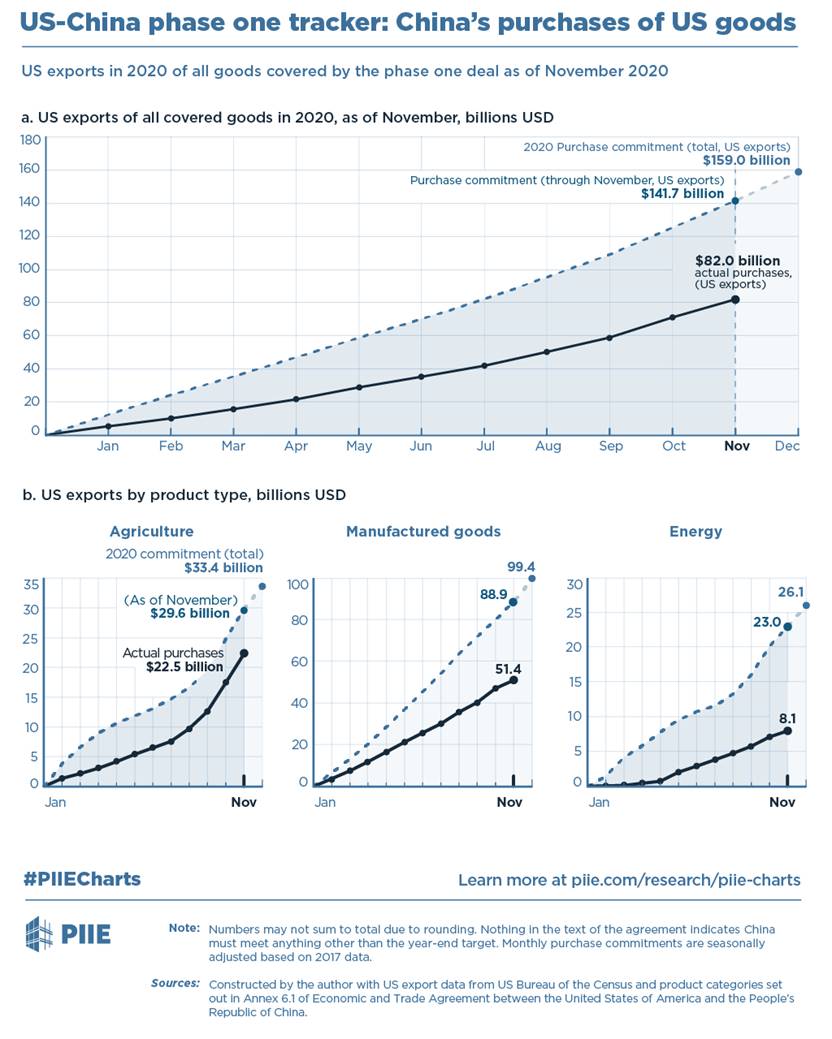 <![endif]>

Tariff Exclusions on China Exports to the U.S. Have Expired!
The U.S. began placing tariffs on more than $360 billion of Chinese goods in 2018.  Those tariffs were not covered by the U.S. - China Phase 1 trade deal.
Numerous studies have found that U.S. companies primarily paid for those tariffs.  They have cost U.S. importers $71.6 billion since they started in July of 2018, according to U.S. Customs data.
The tariffs forced American companies to accept lower profit margins, cut wages and jobs for U.S. workers, defer potential wage hikes or expansions, and raise prices for American consumers or companies. They forced companies to tear up supply chains, roiled financial markets and slowed economic growth well before the coronavirus pandemic hit.
A spokesperson for the American Farm Bureau stated that "farmers have lost the vast majority of what was once a $24 billion market in China" as a result of Chinese retaliatory actions.
Meanwhile, thousands of companies asked the Trump administration for temporary waivers excluding them from the tariffs. Companies that met certain requirements were exempted from paying the levies, which range from 7.5% to 25%. Those included firms that import electric motors, microscopes, salad spinners, thermostats, breast pumps, ball bearings, forklifts and other products.
The bulk of the tariff exclusions, which could amount to billions in revenue for businesses based in the U.S., expired on January 1st (this past Friday). As a result, many companies now have to again pay a tax to the U.S. government to import a variety of goods from China, including textiles, industrial components and other assorted products.
Some companies say the tariff exclusions process was very unfair. While large companies have invested huge sums in hiring Washington DC law firms to lobby the administration and apply for exemptions, some small companies lacked the resources to apply for and win exclusions.
"Allowing these exclusions to expire — especially because the facts supporting their original determination remain unchanged — shows how arbitrary and capricious this process has been," said Stephen Lamar, the chief executive of the American Apparel & Footwear Association, which represents makers of shoes and clothing.  "These companies could ill afford a tax on their imported inputs and U.S. workers when they originally applied for these exclusions and they certainly can't afford one now," he added.
Biden Administration Position on Trade Deal and China Tariffs:
"Trump's 'phase one' trade deal with China is failing - badly," Joe Biden said in an August 5th statement to Reuters.  Biden added that the current trade deal is "unenforceable," and "full of vague, weak, and recycled commitments from Beijing," allowing the country to keep "providing harmful subsidies to its state-owned enterprises" and "stealing America's ideas".
U.S. Trade Representative Robert Lighthizer told Reuters on December 16th that Biden should keep pressing China to stick to the "Phase 1" trade deal and use tariffs as leverage.  "I would hold their feet to the fire on Phase 1.  I think in some parts they (China) have done a reasonably good job, in other parts they haven't," Lighthizer said.
On December 28th Stratfor wrote that "the Biden administration will probably maintain many of the existing U.S. tariffs on China, ushering in a lengthy period of restrictions that will likely prompt businesses to consider shifting their supply chains and operations outside China."
In an interview in December with The New York Times, Biden said that he would conduct a full review of the United States' trade relationship with China and consult with allies in Asia and Europe to develop a coherent strategy before making changes.  "I'm not going to make any immediate moves, and the same applies to the tariffs," Biden said.
<![if !vml]>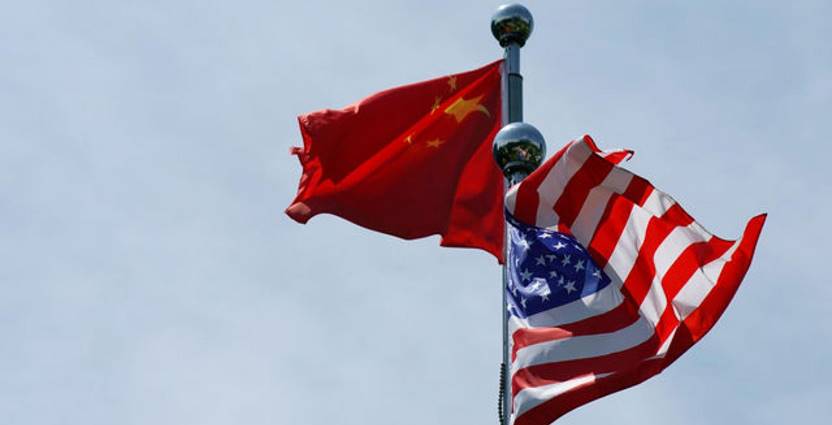 <![endif]>
PHOTO CREDIT: REUTERS/ALY SONG
Does this photo accurately depict economic harmony between China and the U.S.?
……………………………………………………......………….………………………..
Recent Example of Increased U.S. - China Economic Tension:
On December 31st, the New York Stock Exchange (NYSE) said it will delist China's three large state owned telecom carriers. China Mobile, which is among the most valuable of China's listed state-owned enterprises, will be removed from the Big Board along with China Unicom and China Telecom. The move was expected after a November U.S. government order barring Americans from investing in companies that help the Chinese military.
In May, the US Federal Communications Commission (FCC) barred China Mobile from operating in the U.S. In December, it ordered carriers to remove equipment made by Huawei Technologies, and started looking into whether China Telecom should be allowed to operate in America.
All three telecoms companies (telcos) operate under Beijing's firm control. They are ultimately owned by a government agency, the State-owned Assets Supervision and Administration Commission, and are often ordered to pursue Beijing's goals. China's ruling Communist Party (CCP) sometimes moves executives from one of those telcos to another.   They are the only three companies in China that are permitted to provide broad telecommunications network services, which Beijing regards as a strategic industry that must remain under state control.
Xi Jinping, China's top leader (President of the People's Republic of China 中华人民共和国主席), has talked about making state companies bigger and stronger rather than more streamlined. That has led to concerns among some economists and entrepreneurs that the Chinese government is taking a greater role in private enterprise.
Conclusions: 
The Brookings Institute writes that "the ultimate results of the Phase 1 trade deal between China and the United States — and the trade war that preceded it — have significantly hurt the American economy without solving the underlying economic concerns that the trade war was meant to resolve. Progress on market access also proved underwhelming outside of the financial sector."  And as noted above, China's purchases of all covered products were only at 58% of their year-to-date targets with only one month remaining in 2020.
Victor concurs that the trade deal was not a success but adds that the Trump administration deserves credit for trying to end the trade war and improve economic relations with China. The Curmudgeon believes that the biggest failure of the deal was its inability to make significant progress in fundamentally resolving the structural imbalances of the U.S.-China trade relationship. 
Forced technology transfer is a particular concern.  To gain access to the Chinese market, American companies (e.g., Qualcomm, HPE, Intel, AMD, etc.) have been forced to transfer technology to Chinese entities, create joint ventures, lower prices, and aid homegrown China players. Those efforts form the backbone of President Xi Jinping's ambitious plan to ensure that China's companies, military, and government dominate core areas of technology like artificial intelligence, telecommunications equipment, and semiconductors.
Other critical issues not resolved by the trade pact include limited market access/China government protected domestic markets (across the board), intellectual property theft (e.g., Huawei), and subsidies to state-owned enterprises (e.g., China Unicom, China Mobile, China Telecom as per the above discussion).
Closing Quotes:
"There's a great deal of unease in Washington. The defense, intelligence agencies and others are concerned that advanced chip-making capabilities are going to China," said James Lewis, an analyst at the Center for Strategic and International Studies, a Washington-based think tank.
"If it's really based on the genuine commitments that they inked in January, China is far behind and they're never gonna catch up," Scott Kennedy, senior advisor and Trustee Chair in Chinese Business and Economics at the Center for Strategic and International Studies told CNBC's Squawk Box Asia.
"This China trade deal is basically like the Bobby Knight (x-Indiana basketball coach) of trade deals. You know, you abuse, you abuse, you abuse, and then they say 'Well, OK, we'll let you try one more time.'"  David E. Bonior
………………………………………………………………………………………….
Good health, stay calm and safe, persevere under lockdowns and till next time….
The Curmudgeon
ajwdct@gmail.com
Follow the Curmudgeon on Twitter @ajwdct247
Curmudgeon is a retired investment professional. He has been involved in financial markets since 1968 (yes, he cut his teeth on the 1968-1974 bear market), became an SEC Registered Investment Advisor in 1995, and received the Chartered Financial Analyst designation from AIMR (now CFA Institute) in 1996. He managed hedged equity and alternative (non-correlated) investment accounts for clients from 1992-2005.
Victor Sperandeo is a historian, economist and financial innovator who has re-invented himself and the companies he's owned (since 1971) to profit in the ever changing and arcane world of markets, economies and government policies.  Victor started his Wall Street career in 1966 and began trading for a living in 1968. As President and CEO of Alpha Financial Technologies LLC, Sperandeo oversees the firm's research and development platform, which is used to create innovative solutions for different futures markets, risk parameters and other factors.
Copyright © 2021 by the Curmudgeon and Marc Sexton. All rights reserved.
Readers are PROHIBITED from duplicating, copying, or reproducing article(s) written by The Curmudgeon and Victor Sperandeo without providing the URL of the original posted article(s).