Is the U.S. - China Trade Deal a Relic of History?
By the Curmudgeon
Remember the daily stock market celebrations each time there was any positive news on a U.S.-China trade deal?  The market discounted that event and rallied so many times I've lost track.  And it never gave back those gains when the trade deal did NOT live up to expectations.
As of now, the Phase 1 trade agreement signed by the world's two largest economies in January appears to be a HUGE DUD! China has only bought 45 per cent of the amount of goods required by the deal in the first five months of the year, research from the Peterson Institute of International Economics showed.
<![if !vml]>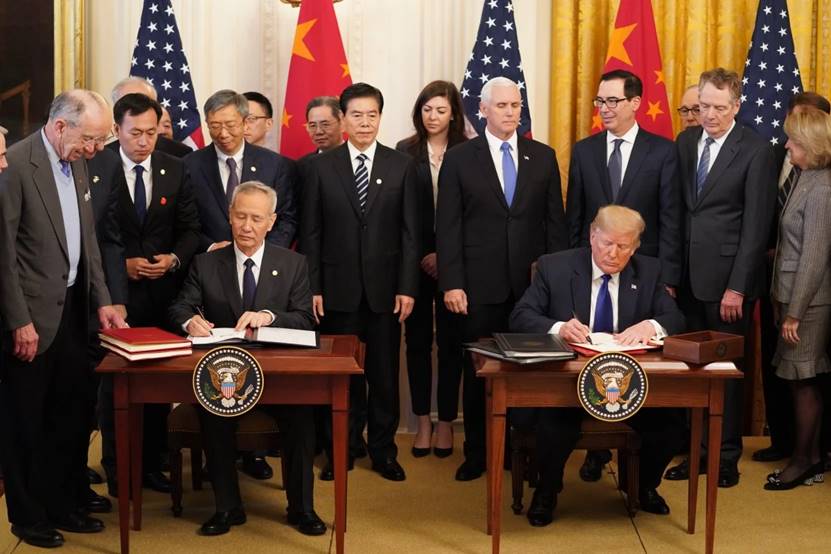 <![endif]>
The United States and China signed their phase one trade deal in January. Photo: Xinhua
……………………………………………………………………………….
China- U.S. tensions continue to flare over issues ranging from the draconian Hong Kong security law to destroying China telecom companies Huawei and ZTE, to China not buying enough U.S. products (more below).   Many experts agree that the superpower relationship between China and the United States is at its lowest level in decades.
The U.S. Chamber of Commerce and over 40 trade associations this week urged top American and Chinese officials to redouble efforts to implement the trade deal in spite pandemic-related strains. 
In a letter to U.S. Treasury Secretary Steven Mnuchin, U.S. Trade Representative Robert Lighthizer and Chinese Vice Premier Liu He, the groups urged a significant increase in China's purchases of U.S. goods and services.
They said combating the novel coronavirus pandemic and restoring global growth depended in part on successful implementation of the U.S.-China trade deal, which helped defuse a nearly 18-month trade war marked by tit-for-tat tariffs.
The agreement called for China to purchase $200 billion in additional U.S. goods and services over the next two years.  Accelerated implementation of the trade deal would help both countries while paving the way for Phase 2 talks on other key issues such as subsidies, cybersecurity and digital trade, officials said.
"Amid increasing bilateral tensions across the relationship, working together to improve trade and grow commerce can provide important benefits to both economies and help to improve relations," they wrote in the letter.
Jeremie Waterman, who heads the Chamber's China Center, said some progress had been made on structural issues and purchases of farm goods, but China needed to step up its purchases of U.S. manufactured goods, services and energy to meet its targets now that its economy was starting to recover from the pandemic.
"There are areas where we see less progress and where we think it's critical that both sides redouble efforts," Waterman said.
U.S.-China tensions have spiked in recent months over the origins of the coronavirus outbreak and passage of a new national security law that limits Hong Kong's autonomy.
President Donald Trump had said that "decoupling" the two economies remains an option, and his trade adviser Peter Navarro jolted markets last month when he said the U.S.-China trade agreement was "over," although he quickly backtracked.
White House Chief of Staff Mark Meadows said on Monday that President Trump was considering several executive orders targeting China and manufacturing but gave no details.
The U.S. industry groups listed specific recommendations in an annex to the letter, including increased purchases of U.S. aircraft and components, cars and medical devices, as well as cloud computing services and U.S. energy products.
Many believe Trump's motivation for the trade deal was to decrease the U.S. trade deficit with China, and indeed it has narrowed. China continues to purchase American farm goods, seen as crucial to Trump's plans to win re-election in November, but these are widely viewed as insufficient.
China has grown more belligerent on the international stage since the first 25 per cent tariff was placed on US$34 billion of goods on July 6, 2018, engaging in trade and geopolitical disputes with nations including India, Canada and Australia, while drawing widespread condemnation from a series of Western governments for rolling out a sweeping national security law on Hong Kong, seen by many as an erosion of the city's autonomy.  
The new law punishes what China describes broadly as secession, subversion, terrorism, and collusion with foreign forces with up to life in prison and allows mainland security agents to operate officially in Hong Kong for the first time. Hong Kong's opposition camp said on Sunday that over 600,000 citizens in the Chinese-ruled city cast ballots over the weekend in primaries it cast as a symbolic protest vote against tough national security laws imposed by Beijing.
Many say the city is increasingly being run from Beijing. Mainland Chinese officials have been appointed as the city's top national security adviser and head of a new national security agency in Hong Kong that will have overarching authority, including an enforcement role in the most serious cases.
As Victor and I have previously stated, one country two systems has evolved into one country one system (more in a follow up article later this week with Victor's unhedged opinions).
……………………………………………………………………………….
"What is alarming is that the Sino-U.S. relationship is one of the most important bilateral relations in the world, but is facing the most serious challenges since the establishment of diplomatic relations [in 1979]," said Foreign Minister Wang Yi, in a speech in Beijing on Thursday.
As the U.S. moves closer to November's general election, even more uncertainty lies ahead for the geopolitical and economic relationship, analysts said.
"In the short term, the rapidly changing political landscape in the US could shift trade war calculations. President Trump's declining political prospects means that China might be content to 'wait out' the Trump presidency in anticipation of dealing with a more conventional Biden administration in January," said Stephen Olson, senior fellow at the Hinrich Foundation and former U.S. trade negotiator.
"Over the longer term, however, the fundamental issues remain the same. Given how profoundly different the U.S. and Chinese economic systems are, the degree of trade and investment integration that has taken place over the past two decades was probably unrealistic. Although an across-the-board economic decoupling is impossible and in neither country's interest, some degree of decoupling is inevitable."
………………………………………………………………………….
Meanwhile, the NY Times reports that Iran and China have quietly drafted a sweeping economic and security partnership that would clear the way for billions of dollars of Chinese investments in energy and other sectors, undercutting the Trump administration's efforts to isolate the Iranian government because of its nuclear and military ambitions.
The partnership, detailed in an 18-page proposed agreement obtained by the Times, would vastly expand Chinese presence in banking, telecommunications, ports, railways, and dozens of other projects. In exchange, China would receive a regular — and, according to an Iranian official and an oil trader, heavily discounted — supply of Iranian oil over the next 25 years.
The document also describes deepening military cooperation, potentially giving China a foothold in a region that has been a strategic preoccupation of the United States for decades. It calls for joint training and exercises, joint research and weapons development and intelligence sharing — all to fight "the lopsided battle with terrorism, drug and human trafficking and cross-border crimes."
Iran's desperation from U.S. sanctions has pushed it into the arms of China, which has the technology and appetite for oil that Iran needs. Iran has been one of the world's largest oil producers, but its exports, Tehran's largest source of revenue, have plunged since the Trump administration began imposing sanctions in 2018; China gets about 75 percent of its oil from abroad and is the world's largest oil importer, at more than 10 million barrels a day last year.
At a time when the United States is reeling from recession and the coronavirus, and increasingly isolated internationally, China senses American weakness.  Do you?
"The United States will continue to impose costs on Chinese companies that aid Iran, the world's largest state sponsor of terrorism," a State Department spokeswoman wrote in response to questions about the draft agreement.
End Quote:
"We are in a situation where the Chinese Communist Party controls the police, and the police controls Hong Kong," said veteran pro-democracy legislator James To, who has monitored policing and security matters for decades. "It is not the way Hong Kong is supposed to work or has worked up until recently. Hong Kong has become a security police state."
……………………………………………………………………………….
Stay calm, safe and be healthy.  Good luck and till next time…...
The Curmudgeon
ajwdct@gmail.com
Follow the Curmudgeon on Twitter @ajwdct247
Curmudgeon is a retired investment professional. He has been involved in financial markets since 1968 (yes, he cut his teeth on the 1968-1974 bear market), became an SEC Registered Investment Advisor in 1995, and received the Chartered Financial Analyst designation from AIMR (now CFA Institute) in 1996. He managed hedged equity and alternative (non-correlated) investment accounts for clients from 1992-2005.
Victor Sperandeo is a historian, economist and financial innovator who has re-invented himself and the companies he's owned (since 1971) to profit in the ever changing and arcane world of markets, economies and government policies.  Victor started his Wall Street career in 1966 and began trading for a living in 1968. As President and CEO of Alpha Financial Technologies LLC, Sperandeo oversees the firm's research and development platform, which is used to create innovative solutions for different futures markets, risk parameters and other factors.
Copyright © 2020 by the Curmudgeon and Marc Sexton. All rights reserved.
Readers are PROHIBITED from duplicating, copying, or reproducing article(s) written by The Curmudgeon and Victor Sperandeo without providing the URL of the original posted article(s).