Heightened Tensions in the South China Sea; Flashpoint for Global Trade
By the Curmudgeon
Introduction:
As promised on Sunday, this is the second of a two-part series on China.  We focus here on the strategic significance of the South China Sea for China's export led economy and note the heightened tensions there recently.  We offer conclusions and recommendations as well as several provocative end quotes.
The first article in this series, with candid comments and conclusions from Victor, is here. Over four years ago we posted a China update which is still quite relevant.  As is this 2019 post analyzing China's economy.
We are considering a third China article (Part III of this series), where the Curmudgeon discloses new information on China's nuclear program, while Victor weighs in with his reasons why China wants Biden to win the U.S. Presidential election. If you are interested in such a post, please email the Curmudgeon: ajwdct@gmail.com.
As a quick backgrounder, the U.S. and China have been involved in a trade war since 2018 which we've covered in many previous Curmudgeon posts. Mutual acrimony has intensified in recent months amid disagreements on issues ranging from the South China Sea to alleged human rights abuses against Uyghurs in Xinjiang and Hong Kong's national security law (which we've also analyzed).
China is (still) an Export Driven Economy:
It's important to understand that China is highly dependent on exports, i.e. global trade.  Despite having grown in recent years, its domestic market cannot financially absorb the industrial products "made in China."  Nearly 20% of China's gross domestic product (GDP) is generated from exports, 5% of which are bought by its largest customer - the United States.
Anything that could reduce China's economy for the long term by double digits is a desperate vulnerability to the Communist Party that controls China, because it could spark a people's revolution to overthrow the government. If international trade collapsed, internal declines in China consumption would come on top of the loss of foreign export markets.
Strategic Importance of South China Sea:
China must have access to global markets, which depends overwhelmingly on the ports of its east coast. The South China Sea is therefore a frontier of particular interest for Beijing.  One-third of all global shipping passes through that sea, parts of which are also claimed by Vietnam, the Philippines, Malaysia, Brunei, and Taiwan.
To access the ocean, China must control the sea lanes through at least one (and preferably more) outlet. The United States does not need to control these lanes; it just needs to deny their use by China. The difference is massive. Recently, Washington has resorted to tough talk about control of the South China Sea, while Beijing and the U.S. are "saber rattling" in the region, as we discuss in the next section of this article.
…………………………………………………………………………………………………………….
The map below, courtesy of the Nation's Online Project, shows South China Sea and the surrounding countries with international borders.
<![if !vml]>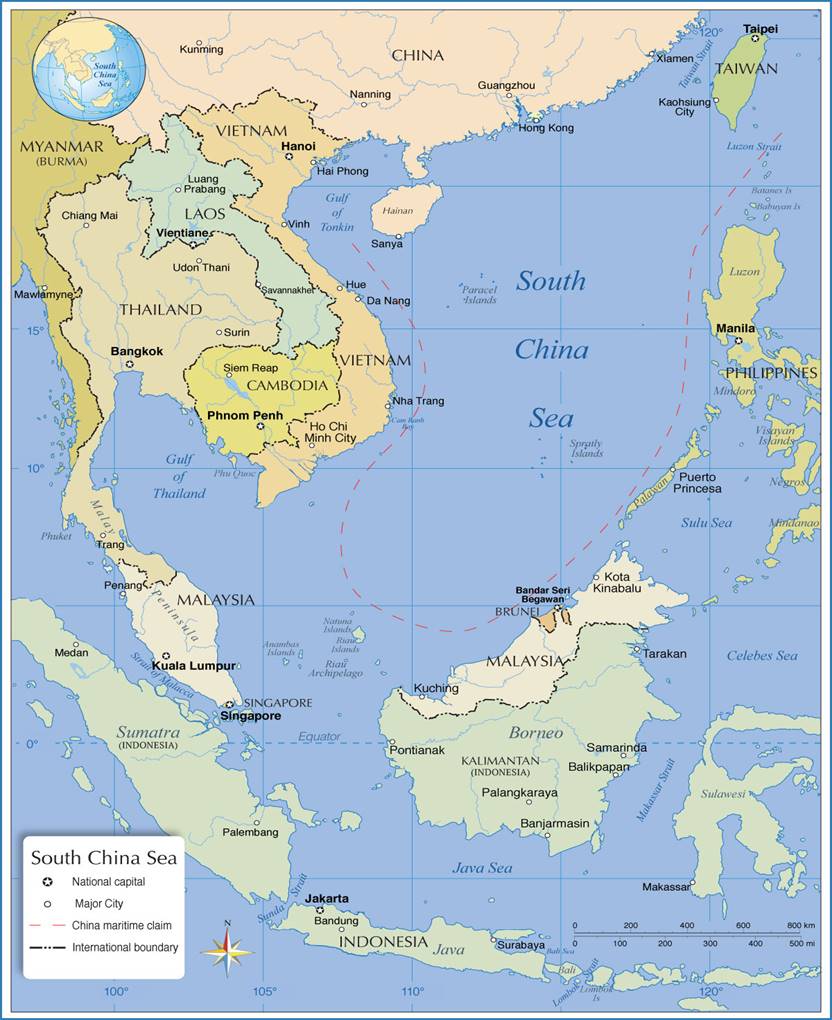 <![endif]>
The South China Sea is bordered by Brunei, Cambodia, China, Indonesia, Malaysia, the Philippines Singapore, Taiwan, Thailand, and Vietnam.
…...………………………………………………………………………………..
Talking the Talk:
On July 14th, U.S. Secretary of State Mike Pompeo said that the U.S. rejects all Chinese claims beyond the 12-nautical mile territorial area around the Spratly Islands, citing in particular Beijing's claims to the waters surrounding Vanguard Bank off of Vietnam, Luconia Shoals of Malaysia, the area within Brunei's exclusive economic zone and Natuna Besar of Indonesia.
"We are making clear: Beijing's claims to offshore resources across most of the South China Sea are completely unlawful, as is its campaign of bullying to control them," Pompeo said. "The world will not allow Beijing to treat the South China Sea as its maritime empire."
Analysts said that the U.S. intends to align its foreign policy with a 2016 unanimous decision by a tribunal under the 1982 UN Law of the Sea Convention that rejected China's claims to the area. Beijing has dismissed the judgment as a "sham."
Display of Force:
China and the U.S. have each resorted to saber rattling in the region this month.
In a show of force response last week, China's air force held live-fire drills and sent more fighter jets to its base on disputed Woody Island in the South China Sea (SCS).  The People's Liberation Army (PLA) Southern Theatre Command conducted the drills on Wednesday and Thursday last week, with more than 3,000 missiles fired at moving targets at sea, state-run China National Radio reported on Sunday. It did not say where in the South China Sea the exercises were held.
Satellite imagery reviewed by Radio Free Asia (RFA) showed the Chinese planes on the runway at Woody Island. At least four of them appeared to be J-11Bs, which are fighter jets in service with the PLA and Naval Aviation Force. The other four aircraft appear similar to and fit the dimensions of the JH-7, an anti-ship fighter-bomber in service with those air forces.
<![if !vml]>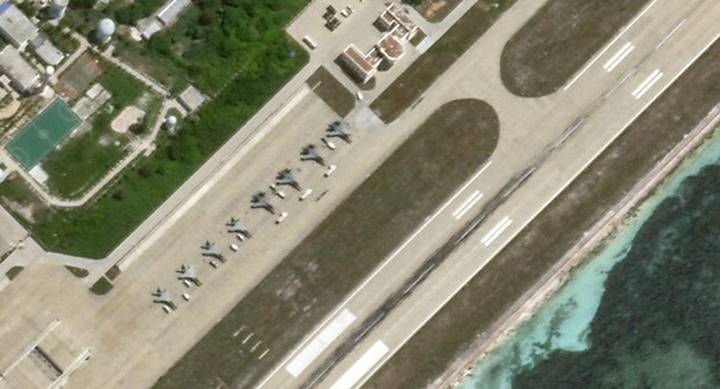 <![endif]>Woodytrip Island airstrip, where eight fighter aircraft are clearly visible lined up on the tarmac, July 17, 2020.  Image courtesy of Radio Free Asia.
Zhou Chenming, a researcher with the Yuan Wang military science and technology institute in Beijing, noted that naval drills in the South China Sea and high-altitude operations were a key part of the PLA's combat-readiness training.
Meanwhile, the U.S. Navy conducted drills and freedom of navigation operations in the region.  CNN reported that on July 17th, two US Navy aircraft carriers have resumed rare dual exercises in the SCS, the second time this month the massive warships have teamed up in the contested waters.
The USS Ronald and USS Nimitz carrier strikes groups, comprising more than 12,000 US military personnel among the two aircraft carriers and their escorting cruisers and destroyers, were operating in the South China Sea as of Friday, the US Pacific Fleet said in a statement. The two carriers, with more than 120 aircraft deployed between them, were conducting tactical air defense drills "to maintain warfighting readiness and proficiency. The two-carrier strike force trains to the highest levels of readiness to ensure responsiveness to any contingency through power projection," the statement said
In early July, the U.S. dispatched two aircraft carriers and four other warships to the SCS for "exercises" at the same time China was holding its own exercises around the Paracel Islands.
Is China a Revisionist Power?
China's Foreign Minister Wang Yi last week refuted claims that China was a revisionist power seeking to expand its sphere of influence at the expense of the U.S. Wang nonetheless made a rare admission that the two countries were confronting their worst challenge since they established official relations in 1979. This was mostly due to Washington's strategic misjudgments and McCarthy-style paranoia, he said.  Of course, China remained blameless?
Wang's conciliatory remarks were far from enough to sway the bipartisan views among US political elites or the American public's perceptions of China, which have become predominantly negative, especially in the wake of the Covid-19 pandemic.
Gal Luft, co-director of the Institute for the Analysis of Global Security in Washington, said the U.S. was already in full containment mode as relations had passed the point of no return, with widening trust deficits and people-to-people relations dying.

Conclusions:
China has a significant military, but the military's hands are tied until China eliminates its great economic vulnerability – its dependence on exports. Under these circumstances, the idea of China initiating a war is farfetched. More than perhaps any country in the world, China cannot risk a breakdown in the global trading system.
The strategic significance of the SCS cannot be understated.  As noted earlier, one-third of the world's shipping passes through it, carrying over $3 trillion in trade each year.  It contains lucrative fisheries, which are crucial for the food security of millions in Southeast Asia. Huge oil and gas reserves are believed to lie beneath its seabed.
A November 2019 Brookings research paper concludes with recommendations for the U.S. in the SCS. Those include: regularly asserting maritime rights and freedoms and encouraging others to do so; continuing to hold bilateral and multilateral drills in the region with allies and partners; strengthening ties with its regional allies and partners, the Philippines in particular; communicating to China that building on Scarborough Shoal would have serious repercussions; supporting coastal states' efforts to stand up to incursions into their exclusive economic zones; and cooperating with its allies and partners to promote development in the region.
China's fear is maritime – isolation from world markets and for that reason it believes it must control the SCS.  Losing control could be a death knell for China's export led economy.
Contemporary Closing Quotes:
"The US-China trade war has been going on for the last couple of years, but in the same period, China has also taken overt coercive action against Vietnam and Malaysia; put pressure on Indonesia; and continued its pressure tactics against the Philippines [and the] destruction of Scarborough Shoal despite supposedly friendly relations.   They can't say it wasn't coming; they gave the U.S. the perfect opportunity to do it by intimidating the rest of Southeast Asia," said Jay Batongbacal, the director of the University of the Philippines Institute for Maritime Affairs and Law of the Sea.
"China's militarization of the South China Sea has been a gradual process, with several phases where alternative actions by the U.S., as well as other countries, could have changed the course of history," said Alexander Vuving, a professor at the Daniel K. Inouye Asia-Pacific Center for Security Studies in Honolulu.
"The greatest uncertainty for both militaries lies in the fact that both sides have yet to set up an effective crisis management mechanism and there remains ambiguity over each other's bottom lines, rules about interactions as well as the 'red lines.'  As a result, both sides need to constantly test each other, increasing the risks of incidents and uncontrollable outcomes," said former Chinese deputy foreign minister Fu Ying. 
"China has seen the coronavirus as an opportunity to exploit U.S. weaknesses, and so China might be tempted to resolve territorial disputes through force. I think there's a real possibility of miscalculation by Beijing in assuming the U.S. won't or can't respond militarily," said Malcolm Davis, a senior analyst in the Australian Strategic Policy Institute.
"The remainder of 2020 could pose as severe a test for the U.S. and China as the final five months of 1941 did for the United States and Japan," said Graham Allison, professor of government at Harvard University.
………………………………………………………………………………………………………….
Stay calm, safe, and healthy.  Make the most of each day and try to accept the reality of life under a pandemic (that's not easy).  Good luck and till next time…...
The Curmudgeon
ajwdct@gmail.com
Follow the Curmudgeon on Twitter @ajwdct247
Curmudgeon is a retired investment professional. He has been involved in financial markets since 1968 (yes, he cut his teeth on the 1968-1974 bear market), became an SEC Registered Investment Advisor in 1995, and received the Chartered Financial Analyst designation from AIMR (now CFA Institute) in 1996. He managed hedged equity and alternative (non-correlated) investment accounts for clients from 1992-2005.
Victor Sperandeo is a historian, economist and financial innovator who has re-invented himself and the companies he's owned (since 1971) to profit in the ever changing and arcane world of markets, economies and government policies.  Victor started his Wall Street career in 1966 and began trading for a living in 1968. As President and CEO of Alpha Financial Technologies LLC, Sperandeo oversees the firm's research and development platform, which is used to create innovative solutions for different futures markets, risk parameters and other factors.
Copyright © 2020 by the Curmudgeon and Marc Sexton. All rights reserved.
Readers are PROHIBITED from duplicating, copying, or reproducing article(s) written by The Curmudgeon and Victor Sperandeo without providing the URL of the original posted article(s).