Unicorn Year in Review: Party May Be Over For Tech Start-ups!

by the Curmudgeon
Overview:
While 2015 was the year of the "unicorn,"  it's getting much harder for tech start-ups trying to raise financing. A recent article by Ari Levy of CNBC summarizes just how negative private market sentiment has become. Here's an excerpt:
Based on interviews with about two dozen venture capitalists and tech investors, 2016 is shaping up to be a year of reckoning for scores of technology start-ups that have yet to prove out their business models and equally challenging for those that raised money at unjustifiably high prices.
"It's been surprising to see how quickly valuation expectations are recalibrating," said Craig Hanson, a partner at Next World Capital in San Francisco. "Rounds will be harder to raise, valuation multiples will be lower and, in many cases, companies will have to demonstrate metrics that back up the big projections they promised before."
Todd Chaffee of Institutional Venture Partners describes the environment: "The cheap capital party is over, but there are a few drunk sailors who didn't hear last call."
Compounding the problem for private tech start-ups is that the exit environment this year has been terrible. IPOs have been few and far between as have mega-acquisitions.  In Q3'15 exits declined 18% quarter-over-quarter to 833 M&A and IPO exits. There were only 9 IPOs in Q3'15, including 5 IPOs outside the US, including IPOs in Singapore, Japan, and New Zealand.
Renaissance Capital reports that only $30B was raised by IPOs in 2015- down from $85.2B in 2014 or a 64.8% decline!  The chart below depicts IPO volume topping out in 2014 and declining steeply this year.
<![if !vml]>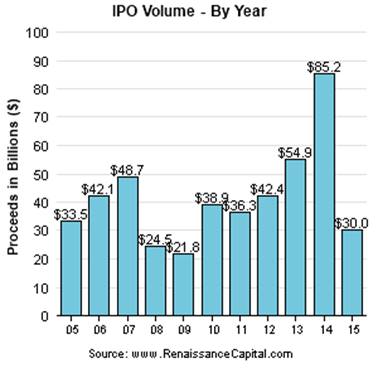 <![endif]>
Anand Sanwal of CB Insights wrote: "For the first time, our 2016 Tech IPO pipeline has companies that will be dragged into going public because the private markets will close up on them."  Sanwal said that Dropbox, Jawbone, and Cloudera might be forced to go public next year, because they priced themselves for perfection in the private market, but didn't live up to expectations.  Other tech start-ups likely to go IPO in 2016 include: Actifio, Mulesoft, Nutanix, Okta, and Zuora.
CB Insights analyzed the world of private technology start-ups and generated a list of 531 companies that are in the tech IPO pipeline for 2016, according to a new report from the firm. 
The report highlight the bubble like nature of the private tech market:
As non-traditional investors continue to pour money into tech start-ups, the need to go public wasn't there.  In fact, total average and median funding raised by this year's Tech IPO Pipeline companies reached an all-time high at $182M in total funding raised on average and $105M on a median basis. These figures were up 64% and 42% respectively versus last year's Tech IPO Pipeline as many companies on 2015's list took advantage of frothy private markets to raise more money and ultimately stay private longer.
The 19 companies on Sanwal's list of "dragged to an IPO" all have similar traits.  Their valuations are huge, and there's often a public market comparison that now shows how out-of-place their private valuations are. It's putting the companies in a precarious position, and like Square, their only chance of an exit and raising more cash may be to go public.
Meanwhile, Venture Beat identified 36 tech companies that could go public in 2016:
Never before have there been so many companies that have raised rounds of $100 million or more. The average total amount of funding they've raised is higher than ever, at $182 million. The number of companies in the pipeline with new valuations of at least $1 billion has never been higher, at 39. And the pipeline now contains 80 private companies based in the U.S. that have raised money at a valuation of $1 billion or more. (Last year, there were 40 such companies.)
"If you're a company, you're thinking I can either take this down round, or do I get dragged to the altar and just go public?" Sanwal of CB Insights said.
Unicorn Year in Review:
The total number of U.S. start-up companies that hit $1 billion in valuation by private investors in 2015 rose to 47, according to PitchBook. That's an increase of 38% over the total to achieved "unicorn" status in 2014, which previously stood as the high-water mark.
Cromwell Schubarth, TechFlash Editor of the Silicon Valley Business Journal wrote: 
"Maybe an early clue should have been when "500 Startups" founding partner Dave McClure started talking about decacorns, centaurs and "my little ponies" while dressed as a unicorn at his accelerator's demo day in August.  We should have known then that the day of the "unicorpse1" was just around the corner, and Foundry Group Managing Director Brad Feld obliged with a blog with that title in September."
Note 1:  The CURMUDGEON has previously forecast that AT LEAST 80% of the Silicon Valley unicorns will cease to exist in the next three to five years.   We also distinguished between "new tech" (software companies) and "old tech" (companies that designed and developed tangible, real products).
Schubarth added: "The funny thing about unicorns is: while they may look impressive as they approach, they can look a more like a horse's behind in rear-view."
Indeed, money was freely available for much of the year. PitchBook reports that approximately $33 billion was invested in unicorns in 2015, with the median deal around $158 million. Six deals each totaled at least $1 billion, and two of those were by Uber.
Fortune provided a brief description of the latest unicorn: 
Three-year-old Gusto, formerly known as ZenPayroll, has raised another $50 million from several existing backers at a valuation of more than $1 billion. That's about double what it was worth after its $60 million round back in April, said the company's founder and CEO Josh Reeve.
Markdowns on the assessed values of some unicorns by Fidelity in the fall and IPO "down rounds" by Square and Box this year are signs that you can reach a $1 billion (private market) valuation and still be far from becoming a profitable success story.
Conclusions:
As Victor has been saying for quite some time, "it will take an unexpected event that the Fed cannot control to pop the financial market bubbles."  We think the biggest bubble is in private tech start-ups.  With performance not living up to expectations, many such companies will have to either take a down round in the private market or go IPO.  If they chose the latter, that will be a whole lot more supply of stock that will hit the public equity markets in 2016. 
In light of many hot start-ups now selling below their IPO price (e.g. Box, Twitter, GoPro, etc.), the IPO market next year might not be as hot as many think it will be.
Good luck and till next time...
The Curmudgeon
ajwdct@sbumail.com
Follow the Curmudgeon on Twitter @ajwdct247
Curmudgeon is a retired investment professional. He has been involved in financial markets since 1968 (yes, he cut his teeth on the 1968-1974 bear market), became an SEC Registered Investment Advisor in 1995, and received the Chartered Financial Analyst designation from AIMR (now CFA Institute) in 1996. He managed hedged equity and alternative (non-correlated) investment accounts for clients from 1992-2005.
Victor Sperandeo is a historian, economist and financial innovator who has re-invented himself and the companies he's owned (since 1971) to profit in the ever changing and arcane world of markets, economies and government policies.  Victor started his Wall Street career in 1966 and began trading for a living in 1968. As President and CEO of Alpha Financial Technologies LLC, Sperandeo oversees the firm's research and development platform, which is used to create innovative solutions for different futures markets, risk parameters and other factors.
Copyright © 2015 by the Curmudgeon and Marc Sexton. All rights reserved.
Readers are PROHIBITED from duplicating, copying, or reproducing article(s) written by The Curmudgeon and Victor Sperandeo without providing the URL of the original posted article(s).