In Search of Unicorns and One-Trick Ponies: Bubble In Private Tech Start-Ups

By the Curmudgeon
Start-up Acquisition of the Week:
Last Thursday, April 9th, LinkedIn paid $1.5B to acquire online education company Lynda.com.  That's by far its largest acquisition ever!  Lynda.com provides video courses to paying subscribers hoping to learn online, with tutorials on a wide range of business subjects from Web design to 3-D animation. It's one of a number of companies working in this space, including well-known startups like Coursera and Codecademy that were both founded in the past five years.
LinkedIn appears to believe in a scenario like this: you search for a job, see the skills required for that job, and then are directed to a course from Lynda.com that will train you in those skills. Alternatively, a recruiter could search for available candidates based on the courses they've taken. You can already add courses to your profile, but courses endorsed by LinkedIn may carry more clout.  Fine and dandy, but is that worth a cool $1.5B?
Who Says There's a Bubble in "New IT" Start-ups:
Dallas Mavericks owner Mark Cuban last month blogged that the current tech bubble in privately funded startups is worse than the dot com bubble of 15 years ago.   
Cuban should know. He sold his startup Broadcast.com to Yahoo! for $5.7 billion, just before the dot com bubble burst. He wrote:
"So why is this bubble far worse than the tech bubble of 2000?  Because the only thing worse than a market with collapsing valuations is a market with no valuations and no liquidity."
The key point is that start-up company valuations are fictitious, based solely on perceived value by lemming-like VCs, angel investors, crowd source founders, and acquiring companies.  Even hedge funds (and some mutual funds) are getting into the start-up funding business, willing to pay dearly for a piece of the action as per a Bloomberg piece titled: Hedge Funds Are Boosting Tech Valuations to Dangerous Heights.
Here's what Zero Hedge had to say about tech start-up valuations in a blog post titled: Surprise - Tech Company Valuations Are Completely Made Up.   
"Well, now that everyone is jumping on the "there's no way that app is worth $50 billion" bandwagon, Bloomberg is out with a startling revelation: "Snapchat, the photo-messaging app raising cash at a $15 billion valuation, probably isn't actually worth more than Clorox."
"So while we thought "valuations" were numbers that indicate how much something is worth, what they actually are complete shots in the dark which, if necessary, can be "adjusted" later to reflect economic realities."
Zero Hedge followed that up with an even stronger assertion that private tech is in a huge bubble:  Tech Startup Bubble Has America's Retirement Funds Chasing Unicorns.
Examples of "New IT" start-up valuations:
Let's look at a few examples of highly over valued "new IT1" tech start-ups:
1.  Snapchat is part of a breed of startups with multibillion-dollar valuations, with investors falling all over themselves to offer financing. Alibaba plans to invest in the one trick pony company (a mobile app for sending disappearing photos), at a valuation of $15 billion, according to Bloomberg.
With Alibaba's investment, Snapchat would be ranked behind only mobile car-booking application Uber Technologies Inc. and Chinese smartphone maker Xiaomi Corp., according to data compiled by researcher CB Insights. Xiaomi is pegged at $46 billion, while Uber's latest round valued it at $41.2 billion.
2.  Last October, Facebook completed its $22 billion acquisition of WhatsApp, a mobile messaging app company (note that you can send mobile texts for free using Google Voice).
3.  Web storage start-up Dropbox has plenty of competition, including Google, Microsoft, Box and other young companies in the same space. Dropbox was reportedly valued at $10 billion when it raised $350 million in its Series C funding round.  CBC Insights (which maintains we're in a private tech boom--not a bubble) thinks Dropbox's is way too pricey.  In a blog post titled:  The Dropbox Valuation Is Irrational  they wrote:  
"Assuming Box's multiple doesn't expand, Dropbox would need to grow its annual sales to ~$1B (or 150%) just to justify its private market valuation of $10B. This would mean it would trade like Box at ~10x sales."
4.  Let's not forget the granddaddy of U.S. "new IT*" tech start-ups--Uber.  CBC Insights wrote in a blog post: 
"Uber had the highest sales multiple of any of the Unicorns, as the $40B valuation company's last rumored net revenue figure was $400M (on about $2B of gross revenue). And while this may seem very high, for a company growing as fast as Uber, this sales multiple may be viewed as completely rational by investors."
5.  In the above referenced blog post, CBC Insights noted:
"Slack also sits atop the price/sales multiple rankings as well along with Uber driven in part by its explosive growth (which has given it a lofty valuation) with still relatively modest revenue."
Slack is yet another one trick pony with an internal communications/messaging app designed to allow businesses to chat and collaborate at work.  It's in the process of raising a new funding round that values the company at $2 billion, according to Bloomberg. 
Just one year old, Slack is used by about 500,000 people every day, a number that is rapidly growing.  Revenues not disclosed and for sure no profits.  Is a one year old company worth $2B?  Here's what Slack CEO Stewart Butterfield told Business Insider: 
"We still have a long way to grow to justify the valuation.  But it's largely on the basis of the trajectory that we're on, and most of all, because that's just been happening organically."
6.  Let's close with Pinterest, the social bookmarking site which is now worth north of $11 billion. And there's more: the company is still seeking an additional $211 million to close its latest funding round, according to a regulatory filing. 
[Pinterest is a website that allows you to "pin" things online, just as you would pin them on a real life bulletin board, but instead, Pinterest saves all of your pins on your account so that you can access them easily.]
Pinterest's now-astronomic valuation, which was previously pegged at $5 billion following a $200 million Series F round last May, makes it the sixth most valuable private company in the world, according to the Wall Street Journal -- behind Xiaomi ($46 billion), Uber ($41.2 billion), Palantir ($15 billion), Snapchat ($15 billion) and SpaceX ($12 billion). 
NY Times: The Rise of the 'Unicorns'
"Venture capitalists invest in companies in search of breakout hits that attract millions of users, billions in sales and enormous valuations. These rarities, called unicorns, have grown in size and number as investors chasing returns have bid up their value. More than 70 technology companies are now valued at $1 billion or more, and the number is growing quickly. Several of the best-known Silicon Valley companies are worth over $10 billion."
Note 1. "New IT" is software for cloud, social, big data, e-commerce, mobile apps, etc.  New IT companies don't make tangible products or design hardware.  They don't do real engineering. Almost all the tech start-ups are in this category.  An exception is GoPro (now public) which makes "the world's most versatile cameras."   
References:  
1. For the complete list of highly valued start-ups along with interesting graphs, click here.    
2.  We highly recommend readers also check out WSJ's Billion Dollar Startup Club.
3.  Below are the sales multiples for the top U.S. "unicorns."  Note how Uber and Slack are so far ahead of all the others.
<![if !vml]>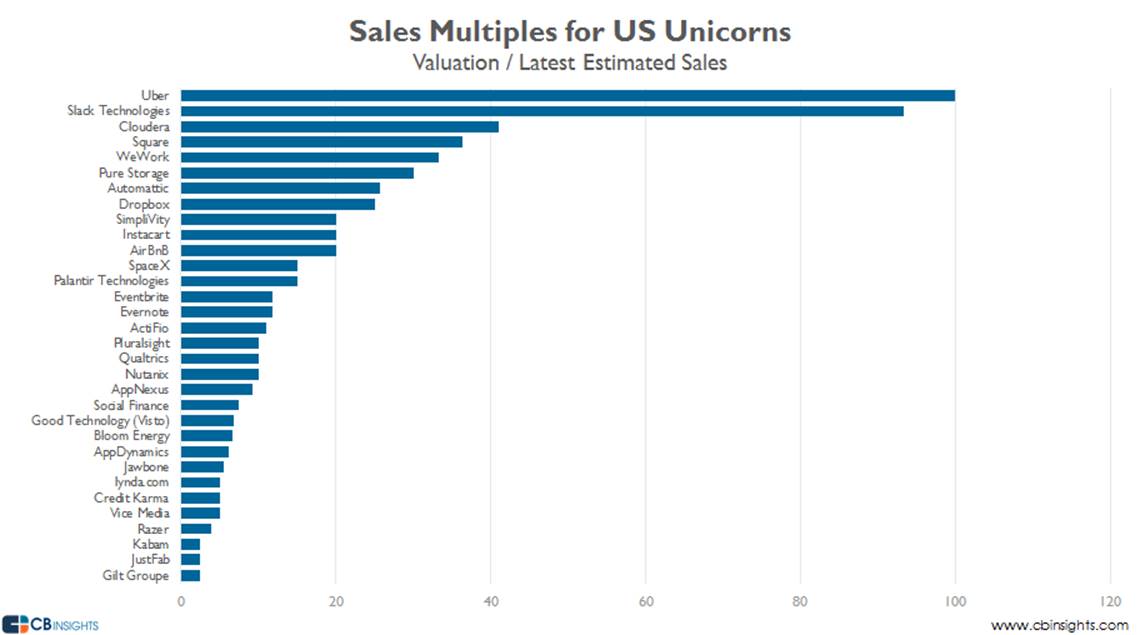 <![endif]>

4.  The graph below depicts the number of series A (1st round) tech start-up deals above $10M.
<![if !vml]>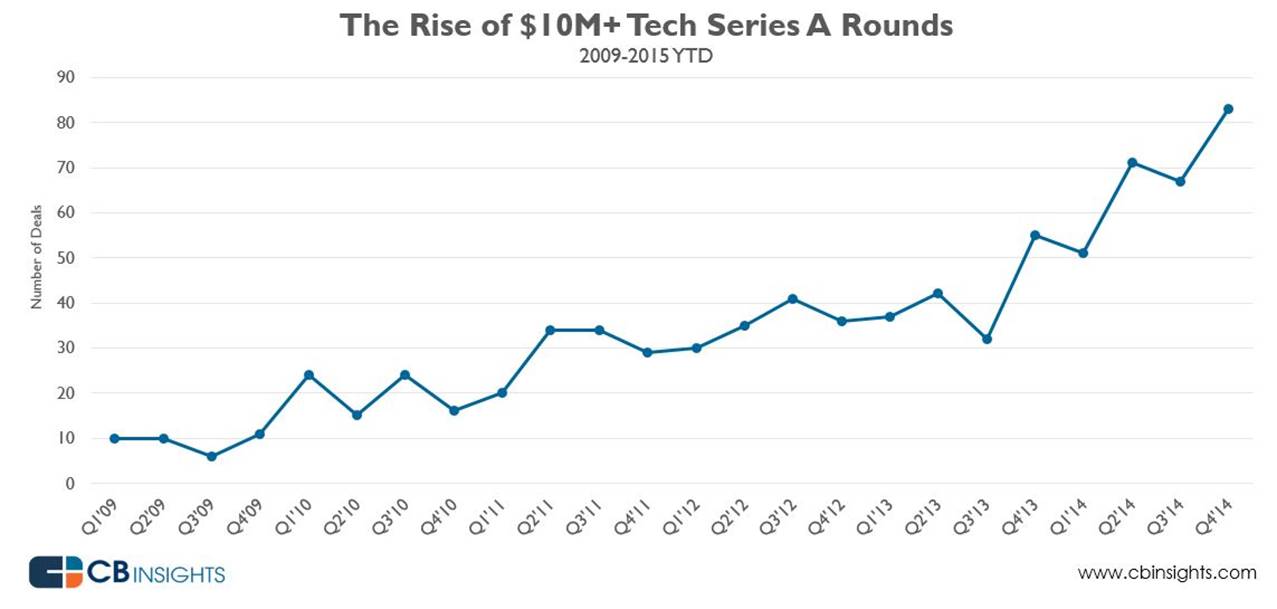 <![endif]>
5.  We close by referring the reader to this provocative blog post:  More than 10 Signs of a Tech Bubble.
Till next time...
The Curmudgeon
ajwdct@sbumail.com
Follow the Curmudgeon on Twitter @ajwdct247
Curmudgeon is a retired investment professional. He has been involved in financial markets since 1968 (yes, he cut his teeth on the 1968-1974 bear market), became an SEC Registered Investment Advisor in 1995, and received the Chartered Financial Analyst designation from AIMR (now CFA Institute) in 1996. He managed hedged equity and alternative (non-correlated) investment accounts for clients from 1992-2005.
Victor Sperandeo is a historian, economist and financial innovator who has re-invented himself and the companies he's owned (since 1971) to profit in the ever changing and arcane world of markets, economies and government policies.  Victor started his Wall Street career in 1966 and began trading for a living in 1968. As President and CEO of Alpha Financial Technologies LLC, Sperandeo oversees the firm's research and development platform, which is used to create innovative solutions for different futures markets, risk parameters and other factors.
Copyright © 2014 by the Curmudgeon and Marc Sexton. All rights reserved.
Readers are PROHIBITED from duplicating, copying, or reproducing article(s) written by The Curmudgeon and Victor Sperandeo without providing the URL of the original posted article(s).