Analyzing the Ukraine Invasion and Impact on Global Economy

By Victor Sperandeo with the Curmudgeon
Disclaimer:
The views expressed herein are those of Victor Sperandeo. The Curmudgeon has a distinctly different opinion on whether Putin was provoked to invade Ukraine.  The Sidebar on the economic fallout of the invasion cites statements and opinions of others.
Victor's Perspective:
It was my strong belief that President Vladimir Putin would not invade Ukraine, as noted in last week's column.  Every international geopolitical reliable source I know of assumed that. For example:
Peter Hitchens

, a highly respected UK journalist that was stationed in Moscow for many years, wrote: "If Putin invaded Ukraine, he would establish beyond doubt that he is clinically insane."

George Friedman

of Geopolitical Futures wrote: "Since the beginning of the Russian armored buildup, and even after the entry into Donbas, I argued that the Russians would not invade Ukraine proper. It's true that Russia must recover Ukraine in some fashion to gain the strategic depth it lost when the Soviet Union collapsed, but that didn't seem to require a full-scale invasion."
Why did Russia Invade Ukraine?
Putin has strong aspirations to reconstruct the Soviet Union under Russian control.  He has discussed the end of the USSR many times and in many ways.  One reason was that it was too big and expensive to control. Today, Russia has 11 time zones and spans more than one-eighth of the Earth's inhabited land area (if Russia claims Ukraine is part of the Russian Federation it will be 12 time zones). Russia has over 6.3 million square miles and is by far the largest nation in the world.
Since 2014, the two separatist break-away Russian Republics within Ukraine- the Donetsk People's Republic (DPR) and the Luhansk People's Republic (LNR) - have fought with Ukraine militias.  That broke the Minsk Agreement, which was meant to stop the fighting.  [The Minsk Agreements were first negotiated in a telephone conversation between Vladimir Putin and then Ukraine President Petro Poroshenko, and between representatives of Ukraine, Russia, Germany, and France. Later the Trilateral Contact Group (Ukraine, Russia, and the OSCE), drafted and signed them.]
Recently, Putin has felt threatened by NATO's expansion to include Eastern European countries which are near Russia.  Meanwhile, the corporate controlled, global mainstream media has made him look like a James Bond villain. Not that he does not deserve condemnation for many of his actions over the years, but that added to Putin's concerns.
Moreover, Putin wrote a letter to NATO and the U.S. to address his concerns on Russian security and wanted a treaty guaranteeing Russian security.  A "Red Line" was that Ukraine would not join NATO.  The requests for a treaty were ignored by both parties- the U.S. and NATO.  Instead, requests kept coming by the West for Ukraine to join NATO.
In my opinion, the catalyst that sparked Russia's invasion was a catastrophic error in diplomacy by Ukraine President Zelenskyy:
"Ukrainian President Volodymyr Zelenskyy appeared to suggest late last week that his country could pursue nuclear weapons as a way to defend itself from Russian aggression as Russian President Vladimir Putin sends forces into separatist regions of Ukraine that he recognized as independent as of this week." wrote Ryan Saavedra in the Dailywire.com on February 23rd.
Curmudgeon Note:
Zelenskyy commented on the 1994 Budapest Memorandum on Security Assurances, which would prohibit Ukraine from obtaining nuclear weapons (it has none now).  At the Munich Security Conference on February 19th, he expressed Ukraine's frustrations in not getting assurances for that agreement.  This is exactly what he said:
"Since 2014, Ukraine has tried three times to convene consultations with the guarantor states of the Budapest Memorandum. Three times without success.
Today, Ukraine will do it for the fourth time. I, as President, will do this for the first time. But both Ukraine and I are doing this for the last time. I am initiating consultations in the framework of the Budapest Memorandum. The Minister of Foreign Affairs was commissioned to convene them. If they do not happen again or their results do not guarantee security for our country, Ukraine will have every right to believe that the Budapest Memorandum is not working, and all the package decisions of 1994 are in doubt."
It's crucial to note that agreement is not an official treaty. It is neither legally binding nor does it carry an enforcement mechanism. And while it provides security assurances, they do not include specific promises regarding a potential invasion.
Putin responded by saying, "If Ukraine acquires weapons of mass destruction, the situation in the world and in Europe will drastically change, especially for us, for Russia.  We cannot but react to this real danger, even more so since, let me repeat, Ukraine's Western patrons may help it acquire these weapons to create yet another threat to our country."
Putin is a very powerful dictator who wanted a treaty that affirmed Ukraine would not join NATO or pursue Nukes! 
If anyone has observed Putin over the years, they should know not to threaten an anxious (killer) with an "existential threat!" Yet Putin's concerns were ignored and the Ukraine President (a former comedian) angered a tyrant killer?
This was perhaps the most idiotic comment in history, and not one western leader objected to the suggestion!  
In my opinion, that is what led Putin to try to end the Zelenskyy led government of Ukraine via an invasion of Russian troops and aircraft.
……………………………………………………………………………………………….
Sidebar - Russia-Ukraine Conflict Could Cripple Global Economy:
The impact of lower trade with Russia, economic sanctions levied on Moscow by the U.S., UK and EU, and financial contagion are likely to be outweighed by the indirect consequences from the effect on business and consumer confidence and commodity markets, economists told the Financial Times (paywall).
<![if !vml]>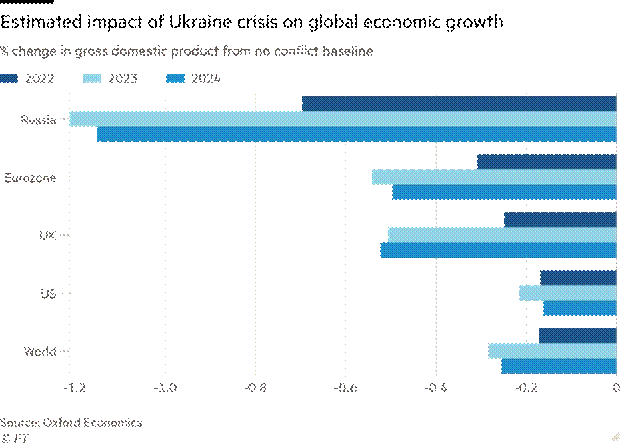 <![endif]>

Russia is the world's third-biggest producer of petroleum and is a major exporter of natural gas. Russia's attack could slow Europe's economic recovery by sending already elevated energy prices ever higher. Europe, an energy importer, receives close to 40% of its natural gas from Russia. A cutoff of that energy source could undercut the continent's economy. High natural gas prices have already led to higher home utility bills for both natural-gas heat and electricity generated from gas, crimping consumer spending.
"Gas prices in Europe are already crushing households and consumers, especially low-income households," said Adam Tooze, director of Columbia University's European Institute, whose 2018 history of the last decade's financial crisis, "Crashed,'' explored global tensions over Ukraine.
"Escalating tensions put two cornerstones of this year's expected growth recovery — a rebound in consumer spending and a pickup in industrial activity — at further risk," Oliver Rakau and Mateusz Urban at Oxford Economics said in a research note.
Natural gas prices, which have tended to rise on crisis news, remain about four times what they were at the start of 2021. Russia sold less gas than normal on the short-term spot market, raising concerns that the Kremlin was using gas to press for approval of its Nord Stream 2 pipeline. The pipeline has now been frozen by sanctions imposed by Germany's government.
Economists also warned about the pressures on businesses exposed to supply chains in which Russia plays a crucial but little-known role, such as the production of critical raw materials. The country supplies about 40 per cent of the world's palladium, a key component of catalytic converters in petrol-powered vehicles as well as electronic devices.
Whether households and businesses become significantly more cautious, spending less, and saving more in response to Russia's actions will be crucial for the global economy.  Ian Shepherdson, chief economist at Pantheon Macroeconomics, said slower growth was inevitable. "Consumer sentiment everywhere will weaken further . . . That must mean slower economic growth than would otherwise have been expected in Europe, the US, and most emerging markets," he added.
Susannah Streeter, senior investment, and markets analyst at Hargreaves Lansdown, said: "Depending on how long this crisis continues there could be a significant loss of confidence among businesses and consumers."
Meanwhile, Ukraine's farms feed millions around the world.  The threat to farms in eastern Ukraine and exports through Black Sea ports could reduce wheat supplies at a time when global food prices are at their highest level since 2011 and some countries are suffering from food shortages.
Ukraine is the world's fifth-largest wheat exporter, agricultural analyst Alex Smith wrote last month in the journal Foreign Policy, and many of the countries that rely on its wheat "already face food insecurity from ongoing political instability or outright violence," he said.
Rising energy and food prices will intensify the inflationary pressures that policymakers and central banks are struggling to ease. In the estimation of Capital Economics, a worst-case scenario of an escalating conflict and sanctions could send oil prices up to as much as $140 a barrel — international Brent crude had surged above $100 on Thursday after Russia attacked Ukraine — and force natural gas prices up, too.
That combination would add a sizable 2% to annual inflation in the world's wealthy countries, Capital Economics estimates. In the United States, the world's largest economy, consumer inflation jumped 7.5% last month compared with 12 months earlier, the steepest annual increase since 1982.
With inflation running hot, central banks may have less leeway — or inclination — to ride to the rescue with stimulus if the economy sputters in the face of the military conflict in Ukraine.
……………………………………………………………………………………………….
Mea Culpa:
Yes, I was totally wrong on Russia's invasion of Ukraine.  Under normal conditions, a treaty for say 10-15 years could have been negotiated that states Ukraine will not join NATO. That would be the end of it. But now the very brave good people of Ukraine are being killed as Putin reacted.                                                                                                                          
This mess gets compounded with irrational sanctions.  For example, "UK bans Russian airline Aeroflot from its airspace, says PM Boris Johnson." So, a nation with 96,000 square miles of air space (UK) bans a nation with 6.3 million square miles (Russia)?  This means that if UK people want to travel to Japan, and many other Asian countries, they cannot fly over Russian air space.  Instead, they will have to fly south instead of the much shorter north and will have to change planes plus pay much more for the flight ticket.
This merely escalates the fighting and tensions and harms the people of Europe and energy prices rise while boosting the assets of Russia. More importantly, it could all end in a greater war. That would be insane with nuclear weapons on the table.
Conclusions:
I am not defending Putin; I'm critiquing the West for allowing a war when they could have negotiated a treaty to keep Ukraine out of NATO and free of nuclear weapons.
I put the blame on the world leaders for failing to put their egos aside to find a way to achieve peace. These leaders are not only stupid they are arrogant!  As Albert Einstein once said:

<![if !vml]>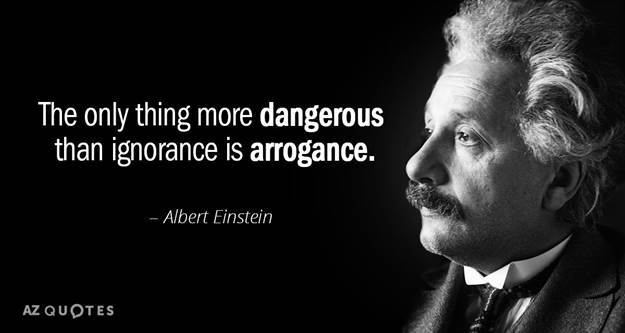 <![endif]>
In fact, the Keystone Cops are like Einstein compared to our world leaders!
<![if !vml]>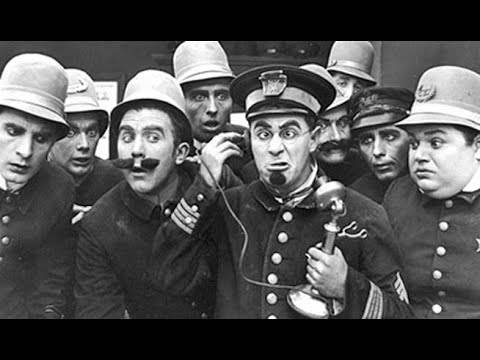 <![endif]>

End Quote:
The way the world is trending it is important to keep this in mind:
"The World is not ruined by the wickedness of the wicked, but by the weakness of the good." Napoleon Bonaparte
………………………………………………………………………………………….
Stay healthy, enjoy life, success, good luck, and best wishes.  Till next time....
The Curmudgeon
ajwdct@gmail.com
Follow the Curmudgeon on Twitter @ajwdct247
Curmudgeon is a retired investment professional. He has been involved in financial markets since 1968 (yes, he cut his teeth on the 1968-1974 bear market), became an SEC Registered Investment Advisor in 1995, and received the Chartered Financial Analyst designation from AIMR (now CFA Institute) in 1996. He managed hedged equity and alternative (non-correlated) investment accounts for clients from 1992-2005.
Victor Sperandeo is a historian, economist and financial innovator who has re-invented himself and the companies he's owned (since 1971) to profit in the ever changing and arcane world of markets, economies and government policies. Victor started his Wall Street career in 1966 and began trading for a living in 1968. As President and CEO of Alpha Financial Technologies LLC, Sperandeo oversees the firm's research and development platform, which is used to create innovative solutions for different futures markets, risk parameters and other factors.
Copyright © 2022 by the Curmudgeon and Marc Sexton. All rights reserved.
Readers are PROHIBITED from duplicating, copying, or reproducing article(s) written by The Curmudgeon and Victor Sperandeo without providing the URL of the original posted article(s).