Russia Won't Invade Ukraine; Fed Bluffing on Multiple Rate Increases

By Victor Sperandeo with the Curmudgeon
Introduction:
We examine the hottest of geopolitical hot spots and cut through the smoke and mirrors of up to seven Fed Fund rate increases during the remainder of this year.  Enjoy and let us know what you think.
Russia – Ukraine Assessment:
With an imminent threat of an invasion of Ukraine, tensions between Russia and the U.S. are at their highest since the peak of the cold war.  News about Russia threatening Ukraine has been ongoing since December and tensions seem to be increasing every day.
On Friday, President Biden declared that Putin had decided to invade Ukraine and that the call for mass evacuation by Russia-backed separatists in Ukraine is an ominous development.
"We believe that they will target Ukraine's capital Kyiv, a city of 2.8 million innocent people," Biden said.
Asked whether he thought that Mr. Putin was still wavering, Mr. Biden said, "I'm convinced he's made the decision." Later he added that his impression of Mr. Putin's intentions was based on U.S. intelligence.
According to the latest U.S. intelligence assessment, Russia now has close to 75% of its conventional forces postured against Ukraine, a US official with direct knowledge of the intelligence told CNN. The concentration of forces within striking distance of Ukraine is highly unusual and part of the reason the US believes Russia is ready to attack, the official said.  Furthermore, an estimated 30,000 Russian troops will stay longer in Belarus, bordering Ukraine.
New Development--- Fighting broke out this weekend in the Donbas region of Ukraine, which has been occupied by Russian separatists since 2014. Reports state that Luhansk and Donetsk People's republics are battling the militias of Ukraine. 
On Sunday, Russian-backed leaders said two civilians in their territories had been killed and five residential buildings destroyed. Authorities in Russian-held Donetsk said they had thwarted an attempt by saboteurs to blow up a chlorine reservoir.
The government of Ukraine calls such claims nonsense and says Russia is seeking a pretext for a military escalation. Indeed, Russia says it will defend the Russian people living in the Donbas region if war arises there.   Yet misinformation researchers say Russia has been laying the groundwork for a 'false flag' operation.
At the White House this week, President Biden said the U.S. had "reason to believe" that Russia was "engaged in a false flag operation" to use as an excuse to invade Ukraine.
Despite this side show, it is my strong belief that Russia will not bomb Kyiv or other major cities in Ukraine.  Russia does not want Ukraine for any rational reason other than to stop NATO expansion in Eastern and Central Europe.  
Assessment – Let me stress, that the talks of war are all coming from the U.S. State Department, the mainstream media (e.g., CNN, Washington Post, NY Times, Wall Street Journal, etc.) and U.S. allies like the UK.  I don't see any real threats of war, but rather denials from Putin that Russia plans to invade Ukraine.
I believe the Russia-Ukraine war threats are 99% propaganda and a diversion to keep the focus off Biden's terrible poll numbers (41.6% approve, 53.1% disapprove).  The Duran podcast "Biden Wags The Dog our inept leaders and Canada fights for freedom" is certainly worth listening to.
………………………………………………………………………………………………………..
Seven Fed Rate Hikes in 2022?
Talking heads and investment banks are calling for a Fed rate hike at every FOMC meeting this year.  Fed Funds futures forecast a  33.2% probability of 125-150bps Fed Funds rate in Dec 2022 - UP from 15.5% one  week ago. Meanwhile, several investment banks increased their forecast to seven Fed rate hikes this year.  Let's examine whether those forecasts are credible.
There are seven more Fed meetings this year. The November 2-3, 2022, meeting is just before the mid-term elections on November 8th. Does anyone really believe the Fed will raise rates five days before an election?  And then again in December - one week before Christmas?
Note that the last time there were six rate increases in one year was 1994. The Dem's lost 54 House seats, 8 Senate seats, and 10 Governors. And that was with no recession!  It was the first time the GOP ruled Congress since 1952! This was called the "Republican Revolution."
The Fed has been justifiably criticized for being weak on inflation. So, by suggesting rate increases and reducing its balance sheet they may be trying to show they are not like a Gorilla pounding its chest.
<![if !supportLineBreakNewLine]>
<![endif]>
<![if !vml]>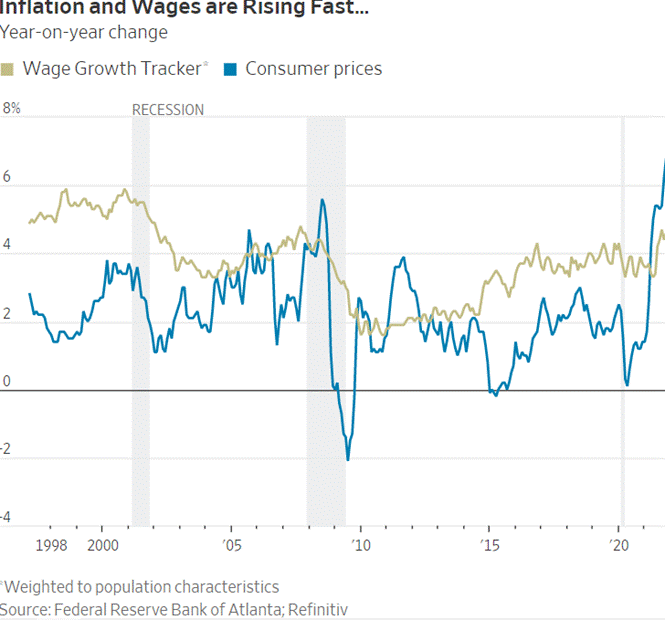 <![endif]>

Larry Summers' Comments:
Here is the view of former U.S. Treasury Secretary and Harvard President Larry Summers: "Investors need to brace for interest rate hikes at all seven Federal Reserve policy meetings this year. Anyone who's not prepared for a rate hike at every meeting as a real possibility, even with multiple rate hikes on occasion, I think is underestimating the range of possibilities," Summers said on Bloomberg Television's Wall Street Week.
And excerpts of an interview Summers did with the Harvard Gazette:
GAZETTE: Is inflation your biggest economic concern as opposed to other things at play — like labor market and supply-chain disruptions?
SUMMERS: It's clear that inflation is the dominant economic problem as seen by the American people. It's clear that inflation is significantly contributing to distrust in the institutions and to pessimism about the future. That is a terribly, terribly important thing at a time when our democratic institutions are being challenged. I think that if inflation had better been controlled, there's a real possibility that the election of Richard Nixon in 1968 and Ronald Reagan in 1980 would not have happened. So, for those like me who are of a progressive mindset, the issues around inflation are hugely important. One can make — and we do in economics classes — an argument that inflation is like a change in units. If wages go up by 10 percent and prices go up by 10 percent, then people are in some sense in the same place in terms of purchasing power. But people don't see it that way. They give themselves credit for the 10 percent increase in wages, and they blame the political process for the 10 percent increase in prices."  (Power is the goal…not inflation)
GAZETTE: The Federal Reserve Board announced an end to its bond-buying program in the coming months and the likelihood of three interest rate hikes over the coming year. Do you think that will be enough to tamp down inflation?
SUMMERS: I have been critical of the Fed for the better part of a year on its failure to recognize that inflation became, as of last spring, the most serious short-run threat facing the American economy, and I am very glad to see their policy pivot. They used to say that they were not going to raise interest rates until 2024. Now, they're saying that there will be multiple rate increases in 2022. I think that's all to the good. But I am rather skeptical that interest rate increases that will still leave real interest rates negative — that is, interest rates below inflation rates — will be sufficient to contain inflationary pressures. I'm not sure that the policy community has fully faced the likelihood that at least some economic slowdown will be necessary if inflation is going to be contained.
GAZETTE: At the end of that period, (early and mid-1970s) a tightening of the -money supply-  was needed, which resulted in a recession.
SUMMERS: We are -not yet anywhere near where we got at the end of the Carter administration -when Fed Chairman Paul Volcker had to put the economy through the wringer in order to restore normal inflation rates. And with prudent policy, there's no reason why we need to get to that point.
Money Supply and Elections:
THIS IS THE BOTTOM LINE OF WHY REDUCING MONEY SUPPLY IS NEVER MENTIONED TO STOP INFLATION. It usually causes a recession which results in the Democrats losing power.
I estimate the Dem's will lose 50 to 60 House seats and 4 to 5 Senate seats in the November midterm elections.  However, if a recession takes place, my estimates show a loss of 80 -90 House seats and 8-10 Senate seats as even some Dem's will vote for GOP candidates. This is why I think the Fed is bluffing on multiple rate increases.
Conclusions:
Does the Fed really believe they can stop inflation by just raising interest rates? History says NO they can't.  The Fed now manipulates the economy based on interest rates - not money supply growth. They will never get inflation down using interest rates alone.

<![if !vml]> <![endif]>
Yes, the Fed has a plan, but do they remember the words of Mike Tyson?
What do interest rate increases effect? They slowdown the borrowing of money. But what has loan growth done in the last several years?                         
Loan demand has declined while the banks and the Fed want to raise rates because they think that will reduce inflation?
What does that do to curb price increases, especially when there are supply chain shortages that cause auto makers stop production?  Prices will rise for new and used cars.  Interest rates increases will have no effects on energy or auto prices.
The rich buy what they want due to their net worth thanks to the Fed which created it for them via its "free money party." They don't need loans as their assets have substantially increased.  So, raising rates alone are unlikely to stop price increases.
End Quote:
From Coco Chanel who was a famous French fashion designer and businesswoman:

<![if !vml]>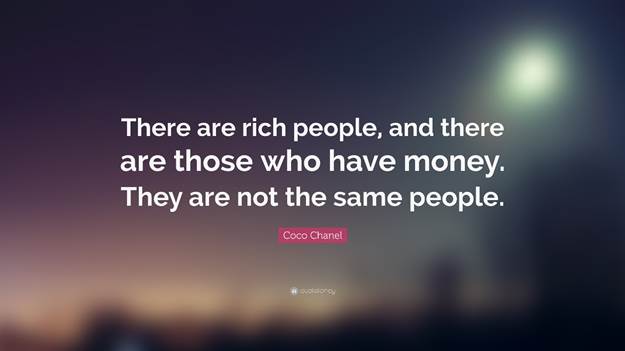 <![endif]>
Stay healthy, enjoy life, success, good luck, and best wishes.  Till next time....
The Curmudgeon
ajwdct@gmail.com
Follow the Curmudgeon on Twitter @ajwdct247
Curmudgeon is a retired investment professional. He has been involved in financial markets since 1968 (yes, he cut his teeth on the 1968-1974 bear market), became an SEC Registered Investment Advisor in 1995, and received the Chartered Financial Analyst designation from AIMR (now CFA Institute) in 1996. He managed hedged equity and alternative (non-correlated) investment accounts for clients from 1992-2005.
Victor Sperandeo is a historian, economist and financial innovator who has re-invented himself and the companies he's owned (since 1971) to profit in the ever changing and arcane world of markets, economies and government policies. Victor started his Wall Street career in 1966 and began trading for a living in 1968. As President and CEO of Alpha Financial Technologies LLC, Sperandeo oversees the firm's research and development platform, which is used to create innovative solutions for different futures markets, risk parameters and other factors.
Copyright © 2022 by the Curmudgeon and Marc Sexton. All rights reserved.
Readers are PROHIBITED from duplicating, copying, or reproducing article(s) written by The Curmudgeon and Victor Sperandeo without providing the URL of the original posted article(s).