All Bets Are Off in a Contested Presidential Election
<![if !supportLineBreakNewLine]>
<![endif]>
By the Curmudgeon
Introduction:
The outcome of Tuesday's U.S. Presidential and Congressional elections will surely influence the economy during the next four years.  However, research indicates that it really doesn't matter too much to the stock market.  Conventional wisdom might suggest that Republicans, who are supposedly more business-friendly than the Democrats, would be more beneficial for your stock holdings. However, that's often not the case.  Interestingly, the best outcome for the market is a Democratic President and a split Congress (see Chart below).
We'll examine the historical stock market performance under Democrats and Republican administrations, the timeline of what happens after the election, concerns about a contested election, negating of the "4 Year Presidential Election Cycle" and more in this week's Curmudgeon post.
Political Party Influence on the Stock Market:
"When we do see a political influence, it is not what might be expected," writes Brad McMillan, chief investment officer for Commonwealth Financial Network. "The average Republican administration over that time period saw gains of 3.5% per year, while the Democrats saw gains of almost twice as much, at 6.7% per year."
There are exceptions, of course. In George Bush's final year of service (January 2008 through January 2009), for instance, the Dow tanked nearly 32%.  This trend is even more pronounced in recent decades. Since Bill Clinton's inauguration in 1993, U.S. equities have grown 14.5% on average while Democrats control the White House, according to YCharts data, against just 3% under Republican control.  International stocks also outperform under Democrats, though emerging-markets stocks have the edge under Republican presidents. 
The YChart below depicts returns of various asset classes, during the tenure of recent U.S. presidents.
<![if !vml]> <![endif]>

Here's a chart courtesy of RBC Capital Markets that shows how the S&P 500 performed under six different political party scenarios, using data from data going back to 1933:
<![if !vml]> <![endif]>

Courtesy of RENMAC, here's a chart of the seasonal pattern of S&P 500 stock index performance in election years (averaged over the last 92 years):
<![if !vml]>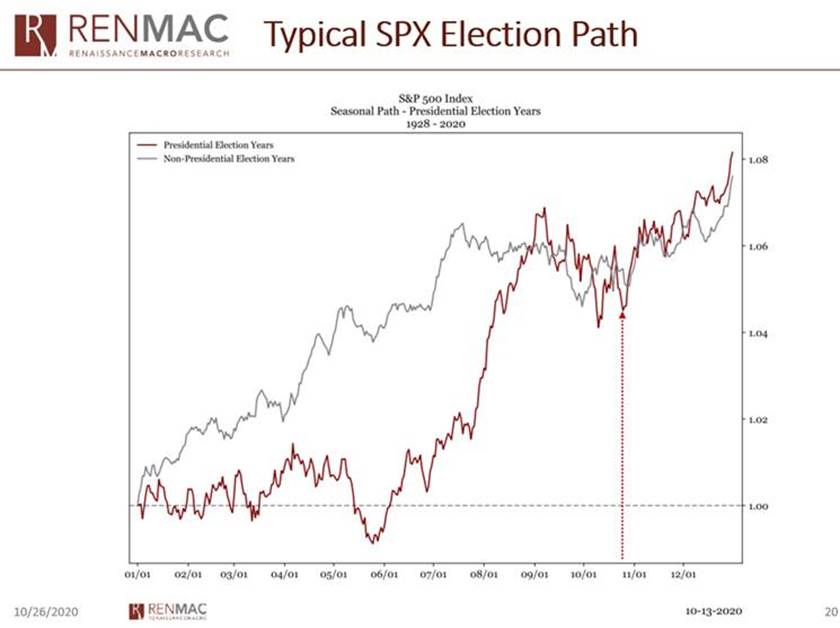 <![endif]>

In the 23 president elections since 1928, 14 were preceded by gains in the three months prior. In 12 of those 14 instances, the incumbent (or the incumbent party) won the White House. In eight of nine elections preceded by three months of stock market losses, incumbents were sent packing. That's an 87% accuracy rate. (Exceptions to this correlation occurred in 1956, 1968 and 1980.)
Jim Stack, publisher of InvesTech Research, advices money management clients and subscribers to disregard headlines predicting doomsday for the markets.  "Today, many are warning of how a Biden presidency might negatively impact the stock market or the economy," Stack told Kiplinger, but adds there were similar warnings about Trump in the previous election cycle. "While investors should not ignore politics, it is worth noting that market results are rarely as dire as portrayed by the headlines."
Indeed, a recent Citi Velocity poll the Curmudgeon participated in there was only a very small percentage believing there'd be a + or – 10% stock market move if either Biden or Trump wins the Presidential election.
It's important to note that U.S. elections have more specific consequences for the market's various sectors and indices, depending on each party's agenda and how much of Washington they control.  For example, the potential anti-trust action against the tech mega giants (which dominate the stock market) may be pursued more vigorously by a Democrat controlled Congress.  CNBC reports that Republican House members disagree with the Democrats' recommendation for sweeping changes to antitrust law that could ultimately lead to a breakup of some of those companies.
What to Expect after Election Day:
After the November 3rd U.S. election, states must count and eventually certify the vote according to their respective statutory and procedural requirements. How long might that take?
According to the Congressional Research Service, state governors must prepare "as soon as practicable" Certificates of Ascertainment of the vote that must list the names of the electors chosen by the voters and the number of votes received in the popular election results, the names of all other candidates for an elector, and the number of votes they received.
The Certificates of Ascertainment must be provided to the Electoral College not later than when it is scheduled to meet, which is the Monday after the second Wednesday in December of presidential election years. This year that date is December 14th. In the event of a contested election in a state, a governor has up until December 8th, which serves as a "Safe Harbor" deadline to provide certified election results.
On December 14th, Electoral College delegations meet separately in their respective states where the electors cast paper ballot votes for the President and Vice President.
On January 6th, the House of Representatives and Senate meet in a joint session to officially count and declare the election results. Members of Congress may object to any individual state's returns, but it must be made in writing by at least one Member of both the House and Senate. If an objection meets these requirements, then the joint session of Congress adjourns for two hours, where the respective chambers vote to accept or reject the objections before reassembling to announce their results. An objection must be approved by both the House and Senate for a state's contested results to be excluded. On January 20th, the President and Vice President are inaugurated.
In the unlikely event the Presidential election outcome may still not be determined by Inauguration Day, the House speaker, currently Nancy Pelosi, would become the U.S. President.
Many fear the U.S. Supreme Court might decide the election under a variety of scenarios including Trump refusing to leave office if he is defeated.  The Supreme Court now has a 6-3 conservative majority with three justices appointed by President Trump. Justices John Roberts, Brett Kavanaugh, and Amy Coney Barrett all worked on George W. Bush's legal fight during the 2000 Bush v. Gore case where the U.S. high court reversed the Florida Supreme Court ruling authorizing a ballot recount.
The precedent for trying to reach a decision by the Electoral College date would likely be something the U.S. Supreme Court would try to consider again if faced with another decision. Justice Kavanaugh recently authored an opinion in a Wisconsin voting case earlier this week criticizing absentee ballots received after Election Day. Democrats fear that conservative justices will be quick to cite the precedent from Bush v. Gore case to halt some votes from being counted and in the process hand Trump the presidency. Their concern is that Trump could claim victory in Pennsylvania before the main-in ballots are counted.
This is a major uncertainty and we sincerely hope the Supreme Court is NOT involved in determining the next President of the U.S.
Dangers of a Contested Presidential Election:
In recent weeks, Wall Street has focused on the possibility of election-related unrest as President Trump has raised unfounded concerns about widespread voter fraud with mail-in ballots and has refused to commit to a peaceful transfer of power if he loses.
Citi's CEO Michael Corbat is prepared for a contested U.S. election.  "It's a scenario that people talk about," he told Yahoo Finance in an interview that aired as part of its annual All Markets Summit. "I would say that it's kind of one of the things that we are and certainly will be keeping an eye on." "I think that the markets and Citi will certainly be prepared. This year, we've gone through unprecedented periods of volatility. And I think the markets have stood up very well to that," Corbat added.
JPMorgan Chase CEO Jamie Dimon along with several important business leaders have signed onto a letter calling for election integrity, among them LinkedIn CEO Reid Hoffman and the co-founders of Ben and Jerry's, Ben Cohen and Jerry Greenfield.  The Curmudgeon has received and signed many similar petitions and we recommend readers do too. Let's all hope for a free and fair election!
Conclusions:
The "4 Year Presidential Election Cycle," which was like a bible to the Curmudgeon (and also to Victor) was not mentioned in this article?  That is because of the Fed's unpredictable rescuing of financial markets with endless liquidity anytime there is an economic downturn.  Also, because of what we firmly believe is intervention in the markets (directly or via investment banks and foreign central banks) to buy stock index futures and ETFs by the Working Group on Financial Markets (a.k.a. the "Plunge Protection Team" or "PPP").
Therefore, we believe that the U.S. election outcome will have a direct impact on the economy, but not much on financial markets IF it is decided in a quick, orderly manner.  All bets are off in a contested election!
……………………………………………………………………………………………………….
Good health, stay calm, good luck and till next time….
The Curmudgeon
ajwdct@gmail.com
Follow the Curmudgeon on Twitter @ajwdct247
Curmudgeon is a retired investment professional. He has been involved in financial markets since 1968 (yes, he cut his teeth on the 1968-1974 bear market), became an SEC Registered Investment Advisor in 1995, and received the Chartered Financial Analyst designation from AIMR (now CFA Institute) in 1996. He managed hedged equity and alternative (non-correlated) investment accounts for clients from 1992-2005.
Victor Sperandeo is a historian, economist and financial innovator who has re-invented himself and the companies he's owned (since 1971) to profit in the ever changing and arcane world of markets, economies and government policies.  Victor started his Wall Street career in 1966 and began trading for a living in 1968. As President and CEO of Alpha Financial Technologies LLC, Sperandeo oversees the firm's research and development platform, which is used to create innovative solutions for different futures markets, risk parameters and other factors.
Copyright © 2020 by the Curmudgeon and Marc Sexton. All rights reserved.
Readers are PROHIBITED from duplicating, copying, or reproducing article(s) written by The Curmudgeon and Victor Sperandeo without providing the URL of the original posted article(s).