Analysis of September 2020 OECD Economic Report: Living with Uncertainty
<![if !supportLineBreakNewLine]>
<![endif]>
By the Curmudgeon
OECD Report Summary:
The coronavirus pandemic along with geopolitical uncertainty and aging economic expansions have caused global economic growth to contract sharply in the 2nd Quarter 2020.  All G20 countries with the exception of China (you can't trust their economic numbers) will have suffered recession in 2020.   The Organization for Economic Cooperation and Development (OECD) latest forecast is for global GDP to fall by 4.5% this year, before growing by 5% in 2021.  In its June 2020 Economic Outlook report, the OECD expected the global economy would contract by 6% this year and grow 5.2% next year.
Although OECD forecasts a fragile recovery next year, in many countries output at the end of 2021 will still be below levels at the end of 2019, and well below what was projected prior to the pandemic. India, Mexico, and South Africa will experience an even larger recession than the OECD anticipated three months ago. 
Uncertainty remains high and the strength of the recovery varies markedly between countries and between business sectors. Prospects for an inclusive, resilient and sustainable economic growth will depend on a range of factors including the likelihood of new outbreaks of the virus, how well individuals observe health measures and restrictions, consumer and business confidence, and the extent to which government support to maintain jobs and help businesses succeeds in boosting demand.
How successfully a country manages coronavirus cases will determine whether it permits its economy to reopen or remain in a semi-locked down state.  If a government can keep COVID-19 infection rates at a bare minimum, occasional outbreaks are much easier to deal with. This is reflected in the two countries leading the OECD latest gross domestic product projections through 2021: China and South Korea economies are expected to grow 8% and 3.1%, respectively in 2021.  Conversely, Japan was already careening into a recession before the coronavirus outbreak, which was relatively mild in that country.
The OECD economic projections (see graph below) also make clear that COVID-19 isn't the only factor involved. The U.S. has not managed the pandemic very well, but its economy is still expected to bounce back better than most nations.  China and Europe are also expected to perform better than expected.  
In its September 2020 Economic Outlook report OECD says:
"Prospects for economic growth will depend on various factors, including the likelihood of new virus outbreaks, the impact on consumer and business confidence, and the extent to which government aid for jobs and businesses can boost demand. The unprecedented policy support by governments needs to continue but become more targeted and be flexible enough to adapt to changing conditions. Policymakers need to convince people that they are working to improve their lives and creating opportunities for all."
"Output picked up swiftly following the easing of confinement measures and the initial re-opening of businesses, but the pace of the global recovery has lost some momentum over the summer months."
"In most economies, the level of output at the end of 2021 is projected to remain below that at the end of 2019, and considerably weaker than projected prior to the pandemic, highlighting the risk of long-lasting costs from the pandemic."
<![if !vml]>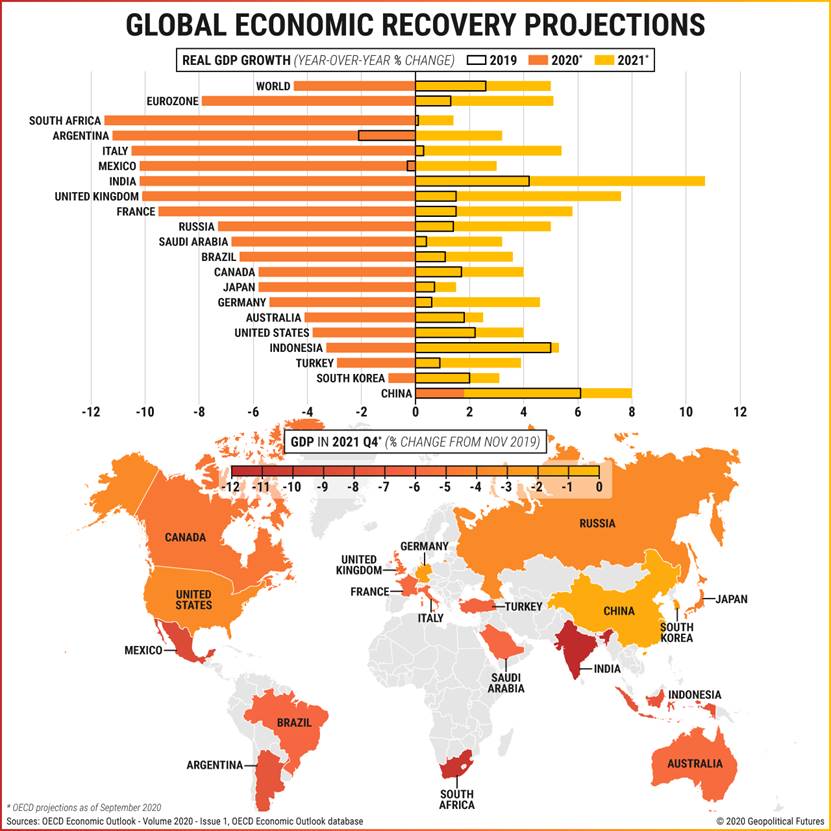 <![endif]>

Image Credit: Geopolitical Futures
Key Messages from the OECD Report:
<![if !supportLists]>· <![endif]>Policymakers have reacted and managed to buffer the initial shock well.
<![if !supportLists]>· <![endif]>Activity rebounded as confinement measures started to ease, but momentum appears to be plateauing and confidence remains weak.
<![if !supportLists]>· <![endif]>Policy still matters to boost confidence: improve health care, maintain fiscal and monetary support, assist people and firms with ongoing changes.
<![if !supportLists]>· <![endif]>Recovery plans are a once in a lifetime opportunity to encourage sustainable, inclusive, and green growth.
Comment and Analysis:
The OECD's forecasts seem to be Pollyanna-like optimistic, predicting massive V-shaped recoveries in most of the world's leading economies.  For 2021, the OECD sees positive real GDP in EVERY country it tracks with a 5.7% average for all 37 OECD countries.  Yet most economists expect GDP in almost all countries to decline well into 2021.  That was detailed in last week's post titled Global Economies Rebound, but Won't Reach Pre-Coronavirus Levels Till 2022.
Some of the country OECD estimates are contingent on policy assumptions that may not materialize.
For example, OECD expects the U.S. Congress to approve another stimulus package worth up to $1.5 trillion this fall.  That despite the fact that negotiations have reached an impasse. Reaching an agreement may be more difficult as the November election approaches.  ShadowStats' John Williams continues to forecast a "L" type of economic recovery for the U.S.
The OECD assumes that the United Kingdom (UK) will reach a "basic" free trade agreement for goods with the European Union (EU). But talks could be crushed by a controversial bill introduced by Prime Minister Boris Johnson's government, which would break the terms of a previously negotiated divorce agreement.
But what if the above agreements don't materialize?  Or if COVID-19 vaccines prove less effective than hoped? Or if the damage being wrought by the virus and the extreme rescue measures being deployed in response lead to structural changes (e.g. travel restrictions) that inhibit economic growth?
Closing Quotes:
"The world is facing an acute health crisis and the most dramatic economic slowdown since the second World War. The end is not yet in sight," Laurence Boone, OECD chief economist.
"For the last five years, much of corporate cash flows were deployed into share buybacks, not capital spending or productivity improvements. We're probably in a more diminished state because of the financial engineering in the past decade than we were prior to the previous financial crisis. We're in a bad situation,"  Robert L Rodriquez, former managing partner at FPA (who says "We're in a Rolling Depression.")
…………………………………………………………………………………………………….
Good health, good luck and till next time….
<![if !supportLineBreakNewLine]>
<![endif]>
The Curmudgeon
ajwdct@gmail.com
Follow the Curmudgeon on Twitter @ajwdct247
Curmudgeon is a retired investment professional. He has been involved in financial markets since 1968 (yes, he cut his teeth on the 1968-1974 bear market), became an SEC Registered Investment Advisor in 1995, and received the Chartered Financial Analyst designation from AIMR (now CFA Institute) in 1996. He managed hedged equity and alternative (non-correlated) investment accounts for clients from 1992-2005.
Victor Sperandeo is a historian, economist and financial innovator who has re-invented himself and the companies he's owned (since 1971) to profit in the ever changing and arcane world of markets, economies and government policies.  Victor started his Wall Street career in 1966 and began trading for a living in 1968. As President and CEO of Alpha Financial Technologies LLC, Sperandeo oversees the firm's research and development platform, which is used to create innovative solutions for different futures markets, risk parameters and other factors.
Copyright © 2020 by the Curmudgeon and Marc Sexton. All rights reserved.
Readers are PROHIBITED from duplicating, copying, or reproducing article(s) written by The Curmudgeon and Victor Sperandeo without providing the URL of the original posted article(s).