China Threatens Hong Kong's Autonomy; Scraps GDP Targeting
<![if !supportLineBreakNewLine]>
<![endif]>
By the Curmudgeon with Victor Sperandeo
Introduction:
To the surprise of no one, China said on Thursday that it would bypass Hong Kong's legislature to impose a sweeping security law and thereby kill its "one country, two systems" policy. 
Hong Kong's Basic Law [see Sidebar below] requires the Hong Kong legislature to ratify national security to prevent sedition, secession, and foreign interference.   That basic law was to ensure Hong Kong's semi-autonomy until 2047.  Now China's ruling party is attempting to subvert that law to make it a "one country, one system."
Separately, China has decided to stop targeting GDP, which was a surprise to many economists, even though the economic numbers China reports are not believed to be accurate as they always appear to be better than they are in reality.
China-Hong Kong Tensions Heat Up:
At the National People's Congress, the annual 3,000-member legislative session in Beijing meant to rubber-stamp policy, China announced another draft law that will allow it to set up national security institutions in Hong Kong.
"We will establish sound legal systems and enforcement mechanisms for safeguarding national security," Chinese Premier Li Keqiang, the country's number-two leader behind President Xi Jinping, said at the opening of the People's Congress.
Late Thursday, as the first reports emerged of Beijing's intent, National People's Congress spokesman Zhang Yesui said the push to enact national security legislation from Beijing was required given the "new situation and demands" in Hong Kong. He said action at the national level was "entirely necessary."
Hong Kong "is an inalienable part of the People's Republic of China," said Hong Kong's Beijing-backed Chief Executive Carrie Lam in a written statement late Friday, adding that her administration supports the National People's Congress deliberation.
This move effectively empowers Beijing to enforce national security provisions without the Hong Kong Legislative Council needing to pass any legislation itself, which it failed to do last year after its extradition bill sparked a mass public revolt.
There's mounting fear that Beijing would use the new laws to subvert semi-autonomous Hong Kong's remaining rights, which include freedom of speech and assembly, and the city's independent judiciary.  The overarching concern is that Beijing is just making it easier to exert control over Hong Kong media, education, free speech and so forth.
…………………………………………………………………………….
Sidebar – Hong Kong Basic Law:
When it was promulgated in 1990, China's then God-like leader Deng Xiaoping hailed Hong Kong's Basic Law as a "masterpiece" of constitutional drafting. Observers indulged the veteran leader's enthusiasm for the project he had overseen.   It was one of the conditions for the UK to transfer control of Hong Kong to China in 1997.
Under the Basic Law, the mini-constitution that governs the territory, Hong Kong is obliged to adopt rules "to prohibit any act of treason, secession, sedition and subversion" against the Chinese government.
Article 22 says that no department of the central government may interfere in Hong Kong affairs. Yet Beijing authorities seemed to be doing just that for several years now.
Article 12 is even less precise. It says only that Hong Kong "shall enjoy a high degree of autonomy and come directly under the Central People's Government."
On April 14th, three of Hong Kong's most senior judges warned that the independence of Hong Kong's judiciary was "under assault" and that it was in a "fight for its survival."
<![if !vml]>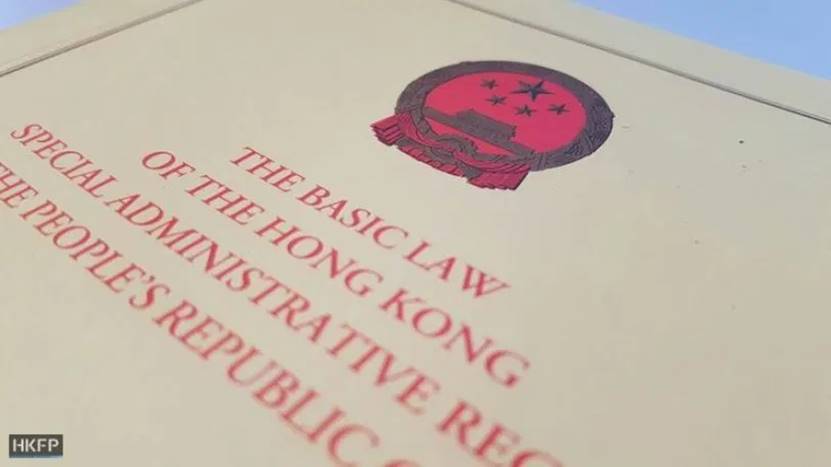 <![endif]>https://www.bbc.com/news/world-asia-china-47810723
…………………………………………………………………………………
Extradition Bill Sparked Protests Which Continue:
Last year, Hong Kong's legislature tried to pass an extradition bill that critics feared would allow the Chinese government to arbitrarily send Hong Kong residents to China for "trials."  That ignited massive protests, leading to months of unrest that sometimes turned violent. The bill was withdrawn, but the demonstrations continued, as the fight transformed into a larger battle to protect Hong Kong's democratic institutions.
The coronavirus pandemic and the social distancing measures required to slow its spread put a lot of that public activism on hold. But Beijing has used the pandemic to further crack down on the pro-democracy movement, including by arresting pro-democracy lawmakers in April.
While President Xi is using legislation rather than military force in a territory already under Chinese rule, it is nonetheless a brash move by an autocratic leader willing to risk international condemnation to resist what he views as foreign encroachment on his country's security.
<![if !supportLineBreakNewLine]>
<![endif]>
…………………………………………………………………………….
Notable Quotes:
Samuel Chu, the managing director of the Hong Kong Democracy Council, a US-based pro-democracy group, said China's decision to step in directly shows it has been unable to fully rein in Hong Kong. "I think that this — not only in a short-term way — will antagonize the pro-democracy movement even more and would generate a kind of response that China is not prepared [for]."
Ho-Fung Hung, a professor of political economy at Johns Hopkins University, said Beijing may have stepped in directly because it learned a lesson from the 2019 anti-extradition bill protests, which ultimately defeated the legislation and embarrassed China.
"It will be a huge embarrassment if it tried to push through the local legislature that is eventually shelved because of local protests. Beijing did not want to reach that event. Beijing even didn't trust the local legislature, so it adopted this kind of extreme route to directly legislate," Hung said.  "And it is a big, risky move," he added, "because it tears down all the remaining pretension of one country, two systems."
"There was this idea before about China being cautious and trying to cultivate its soft power around the world," said Jean-Pierre Cabestan, a professor at Hong Kong Baptist University and the author of "China Tomorrow: Democracy or Dictatorship?" "Those times are gone with Xi Jinping."
"Chinese aggression is not always just rhetorical," Alice G. Wells, an assistant U.S. Secretary of State, said in a telephone briefing in Washington last week. "So whether it's in the South China Sea or whether it's along the border with India, we continue to see provocations and disturbing behavior by China that raises questions about how China seeks to use its growing power."
"In the future, Beijing will control not only the administration of Hong Kong but its ideology," said Johnny Lau, a longtime Hong Kong political analyst and journalist.
"It is an official death sentence for Hong Kong; it's nothing less than that," said Alvin Y. H. Cheung, an affiliated scholar at NYU's US-Asia Law Institute.
Hong Kong Capital Flight and Stock Market:
Hong Kong bankers are warning that China's effort to control Hong Kong may spark capital flight over fears of the erosion of the rule of law and a spike in social unrest.
Indeed, new protests erupted in Hong Kong on Sunday, and resistance to greater control by Beijing could threaten the territory's role as a financial center.
Hong Kong's Hang Seng stock market index plunged 5.6% on Friday (it was flat in Monday trading).  Further stock market declines should be expected as long as protests persist.
In conclusion, China's new national security law for Hong Kong is a much more direct step toward what Beijing has been trying to accomplish for years: "one country, one system."
…………………………………………………………………………………
Victor's Comments on China vs Hong Kong:
The political philosophy of Chairman Mao is exactly the opposite of the U.S.  Here is a quote to illustrate that:
"All political power comes from the barrel of a gun. The communist party must command all the guns, that way, no guns can ever be used to command the party," said Mao Zedong during an emergency meeting of the Communist Party of China on 7 August 1927, at the beginning of the Chinese Civil War.
The Politburo ("The Standing Committee of the Central Political Bureau of the Communist Party of China") is a committee consisting of the top leadership of the Communist Party of China.  Historically it has been composed of five to eleven members, and currently has seven.                         
China has a population of 1,436,768,070 in 2020. Thereby, seven politburo members rule 1.4 billion souls by whim. Communism has no fixed rules. In particular, there are no property rights under communism.  As a result, Hong Kong's richly valued real estate is worth only 10% of its current assessed value in my view. The wealth of Hong Kong is almost worthless to the owners. When this is recognized, it will likely create a mass exodus out of Hong Kong.  Capital is also on its way out of Hong Kong as the Curmudgeon notes above. 
The U.S. will probably make some attempt to change the trade status with China, but can that nation be trusted to keep any agreement?  How can you trust a country that kills, lies, and breaks a pledge against its own people?  Hong Kong is history in my view.
…………………………………………………………………………….
China Suspends GDP Targets; Focuses on Domestic Economy:
China will scrap its annual gross domestic product (GDP) growth target for the first time ever, according to Chinese Premier Li Keqiang's opening speech at the NPC – part of a suite of "extraordinary measures for an unusual time" being rolled out by Beijing.
The implicit acknowledgment of sharply slower growth for 2020 marks a retrenchment for China's Premier Xi Jinping during a year when he was set to proclaim the end of absolute poverty in the country and double the economy's size from a decade earlier—political goals meant to burnish his standing ahead of next year's centennial of the Chinese Communist Party's founding.
Economists had said China needed to grow its economy by at least 5.5% to fulfill the mission of doubling the economy's overall size—a target that now appears to be out of reach in the absence of a broader reframing of the goals. This decision was largely motivated by the fact that Beijing is just as much in the dark as the rest of us about exactly how much more economic chaos the coronavirus pandemic will sow over the rest of the year. The Chinese economy contracted 6.8% during the first quarter, and it will not rebound fully until Western consumption recovers.
George Friedman of Geopolitical Futures says Beijing has been trying to move away from GDP targets for years and no one believes there numbers anyway. China's government tends to create all sorts of skewed incentives for officials at the local and provincial levels to either:
<![if !supportLineBreakNewLine]>
<![endif]>
1.  Lean on unproductive investment and misallocated capital to meet their marks or………………….
2.  Cook the books and fudging the economic statistics which leaves the central government blind to the emerging economic risks.
Mr. Li said the decision to scrap an explicit numerical forecast was made "because our country will face some factors that are difficult to predict," pointing to the coronavirus and uncertainties around trade. But Mr. Li said the lack of a target "will enable all of us to concentrate on ensuring stability…and security."
Notably, Li also announced that Beijing would run a budget deficit of at least 3.6% of GDP and cut corporate taxes and fees by another 2.5 trillion yuan ($350 billion) in order to stimulate the economy. At the same time, he warned provincial and local governments at all levels to tighten their belts.
In what appears to be a public relations stunt, Chinese President Xi Jinping said China's annual economic growth target could have been set around 6% had the new coronavirus epidemic not happened, according to state media reports on Saturday.
"If the epidemic hadn't happened, under general circumstances, the GDP growth target would be set around 6%," Xi told a parliamentary group discussion on Friday, according to state media.
"If we rigidly set one (GDP target), then the focus will be on strong stimulus and to hit the growth rate, which is not in line with the purpose of our economic and social development," Xi said.
President Xi told dozens of top economic advisers in Beijing this past weekend that China was pursuing a new development plan in which "domestic circulation plays the dominant role."   "For the future, we must treat domestic demand as the starting point and foothold as we accelerate the building of a complete domestic consumption system, and greatly promote innovation in science, technology and other areas," Xi said in comments published by the official Xinhua News Agency.
Victor's Comment:
It is logical to say GDP is not being targeted by China, as consumers are in limbo. I think GDP in China will drop by at least what the CBO estimates U.S. GDP will be in the 2nd quarter of 2020:  -11.5% (not annualized).
……………………………………………………………………………….
Conclusions:
1.  Hong Kong will be fraught with controversy, political tension, and protests if China exerts more control over the region.  That will be very bad for Hong Kong's economy and its many trading partners.  Also bad for the Hang Seng stock index.
2.  When forced to choose between preserving Hong Kong's reputation as an independent entity vs. the risks Hong Kong poses to mainland China political stability, Beijing will always choose to control the latter and intervene in Hong Kong's affairs.  That is, in effect "one country, one system."
3.  GDP targeting was a sham in the first place, so its absence will not really have any economic impact.
4.  In the absence of larger-scale stimulus, economists now say China's policy makers will focus on getting the economy to muddle through while trying to create employment and stable living conditions for the tens of millions of Chinese workers who economists estimate have lost work in recent months.
Closing Quotes:
What one of the greatest revolutionary women of America observed about dictators is now appropriate with respect to China's strong-arm policy in Hong Kong:
 "The love of domination and an uncontrolled lust of arbitrary power have prevailed among all nations and perhaps in proportion to the degrees of civilization."
 "I am more and more convinced, of the propensity in human nature to tyrannize over their fellow men."  by Mercy Otis Warren.
And a quote by China's leader is also apropos:
"After the outbreak, some things were not left to us.  A global recession is a foregone conclusion. As to how much and how deeply we will be affected, there is still a lot of uncertainty.  We now have to seek development in a more unstable and uncertain world," China President Xi Jinping.
….……………………………………………………………………………..
Good health, be well, good luck and till next time………………………...
The Curmudgeon
ajwdct@gmail.com
Follow the Curmudgeon on Twitter @ajwdct247
Curmudgeon is a retired investment professional. He has been involved in financial markets since 1968 (yes, he cut his teeth on the 1968-1974 bear market), became an SEC Registered Investment Advisor in 1995, and received the Chartered Financial Analyst designation from AIMR (now CFA Institute) in 1996. He managed hedged equity and alternative (non-correlated) investment accounts for clients from 1992-2005.
Victor Sperandeo is a historian, economist and financial innovator who has re-invented himself and the companies he's owned (since 1971) to profit in the ever changing and arcane world of markets, economies and government policies.  Victor started his Wall Street career in 1966 and began trading for a living in 1968. As President and CEO of Alpha Financial Technologies LLC, Sperandeo oversees the firm's research and development platform, which is used to create innovative solutions for different futures markets, risk parameters and other factors.
Copyright © 2020 by the Curmudgeon and Marc Sexton. All rights reserved.
Readers are PROHIBITED from duplicating, copying, or reproducing article(s) written by The Curmudgeon and Victor Sperandeo without providing the URL of the original posted article(s).