Ray Dalio from Davos: Cash is STUPID + Chart of the Century

by the Curmudgeon
<![if !supportLineBreakNewLine]>
<![endif]>
"We are in this Goldilocks period right now. Inflation isn't a problem. Growth is good, everything is pretty good with a big jolt of stimulation coming from changes in tax laws," Bridgewater's Ray Dalio told CNBC on Tuesday from the World Economic Forum in Davos, Switzerland.
"There is a lot of cash on the sidelines.... We're going to be inundated with cash," he said. "If you're holding cash, you're going to feel pretty stupid," Dalio added.
Here's the Dalio video clip and commentary.
The Curmudgeon (AKA "Curmo" - a nickname from a reader in Australia) has no comment other than super strong momentum does not immediately lead to a bear market, as we've shown in a table from a previous post. 
………………………………………………………………………………………………………..

Chart of the Century (or of all time?):
We thought it was miraculous that the S&P 500 hasn't experienced even a 3% pullback since November 2, 2016 (almost 15 months), but this chart, courtesy of Sentiment Trader (via Twitter) tops that:
Approaching day #200 without back-to-back losses of more than 0.25%. This is truly a singular market without historical precedent.
<![if !vml]>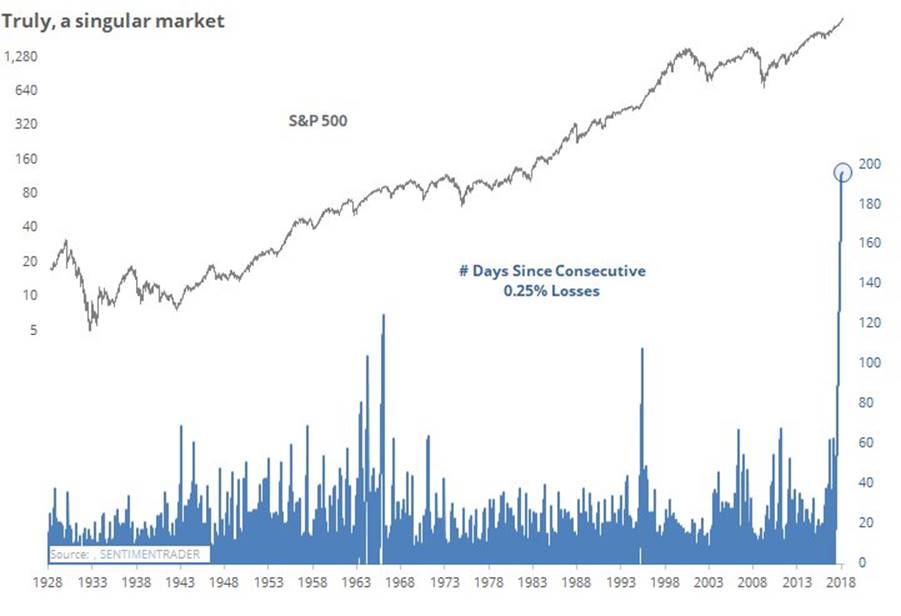 <![endif]>
Good luck and till next time...
The Curmudgeon
ajwdct@gmail.com
Follow the Curmudgeon on Twitter @ajwdct247
Curmudgeon is a retired investment professional. He has been involved in financial markets since 1968 (yes, he cut his teeth on the 1968-1974 bear market), became an SEC Registered Investment Advisor in 1995, and received the Chartered Financial Analyst designation from AIMR (now CFA Institute) in 1996. He managed hedged equity and alternative (non-correlated) investment accounts for clients from 1992-2005.
Victor Sperandeo is a historian, economist and financial innovator who has re-invented himself and the companies he's owned (since 1971) to profit in the ever changing and arcane world of markets, economies and government policies.  Victor started his Wall Street career in 1966 and began trading for a living in 1968. As President and CEO of Alpha Financial Technologies LLC, Sperandeo oversees the firm's research and development platform, which is used to create innovative solutions for different futures markets, risk parameters and other factors.
Copyright © 2018 by the Curmudgeon and Marc Sexton. All rights reserved.
Readers are PROHIBITED from duplicating, copying, or reproducing article(s) written by The Curmudgeon and Victor Sperandeo without providing the URL of the original posted article(s).