The Productivity Paradox – US Economic Long Term Growth Threatened

by the Curmudgeon
<![if !supportLineBreakNewLine]>
<![endif]>
Executive Summary:
The Labor Department (BLS) reported today that Non-farm business productivity—the goods and services produced each hour by American workers—decreased at a 0.5% seasonally adjusted annual rate in the 2nd quarter and down 0.4% from a year earlier, the first annual decline in three years.
Manufacturing sector labor productivity decreased 0.2% in the 2nd quarter of 2016, as output and hours worked decreased 0.8 percent and 0.7%, respectively. Output per hour increased 2.6% in the durable goods manufacturing sector reflecting a 2.0% decline in hours worked and a 0.5% increase in output. Productivity decreased 4.1% in the non-durable goods sector in the 2nd quarter of 2016, following a 4.0% 1st quarter increase. Over the last four quarters, manufacturing productivity increased 0.9%, as output increased 0.3% and hours worked declined 0.6%.
We called attention to declining productivity growth in Sunday's Curmudgeon post, but it appears no one paid attention to that important item as there were no Twitter comments or emails received.  Little did we know it would get worse, rather than better! 
This was the third consecutive quarter of falling productivity, the longest losing streak since 1979. That was a further step down from already tepid average annual productivity growth of 1.3% in 2007 through 2015, itself just half the pace seen in 2000 through 2007, and the trend shows little sign of reversing.
"In the short term, it's hard to be anything other than pessimistic, just because this has been going on for so long now," said Paul Ashworth, Chief U.S. Economist at consultancy Capital Economics.
Comment and Analysis:
Persistently weak productivity could weigh on American living standards by restraining the economy's ability to grow quickly and generate higher incomes without igniting inflation. Already, some economists say slow productivity may be restraining wage growth.  More importantly for stock market participants, stagnant productivity and rising labor costs could further squeeze corporate profits, which have been under pressure from extremely weak business investment, financial engineering (see previous Curmudgeon posts), and the energy sector's problems.
"It's a signal that the economy is not going very fast and interest rates should stay low," said IHS Global Insight economist Patrick Newport. "If we see no growth, which is what we've seen over the last year, it would matter a lot."
The economy's potential future growth will be slower than previously expected unless productivity recovers, and their economic projections suggest Fed officials "see current policy as less accommodative, the labor market as less tight and inflationary pressures as more limited," former Fed Chairman Ben Bernanke said Monday.  The policy implications, Mr. Bernanke said, "are generally dovish, helping to explain the downward shifts in recent years in the Fed's anticipated trajectory of rates."
Business investment has been a notable sore spot for the economy in recent months. A closely watched measure of business spending, fixed nonresidential investment, has declined for the past three quarters, according to Commerce Department data. A proxy for spending on new equipment—new orders for non-defense capital goods excluding aircraft—has declined on a year-over-year basis almost continuously for the past year and a half.
<![if !vml]>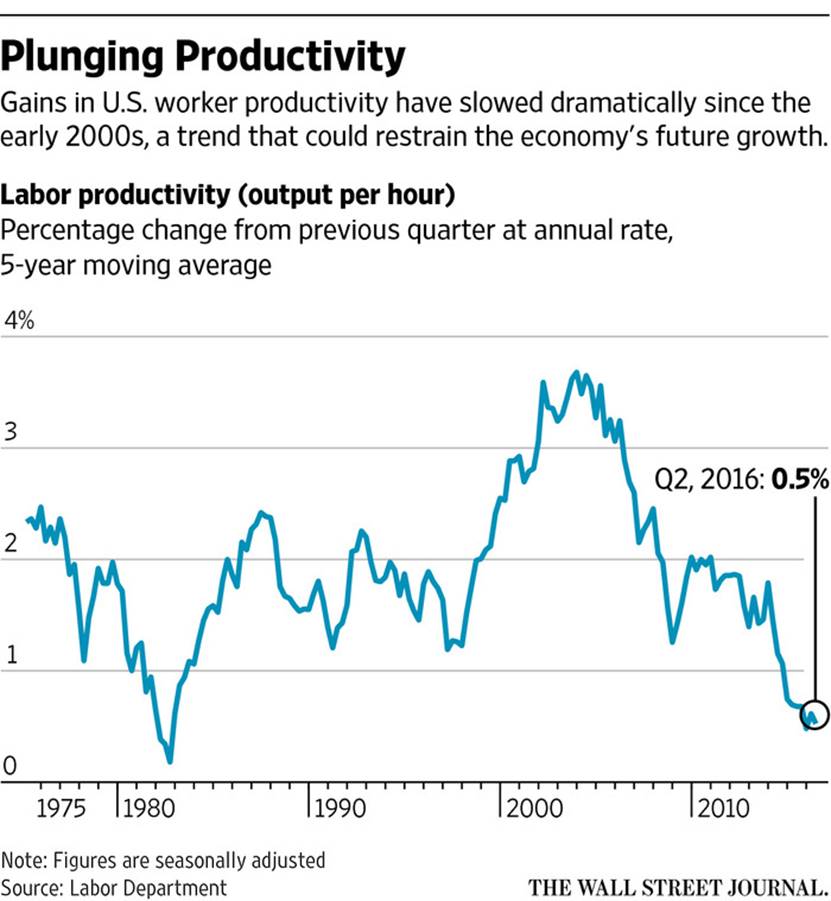 <![endif]>
Reference:  Is the Fed Responsible for Declining Productivity Growth?
Our esteemed colleague Tim Quast of Modernir (big data/analytics for the stock market) was interviewed by CNBC's Rick Santelli today about the BLS reported decline in US productivity. You can watch the short video clip of the interview here. 
One of many key points Tim made was that "the Fed is diminishing the value of capital, which is undermining productivity growth."  There were many other profound and relevant comments.
Rick Santelli's closing response:  "Central bankers are certainly not considering Tim's arguments (that Fed is undermining productivity)."  We ask WHY NOT?
In a follow up email, Tim wrote: "Fed (monetary policy) is core to our productivity problem, which I don't think we can solve until Congress absolves the Fed of its dual mandate and instead vests it with simply sustaining a stable currency."  We couldn't agree more!
Good luck and till next time...
The Curmudgeon
ajwdct@sbumail.com
Follow the Curmudgeon on Twitter @ajwdct247
Curmudgeon is a retired investment professional. He has been involved in financial markets since 1968 (yes, he cut his teeth on the 1968-1974 bear market), became an SEC Registered Investment Advisor in 1995, and received the Chartered Financial Analyst designation from AIMR (now CFA Institute) in 1996. He managed hedged equity and alternative (non-correlated) investment accounts for clients from 1992-2005.
Victor Sperandeo is a historian, economist and financial innovator who has re-invented himself and the companies he's owned (since 1971) to profit in the ever changing and arcane world of markets, economies and government policies.  Victor started his Wall Street career in 1966 and began trading for a living in 1968. As President and CEO of Alpha Financial Technologies LLC, Sperandeo oversees the firm's research and development platform, which is used to create innovative solutions for different futures markets, risk parameters and other factors.
Copyright © 2016 by the Curmudgeon and Marc Sexton. All rights reserved.
Readers are PROHIBITED from duplicating, copying, or reproducing article(s) written by The Curmudgeon and Victor Sperandeo without providing the URL of the original posted article(s).