The Curmudgeon does not believe in making predictions about where the stock markets will be at the close of business this year. I don't believe anyone has the ability to accurately forecast the market in the year ahead.
However, we can look back and assess 2012 as a market dominated by supply/demand and Federal Reserve induced liquidity. And we think that's what drove stock prices higher this past year!
While individual's and mutual funds were liquidating hundreds of billions $s of equity holdings, U.S. companies repurchased $274 billion more shares than they issued through the first three quarters of the year, according to Yardeni Research.
General Electric recently said it would buy back $10 billion of its stock through 2015. Thatís in addition to the $4.9 billion remaining on its current repurchase authorization. Home Depot has also spent $3.3 billion on share buybacks over the first three quarters of its current fiscal year, and plans to spend an additional $700 million in the current quarter, to bring the total to $4 billion. International Business Machines plans to repurchase $50 billion of its stock in the five years to 2015.
Meanwhile, JP Morgan said in their 2012 Year End Review: "As the overall IPO market remained sluggish around the world, there were proportionally fewer capital raisings in the first 11 months of 2012 than in the same period last year." While the final 2012 numbers are not in, we expect the total US $ amount raised from IPOs and secondary offerings to be significantly less than the amount of corporate share buy-backs.
The Fed's zero interest rate policy, QEx and Operation Twist produced liquidity that flowed into equities. Some experts say that caused the equity markets to be manipulated. This year, the Fed will be purchasing $40 billion of U.S. government bonds and $40 billion of mortgage-backed securities each month means that the Fed will be pumping an additional $1 trillion dollars into the economy.
It's important to note that expectations about the future crucially affect todayís asset prices. For example, stock prices reflect expectations of future dividends. Long-term interest rates are influenced by expectations regarding future short-term interest rates. But when risk (as measured by stock market volatility or the VIX) is low, institutional investors take on more risk. We believe this is what caused global equities to post double digit gains in 2012- not fundamentals or improved earnings!
However, we cannot ignore the steady rise in corporate earnings as per the chart below.
<![if !vml]>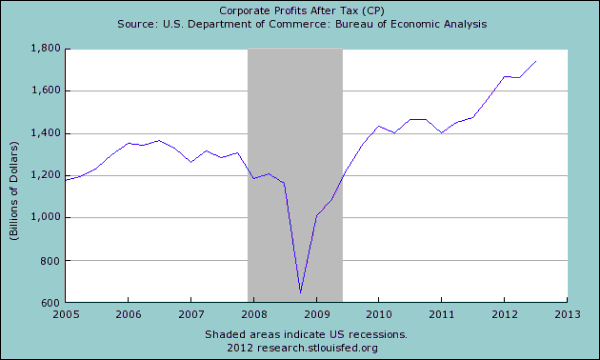 <![endif]>