Has Russia Sold US Dollars to Prepare For Sanctions?

By the Curmudgeon with Victor Sperandeo  
 
Observations and Speculation:
<![if !supportLineBreakNewLine]>
<![endif]>
In preparation for Crimea's succession from Ukraine and Russian troops in that region, some observers think that Russia has taken pre-emptive action to circumvent sanctions (i.e. the U.S. from freezing Russian financial assets in this country).  The Russian central bank may have either sold U.S. dollar holdings on deposit with the Federal Reserve or transferred them overseas.
There was more than a $106 billion decline in the Federal Reserve's custody holdings for foreign central banks for the week ending March 12, 2014, according to Reuters.   
That's by far a record drop. The previous biggest drop in Fed custody holdings was $32 billion in June 2013.  With last week's huge drop, the Fed's holdings of U.S. marketable securities" has fallen to the lowest level since December 2012.
Reuters said the Fed's holdings of U.S. securities kept for overseas central banks sank by $106.142 billion in the week ended March 12th to $3.206 trillion.  The breakdown of custody holdings showed overseas central banks' holdings of Treasury debt fell by $104.535 billion in the week to $2.855 trillion.  Foreign institutions' holdings of securities issued or guaranteed by the biggest U.S. mortgage financing agencies, including Fannie Mae and Freddie Mac, slipped by $797 million to $306.301 billion.  The Fed said its holdings of "other" securities held in custody fell by $809 million to stand at $44.609 billion. These securities include non-marketable U.S. Treasury securities, supranationals, corporate bonds, asset-backed securities and commercial paper.
Author's Note: The statistics above were obtained from the Fed report Factors Affecting Reserve Balances.  Please note that line item 1a only shows a $47.579 billion decline for the week and a $17.444 billion drop from one year ago to $3,206,307 million (=$3.206 trillion) as of March 12, 2014.
As expected, neither the Fed nor any foreign central bank is saying which entities made the custody withdrawals from the Fed.  Andrea Priest, a spokeswoman for the Fed Bank of New York, declined to comment when asked to do so by Bloomberg.
<![if !vml]>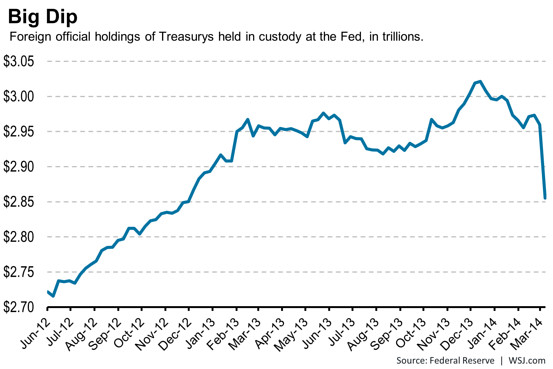 <![endif]>
This record drop in U.S. government securities held in custody at the Federal Reserve is fueling speculation that Russia may have shifted its U.S. dollar holdings out of the U.S. as Western nations threaten sanctions over its military involvement in Ukraine.
"The timing of the drop in custody holdings makes Russia a more likely suspect," said Marc Chandler, global head of currency strategy in New York at Brown Brothers Harriman & Co. in a Bloomberg telephone interview. "If Russia did it, then they may have transferred the holdings to another bank outside of the U.S."
"This is only speculation on our part, but it seems likely that the Russian authorities had more than $100 billion of Treasury debt in custody at the Fed, and it doesn't seem implausible that they moved it to a jurisdiction where it would be less vulnerable to a U.S. asset freeze," said Lou Crandall at Wrightson ICAP LLC.
Foreign central banks can park their U.S. Treasury bond and note holdings at the Fed or other banks that offer custody services. Putting Treasury holdings at the Fed makes it easy to buy or sell dollar-denominated assets.  This is critically important as the U.S. dollar remains as the world's reserve currency.
As of December 2013, Russia held $138.6 billion of U.S. Treasuries, making it the ninth largest country holder, according to Bloomberg which also noted that Russia's holdings are about 1% of the $12.3 trillion in marketable U.S. Treasuries outstanding.  In contrast, China, the biggest foreign U.S. creditor, held $1.27 trillion of U.S. government bonds as of December. Japan is the second-largest holder at $1.18 trillion.
A spokeswoman for Russia's central bank said it hasn't disclosed changes in its foreign-asset holdings.  "Bank Rossii publishes data on managing foreign-currency assets not earlier than six months after the given period because of the high sensitivity of prices on global financial markets to the actions of largest market participants, including the Russian central bank," Anna Granik, a spokeswoman for Moscow-based central bank, said in an e-mailed response to questions from Bloomberg.  
Pundits note that Russia would not have to sell their holdings in U.S. treasuries, but could simply remove them from U.S. control by transferring them from the U.S. Fed to a custodian bank outside of the U.S.   Moreover, U.S. Treasuries rallied strongly last week, which likely wouldn't have occurred if there was massive selling by foreign central banks.
<![if !supportLineBreakNewLine]>
<![endif]>
"If central banks were selling that much Treasuries, the bond market would have noticed and would not have traded as well as it has this week," said Anthony Cronin, a Treasury bond trader at Société Générale SA.  "If they did transfer these assets out of the Fed, they could have gone to Russian banks or any other offshore bank that provides custodian services," he added.
Meanwhile, the Russian ruble has declined over 10 % against the dollar this year and 16% in the past 52 weeks.  It has just hit a record low of 36.66 per dollar as this article is being written on March 16th.
<![if !vml]>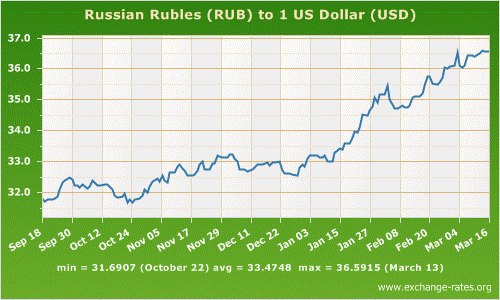 <![endif]>
Perhaps, the Russian Central Bank has actually sold U.S. dollars to buttress its currency or its cratering stock market, which has plunged 33% since it topped out last October.
<![if !supportLineBreakNewLine]>
<![endif]>
Victor's Closing Comments:
<![if !supportLineBreakNewLine]>
<![endif]>
It must be understood and learned by President Obama that "sanctions" against Russia is a losing game.  The U.S. has had an embargo against Cuba for 53 years and they aren't any different than they were when Castro first took power.   Sanctions have never worked on any country that I know of (maybe Iran?).
Russia, under Comrade Putin (who was a KGB Lieutenant Colonel) seems to be in a stronger position than the U.S. under President Obama (who was a "Community Organizer" in Chicago before he ran for political office). That's a ridiculous match-up.
Perhaps, a bit of history in trying to change strong leaders is relevant now.  The leader of 1941 Japan was Emperor Hirohito. The U.S. warned Japan of its creation of an atomic bomb, yet Japan did not surrender. On August 6th 1945, the U.S. dropped "Little Boy" nuclear bomb on Hiroshima and 80-90,000 people died instantly.  An estimated 150,000 died within six months. Now a normal human being would surrender, but not the great leader Hirohito.  So the "Fat Man" atomic bomb was dropped on Nagasaki on August 9th 1945 and another 60,000-90,000 died (in total that was 41% of the population of both Japanese cities).
If sanctions are imposed on Russia, the U.S. and European Union will be at "economic war" with the former super power.  If that's the case, it is likely that China and Russia (comrades in arms) will team up to destroy the U.S. dollar.  Through its oil and natural gas exports, Russia controls a vast amount of the EU's energy needs.  With important European elections in two months and with austerity programs being very unpopular, can you imagine the results if there are electricity shortages?   Now, tell me that sanctions will change Putin's mind about intervening in Ukraine? Check the odds in Las Vegas first!
Sanctions against Russia are not going to end well.  If the U.S. and E.U. choose to fight with Putin-  a man whose KGB motto is" Loyalty to the Motherland" - we can expect economic and political aftershocks.
Till next time........................
The Curmudgeon
ajwdct@sbumail.com
Curmudgeon is a retired investment professional. He has been involved in financial markets since 1968 (yes, he cut his teeth on the 1968-1974 bear market), became an SEC Registered Investment Advisor in 1995, and received the Chartered Financial Analyst designation from AIMR (now CFA Institute) in 1996. He managed hedged equity and alternative (non-correlated) investment accounts for clients from 1992-2005.
Victor Sperandeo is a historian, economist and financial innovator who has re-invented himself and the companies he's owned (since 1979) to profit in the ever changing and arcane world of markets, economies and government policies. As President and CEO of Alpha Financial Technologies LLC, Sperandeo overseas the firm's research and development platform, which is used to create innovative solutions for different futures markets, risk parameters and other factors.
Copyright © 2014 by The Curmudgeon and Marc Sexton. All rights reserved.
Readers are PROHIBITED from duplicating, copying, or reproducing article(s) written by The Curmudgeon and Victor Sperandeo without providing the url of the original posted article(s).