Markets Face Additional Risks as Gaza War Enters New Phase
By the Curmudgeon with Victor Sperandeo

Introduction:
The expansion of Israel's ground operations in Gaza on Friday added more pressure to global markets, which are already in a strong downtrend.  Since the end of July, global stock markets have lost $12 trillion in value.  The S&P 500 has broken multiple support levels (especially 4200) and is now in correction territory, having lost -10.5% from its August highs. (Please see charts below). 
The major concern has been that U.S. and other central banks' "higher-for-longer" interest-rate policies may tip the global economy into a serious recession.  But a new concern is if the conflict in Gaza widens significantly.
<![if !vml]>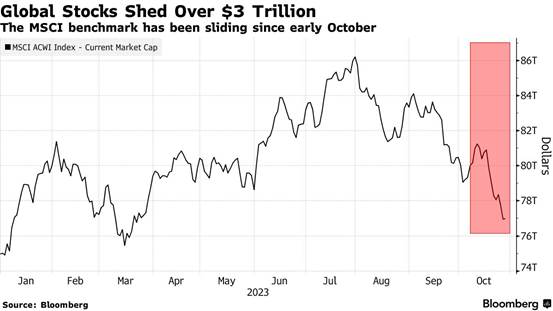 <![endif]>

<![if !vml]>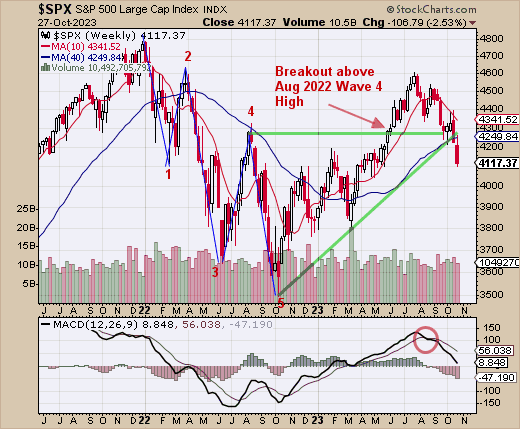 <![endif]>

"Markets face a very challenging backdrop at this juncture," said Paul de La Baume, investment adviser at BNP Paribas (Suisse) SA. "Geopolitical events are adding more volatility and reducing visibility."
….………………………………………………………………………………
Gaza War Deepens with Israeli Boots on the Ground:
After ground troops entered Gaza on Friday, Israel said that it had hit hundreds of Hamas targets, including missile-launch posts.  Prime Minister Benjamin Netanyahu warned of a "long and difficult" war on Saturday.
During a Friends of the Israel Defense Forces (IDF) briefing on Sunday, Major General Major General Nadav Padan said that the IDF had extended its ground maneuver in Gaza during the last 36 hours.  More than a few thousand IDF soldiers are now inside the northern part of the Gaza strip.  The IDF goals are to prepare for a larger invasion and to free the 230 captive hostages that Hamas now holds within Gaza.
<![if !supportLineBreakNewLine]>
<![endif]>
<![if !vml]>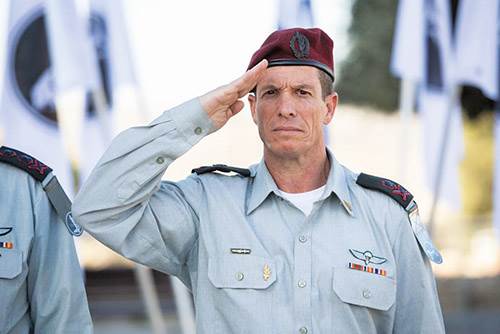 <![endif]>

During his distinguished 36 years of military service in the IDF, Major General Padan has held several leadership positions, including commander of the central command and head of the cyber defense directorate.
….……………………………………………………………………………
"The market has discounted a relatively moderate scenario, in which the conflict is more or less restricted to the area," said Francisco Quintana, head of investment strategy at ING Spain. "The tension is enough to raise energy prices, put pressure on inflation, and prevent central banks from relaxing."
Quintana warned that "the internationalization" of the conflict "would place us very close to the scenarios of 1973." That year, members of the Organization of Petroleum Exporting Countries (OPEC) imposed an embargo against the U.S. after the Arab-Israeli war on Yom Kippur, sending oil prices surging.
That is NOT likely to happen this time around as Saudi Arabia has not publicly backed Hamas and has been mysteriously silent on the conflict in Gaza.  
Major conflicts involving Israel and Arab neighbors in this century have had no lasting impact on oil, with crude prices unchanged in the first 100 days following the conflicts, according to Marko Papic, chief strategist at Clocktower Group.
As we pointed out in last week's column, the real threat to oil supplies, markets and the global economy is if Iran enters the conflict. It could encourage Hezbollah (its other proxy) to attack Israel from the north.  That could lead to U.S. military involvement precipitating a full-scale war in the middle east.  In that case, Iran would likely block the Strait of Hormuz which would cause oil prices to double within a very short time.
Few Assets Rise While Stocks Decline:
Gold has been a big winner since the Israel - Hamas war started on October 7th, rising almost 10% to more than $2,000 an ounce. Some commodity currencies, such as the Colombian peso and Brazilian real, have done well, but the Australian dollar has been basically flat. As one might expect, the safe haven Swiss Franc has increased vs the U.S. dollar, but it's off its October 21st high.
<![if !vml]>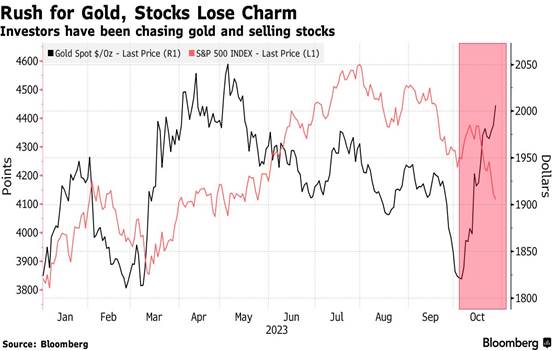 <![endif]>

….………………………………………
Victor's Comments:
The escalating war in the Middle East (it could easily expand to include Hezbollah in Lebanon) should put any Fed rate increases out of the question.  The Fed is insignificant compared to the implications of this war.
The amazing array of pro-Hamas protests in the U.S. and Europe are a shocking portrayal of the propaganda and influence the Arab community and Left (anarchists, communists, socialists, democratic socialists, social democrats, left-libertarians, progressives, and social liberals) have created against Israel. 
It seems that major US and UK university students have been heavily influenced to hate Israel and Jews. This could not happen without a great deal of coordination and money behind it!                                                                                                                                                                        
The October 7th attack on Israel caused a 2+2 reaction in self-defense after the serial killing and barbaric, criminal acts of Hamas, including kidnapping (aka "taking hostages" to be used as bargaining chips and human shields).
Meanwhile, the Palestinians have been made to look like the good guys and Israel the bad guys in the last week. The equivalent would be like the U.S. being wrong for attacking Japan after the Pearl Harbor sneak attack which killed 2403 sailors, soldiers, and civilians! 
No matter what you believe about past conflicts between Palestinians and Israel (e.g., two intifadas [1.], brief wars with Hamas and Hezbollah, etc.), there is nothing that justifies Hamas' brutal October 7th attack by any humanistic norms of the past. 
Note 1.   The first intifada began in December 1987 and ended in September 1993 with the signing of the first Oslo Accords, which provided a framework for peace negotiations between Israel and the Palestinians. The second intifada, sometimes called the Al-Aqṣā intifada, began in September 2000. Although no single event signaled its end, most analysts agree that it had run its course by late 2005.
Victor's Conclusions:
The war in Gaza is much more serious problem than just exterminating Hamas. In fact, the problem is far greater than I and most rational scholars could imagine.  It is a foreboding prognosis of the political and economic future of the world order.
If the UN and world leaders cannot totally agree on the moral issues involved here, it has to be for an undeclared and unknown reason.
End Quotes:
"If you believe current events will have a lasting impact on global societies, your required risk premium will go up," said Jeroen Blokland, head of research firm True Insights. "Even though this impact is not easily measured, it should not be overlooked. Politics and political currents are becoming more polarized and more extreme."
"The third rule of ethics of means and ends is that in war the end justifies almost any means." Saul Alinsky
….……………………………………………………………………………
Be well and keep the faith by ONLY trusting credible and objective news sources.
<![if !supportLineBreakNewLine]>
<![endif]>
Till next time……………………

The Curmudgeon
ajwdct@gmail.com
Follow the Curmudgeon on Twitter @ajwdct247
Curmudgeon is a retired investment professional. He has been involved in financial markets since 1968 (yes, he cut his teeth on the 1968-1974 bear market), became an SEC Registered Investment Advisor in 1995, and received the Chartered Financial Analyst designation from AIMR (now CFA Institute) in 1996. He managed hedged equity and alternative (non-correlated) investment accounts for clients from 1992-2005.
Victor Sperandeo is a historian, economist and financial innovator who has re-invented himself and the companies he's owned (since 1971) to profit in the ever changing and arcane world of markets, economies, and government policies. Victor started his Wall Street career in 1966 and began trading for a living in 1968. As President and CEO of Alpha Financial Technologies LLC, Sperandeo oversees the firm's research and development platform, which is used to create innovative solutions for different futures markets, risk parameters and other factors.
Copyright © 2023 by the Curmudgeon and Marc Sexton. All rights reserved.
Readers are PROHIBITED from duplicating, copying, or reproducing article(s) written by The Curmudgeon and Victor Sperandeo without providing the URL of the original posted article(s).