China's Unstoppable Economy Hits Brick Wall
By the Curmudgeon

China's GDP to Surpass that of U.S.?
<![if !supportLineBreakNewLine]>
<![endif]>
For much of the past four decades, China's economy seemed like an unstoppable force, the engine behind the country's rise to a global superpower.  The Global Times, a mouthpiece for the Chinese Communist Party, declared in 2022 that China was the "unstoppable miracle."
In 2010, China's GDP was 40% the size of U.S. GDP. At that time:
<![if !supportLists]>l <![endif]>Goldman Sachs forecast that China's GDP would overtake America's by the late 2020s.
<![if !supportLists]>l <![endif]>The Economist's "default" assumptions implied that China's moment of economic triumph could arrive as early as 2019. 
Those optimistic forecasts don't look so good now.  Capital Economics, a research firm, now predicts it will never happen.
<![if !vml]>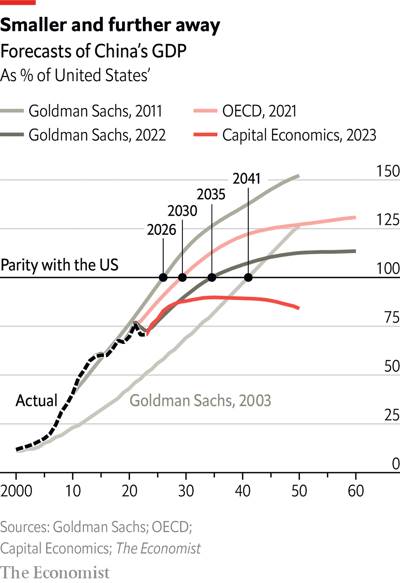 <![endif]>

China's Financial Markets Slump Badly:
In the past few weeks, investors have pulled more than $10 billion out of China's stock markets. Foreign investors sold mainland China stocks on a net basis for 13 consecutive sessions through Wednesday, the longest stretch ever, according to data compiled by Bloomberg.
Last week, stocks in Hong Kong (mostly doing business in China) fell into a bear market, down more than 20% from their high in January.
Cob Liu, founder of an education start-up in a big city in southwestern China, sold all his positions in mainland China stocks this year and said he would not touch shares of any Chinese companies, even if they were traded in New York or Hong Kong. Mr. Liu believes that the decline in the Chinese economy could drag on for years.
On Thursday, China's top securities regulator summoned executives at the country's national pension funds, top banks and insurers to pressure them to invest more in Chinese stocks, according to Caixin, an economics magazine focused on China.
On Sunday, China lowered the stamp duty on stock trades for the first time since 2008, marking a major attempt to restore confidence in the world's second-largest equity market.  The levy charged on stock trades will be halved effective August 28, the government said in a statement.
What Derailed China's Express Train Economy?
After nearly three years of paralyzing COVID lock downs, China lifted its restrictions in late 2022 and its economy seemed poised to return to strong growth.  Surprisingly, that did not happen.  Instead, China's economy is now plagued by a series of crises.  Let's look at what went wrong:
 A real estate crisis born from years of overbuilding and excessive borrowing is running alongside a larger debt crisis, while young people are struggling with record joblessness.
<![if !supportLists]>1. <![endif]> China's Evergrande Group, the poster child for China's real estate crisis, is the world's most-indebted property developer.  Since late 2021, Evergrande has experienced a string of debt defaults, unfinished homes, and unpaid suppliers, shattering consumer confidence in the world's second-largest economy.
<![if !supportLists]>2. <![endif]> Local governments are fundamental to China's economy, with Beijing tasking provincial and city officials with meeting ambitious growth targets. But after years of over-investment in infrastructure, plummeting returns from land sales and soaring COVID costs, economists say debt-laden municipalities now represent a major risk to China's economy.
<![if !supportLists]>3. <![endif]> Local government debt reached 92 trillion yuan ($12.8 trillion), or 76% of economic output in 2022, up from 62.2% in 2019. Part of it is debt issued by local government finance vehicles (LGFVs), which cities use to raise money for infrastructure projects.
The International Monetary Fund expects LGFV debt to reach $9 trillion this year.  China's central government, which has repeatedly warned about "hidden debt risks" worries the numbers are even higher when accounting for any debt issued outside municipal balance sheets.
It is an unsustainable situation that puts Beijing in a bind: provide no help and the economic model unravels with severe consequences on growth and social stability, or step in at the risk of encouraging more reckless spending.  China has become too indebted to pump up the economy like it did 15 years ago, during the global financial crisis.
<![if !supportLists]>4. <![endif]> Since the start of 2023, a new crisis is emerging: a decline in private-sector confidence.  It was brought on by arbitrary government intervention, which has intensified since the pandemic began over three years ago.  
The results have slowed China's economy to a crawl.  Consumers are not spending, businesses are reluctant to invest and create jobs, and would-be entrepreneurs are not starting new businesses. Here are a few data points:
<![if !supportLists]>l <![endif]>Consumer prices in China fell last month for the first time in more than two years.
<![if !supportLists]>l <![endif]>Chinese banks extended $47.5 billion of new renminbi loans, tumbling 89% from June — and half the amount of a year earlier.
<![if !supportLists]>l <![endif]>Housing sales in terms of footage fell 6.5 percent in the first seven months of the year, after shrinking by nearly a quarter last year. In a country where three-fifths of the household assets are tied up in real estate, that decline is alarming.
China's Crisis of Confidence Explained:
"Low confidence is a major issue in the Chinese economy now," said Larry Hu, chief China economist for Macquarie Group, an Australian financial services firm.  Mr. Hu said the erosion of confidence was fueling a downward spiral that fed on itself. Chinese consumers aren't spending because they are worried about job prospects, while companies are cutting costs and holding back on hiring because consumers aren't spending.
One factor contributing to the current confidence decline is that China's policymakers have fewer good options to fight the downturn than in the past.  The private sector is well aware of that so is in a "bunker down" mode.
Government debt is way too high for huge deficit spending, most of the infrastructure needed has already been built, and the U.S. has placed severe curbs on exporting technology to Chinese firms for fear of enhancing China's military and intelligence gathering capabilities.
U.S. Executive Order Further Restricts Tech Exports to China:
This month, President Biden signed an executive order giving U.S. Treasury Secretary Janet Yellen the authority to regulate U.S. investment in three categories of Chinese companies: quantum computing, artificial intelligence related to military uses, and advanced semiconductors.
"Rapid advancement in semiconductors and microelectronics, quantum information technologies, and artificial intelligence capabilities by [China] significantly enhances [its] ability to conduct activities that threaten the national security of the United States," the order states.
What Can China's Government Do Now?
China's policymakers are also handcuffed because they introduced many of the measures that precipitated the economic problems. The "zero Covid" lockdowns brought the economy to a standstill. The real estate market (see image below) is reeling from the government's measures from three years ago to curb heavy borrowing by developers, while crackdowns on the fast-growing technology industry prompted many tech firms to scale back their ambitions and the size of their work forces.
<![if !vml]>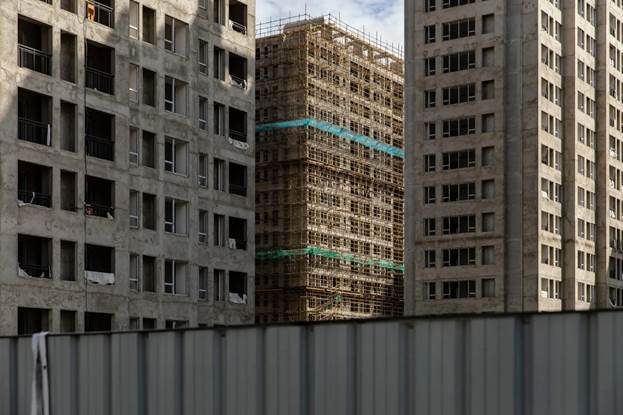 <![endif]>

Unfinished apartment towers in Shanghai last year. The end of the housing boom has been a nightmare for Chinese who saw property investment as a way to build wealth.
Image Credit...Qilai Shen for The New York Times
….……………………………………………………………………………………….
China Stops Releasing Economic Data:
Confronted with dwindling confidence, the government has fallen back on a familiar pattern and stopped announcing troubling economic data.
China's National Bureau of Statistics said this month that it would stop releasing youth unemployment figures, a closely watched indicator of the country's economic troubles. After six straight months of rising joblessness among the country's 16- to 24-year-olds, the agency said the collection of those figures needed "to be further improved and optimized."
The Bureau has also stopped releasing surveys of consumer confidence, among the best barometers of households' willingness to spend. Confidence rebounded modestly at the start of the year but started to plummet in the spring. The government's statistics office last announced the survey results for April, discontinuing a series it began 33 years ago.
<![if !vml]>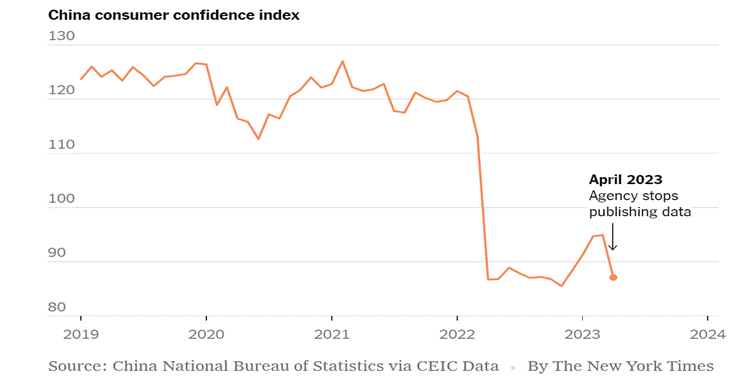 <![endif]>

The sudden removal of closely followed data has left some on Chinese social media wondering what they might be missing. That has only added to the anxiety and loss of confidence in China's economy.
Closing Quotes:
"Whether you have confidence in the Chinese economy is actually whether you have confidence in the Chinese government," said Kim Yuan, who lost his job in the home decoration industry last year. He has struggled to find another job, but he said the economy was unlikely to worsen significantly as long as the government-maintained control.
"The most terrifying thing is that everyone around me is at a loss of what to do next," said Richard Li, the owner of an auto parts wholesale business. "I used to believe that our country would become better and better."
….…………………………………………………………………………………………
Be well, success, good luck and till next time………………

The Curmudgeon
ajwdct@gmail.com
Follow the Curmudgeon on Twitter @ajwdct247
Curmudgeon is a retired investment professional. He has been involved in financial markets since 1968 (yes, he cut his teeth on the 1968-1974 bear market), became an SEC Registered Investment Advisor in 1995, and received the Chartered Financial Analyst designation from AIMR (now CFA Institute) in 1996. He managed hedged equity and alternative (non-correlated) investment accounts for clients from 1992-2005.
Victor Sperandeo is a historian, economist and financial innovator who has re-invented himself and the companies he's owned (since 1971) to profit in the ever changing and arcane world of markets, economies, and government policies. Victor started his Wall Street career in 1966 and began trading for a living in 1968. As President and CEO of Alpha Financial Technologies LLC, Sperandeo oversees the firm's research and development platform, which is used to create innovative solutions for different futures markets, risk parameters and other factors.
Copyright © 2023 by the Curmudgeon and Marc Sexton. All rights reserved.
Readers are PROHIBITED from duplicating, copying, or reproducing article(s) written by The Curmudgeon and Victor Sperandeo without providing the URL of the original posted article(s).