Morgan Stanley Warns the Bear Market is Intact
By the Curmudgeon with Victor Sperandeo
Introduction:
We provide evidence, along with investment bank opinions, that there's currently a lot of risk in the U.S. stock market.  Additional risks of not raising the U.S. debt ceiling are duly noted by BofA.
Next, we quote from a WSJ editorial that opines U.S. government leaders have not been accountable and lack a collective conscience. Victor weighs in with his opinion on why that is and how it might change.
Large Tech Stocks More Expensive than at Dot-Com Peak:
Bloomberg notes that the quality-heavy top 20 largest stocks in the S&P 500 have driven the stocks rally since the beginning of the year, with the index currently trading at a price-to-sales ratio above the dot-com-bubble's peak.
<![if !vml]>
<![endif]>

Long big tech stocks are currently the most crowded trade and investors are holding the most bullish positioning in investment-grade credit versus high-yield on record, according to Bank of America Corp.'s latest fund manager survey.
That reflects investor confidence that big tech companies with rock-solid balance sheets and high free cash flow will weather a recession better than many companies saddled with heavy debt loads. Minutes of the Federal Reserve's last meeting showed policymakers scaled back expectations for rate hikes after a series of bank collapses roiled markets and bolstered forecasts of a "mild recession" starting later this year.
John Roe, a money manager at Legal & General Investment Management, is positioning his portfolio for a downturn. He has his doubts about quality stocks with lofty valuations and how they'll fare in volatile markets and prefers to play short credit positions.  He just exited an overweight on tech stocks, turning neutral, and has been adding AAA rated European supranational credit that offers a premium of 60 basis points to government debt instead.
"Tech's out performance in March was extreme," said Roe. "Once investors know we're definitely going into recession, regardless of how bad that recession could be, that would be enough for a repricing."
The week ahead will provide investors with more data on tech giants with Amazon (AMZN), Microsoft (MSFT), Alphabet (GOOGL), and Meta Platforms (META) all set to report quarterly results.
…………………………………………………………………………………………….
Victor's Market Comments:
I'm still bearish stocks due to many divergences and that all major stock indexes are below their 2023 highs.  Only the big tech heavy NASDAQ 100 is close to its March 31st high.
Here are the 2023 closing highs of various stock indexes:
<![if !supportLists]>· <![endif]>1/13/23 Dow Jones Industrials = 34,302.21
<![if !supportLists]>· <![endif]>2/2/23 Dow Transports = 15,940.70
<![if !supportLists]>· <![endif]>2/2/23 S&P 500 = 4,179.76     
<![if !supportLists]>· <![endif]>2/2/23 S&P MidCap = 2736.10
<![if !supportLists]>· <![endif]>2/2/23 Russell 2000 =2,001.22 
<![if !supportLists]>· <![endif]>3/31/23 NDX 100 = 13,181.35
Also, the cumulative A/D line made its 2023 high on 2/2/23.
Morgan Stanley – Bear Market is Intact:
According to Morgan Stanley's Michael Wilson, the percentage of stocks outperforming the S&P 500 on a three-month rolling basis is the lowest on record. That "is the market's way of warning us we are far from out of the woods with this bear market," the strategist — who was ranked No. 1 in last year's Institutional Investor survey for correctly predicting the stock slump — wrote in a note to clients.
<![if !vml]>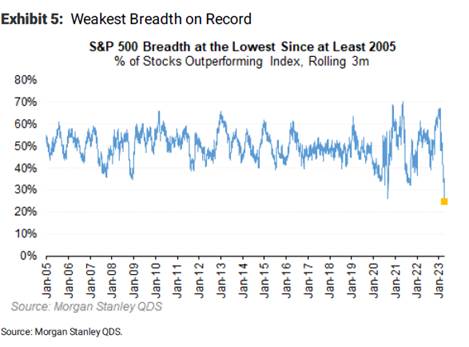 <![endif]>

The biggest risk could come from a slump in the technology sector if inflation proves sticky and bond yields rise, Wilson said.  "If there is one thing that can throw cold water on the large mega-cap rally, it's higher yields due to a Fed that can't stop hiking as soon as perhaps some investors are expecting," Wilson wrote.
With the focus now turning to the first-quarter reporting season, the strategist said earnings forecasts remained "too optimistic" despite recent downgrades. He expects the pace of decline in estimates to "increase materially" over the next few quarters on disappointing revenue growth.
BofA - Risks of Not Raising the U.S. Debt Ceiling:
BofA Global Research says the risks of violating the debt ceiling are worse than in 2013, because the budget deficit is bigger as a percentage of GDP and the economy may already be in recession.
U.S. sovereign 1 year Credit Default Swaps (CDS) have begun to price in this risk, rising to around 100bps, notably higher than 82bps seen during the 2011 U.S. sovereign debt downgrade. BoA strategists agree that the damage inflicted by not raising the debt ceiling will most likely lead to a deal, but the risk is that it takes a selloff in equities and a widening of credit spreads before that happens.
BofA Fund Manager Survey (FMS) respondents expect a weaker U.S. economy as per this chart:


<![if !vml]>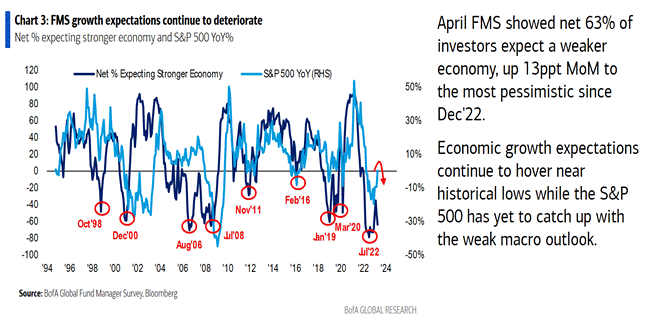 <![endif]>
Cartoon of the Week:
<![if !vml]>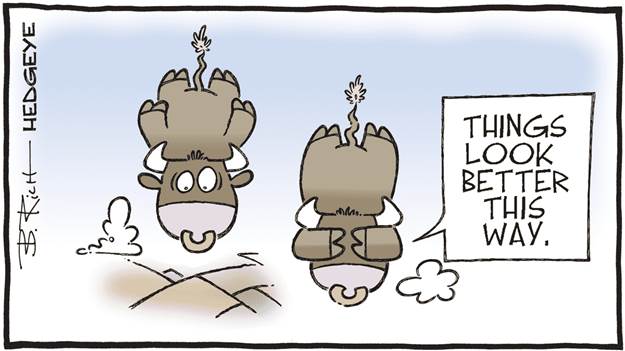 <![endif]>
Image Credit: Bob Rich, Hedgeye
……………………………………………………………………………………..
WSJ Editorial Excerpt – U.S. Leaders Lack Accountability and a Collective Conscience:
The U.S. has become a country where fantastic events occur almost weekly. If there is a sense that some normalizing function isn't working as it should, the answer may be found in a once-familiar word—accountability.
Over two nights in downtown Chicago last weekend, teenage mobs rampaged through the streets, smashing cars. The event had been organized on social media. Three teenagers were shot. Indeed, on any given weekend in Chicago and other cities, young men put bullets into other young men, apparently oblivious to the reality that a life has been extinguished.
Surveying the wreckage, Mayor-elect Brandon Johnson, the progressive Chicago's voters just chose to run their city, said, "It is not constructive to demonize youth who have otherwise been starved of opportunities in their own communities." 
"Always let your conscience be your guide" is from the 1940 movie Pinocchio.  It's no revelation to say that when we began to devalue conscience (about 30 years after "Pinocchio"), blurring a pragmatic understanding of right from wrong, we were putting at risk a lot of psychologically vulnerable people.
Victor's Conclusions:
Accountability is directly associated with obeying the Rule of Law. When a nation does not put the law first it declines into anarchy. A Mad Max form of society is not a social system, but a group of gangs that stand up for each other regardless of whether their actions are good or bad.
Today, the people vote for a party - not an individual. That party (Republican or Democratic) skirts the law to retain their power. Until the people care about the Rule of Law, society will continue to turn into what happened in Chicago (as per the WSJ excerpt above).
End Quote:
"Those who are capable of tyranny are capable of perjury to sustain it."  ― Lysander Spooner

<![if !vml]>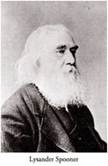 <![endif]>
Lysander Spooner (January 19, 1808 – May 14, 1887) was an American individualist anarchist, abolitionist, entrepreneur, essayist, legal theorist, pamphletist, political philosopher, Unitarian and writer.
Be well, stay healthy, wishing you peace of mind. Please email the Curmudgeon (ajwdct@gmail.com) if you have any comments, questions, or concerns. Till next time…...

The Curmudgeon
ajwdct@gmail.com
Follow the Curmudgeon on Twitter @ajwdct247
Curmudgeon is a retired investment professional. He has been involved in financial markets since 1968 (yes, he cut his teeth on the 1968-1974 bear market), became an SEC Registered Investment Advisor in 1995, and received the Chartered Financial Analyst designation from AIMR (now CFA Institute) in 1996. He managed hedged equity and alternative (non-correlated) investment accounts for clients from 1992-2005.
Victor Sperandeo is a historian, economist and financial innovator who has re-invented himself and the companies he's owned (since 1971) to profit in the ever changing and arcane world of markets, economies, and government policies. Victor started his Wall Street career in 1966 and began trading for a living in 1968. As President and CEO of Alpha Financial Technologies LLC, Sperandeo oversees the firm's research and development platform, which is used to create innovative solutions for different futures markets, risk parameters and other factors.
Copyright © 2023 by the Curmudgeon and Marc Sexton. All rights reserved.
Readers are PROHIBITED from duplicating, copying, or reproducing article(s) written by The Curmudgeon and Victor Sperandeo without providing the URL of the original posted article(s).