Is Friday's BLS Employment Report to be Believed?
By Victor Sperandeo with the Curmudgeon  

Disclaimer (Victor):
<![if !supportLineBreakNewLine]>
<![endif]>
Let me preface my comments that I may not be the right person to write on this subject as I'm a big skeptic and cynic on government produced economic data.
I suggest that if the markets are very important to you then please do your own micro research on all government reports that are potential market movers.
BLS Report Overview:
The BLS said on Friday that +517,000 new jobs were created in January 2022, an increase of 260,000 from the December report and more than twice what economists had expected.  The unemployment rate fell to 3.4% - a 53-year low. January's seasonally adjusted payroll gains were the largest since July 2022. 
The unexpectedly strong job numbers caused a decline in all assets except the U.S. dollar which rose on the assumption that U.S. interest rates would stay higher throughout 2023.   Silver and Gold were particularly hard hit, with daily losses of -5.17% and -2.63%, respectively. The tech heavy NASDAQ shed 1.6%.
"Job growth was widespread, led by gains in leisure and hospitality, professional and business services, and health care. Employment also increased in government, partially reflecting the return of workers from a strike," the BLS said in its report.
Also, the change in total non-farm payroll employment for November was revised up by 34,000, from +256,000 to +290,000, and the change for December was revised up by 37,000, from +223,000 to +260,000. With these revisions, employment gains in November and December combined were +71,000 higher than previously reported.
The mainstream media lavishly praised the BLS report.   Here's an example: "This is just incredibly, surprisingly strong," said Kathy Bostjancic, chief economist at Nationwide. "Not only are you hiring more workers but the workers you have overall are working more hours. It doesn't really get stronger than that." 
The buoyant labor report for January contrasts with spending and growth figures that suggested a slowing U.S. economy. Consumer spending, the main driver of economic growth, started to falter late last year. Manufacturing activity declined. The economy grew 1% in the fourth quarter of 2022 compared with a year earlier, down sharply from 2021. And as we showed in last week's column, the U.S. LEI is screaming RECESSION.
Is the BLS report to be believed?  How could there be so many net new jobs when big company layoffs are accelerating? After a string of huge tech company layoffs, FedEx Corp., Rivian Automotive Inc., and Okta Inc. (a business-software firm) all announced layoffs this past week.  More will surely follow.  So how could the labor market be so strong?
Victor's Opinion:
The BLS does not put the data into context or explain that January is really a huge job loss month. That the Seasonally Adjusted job numbers are an estimated guess and not relevant to reality!
This is at best a highly fabricated/ made up number with virtually no meaning.  At worst, it's a fraudulent attempt to make the economy look much better than it actually is.  We explain why in this article.
Backgrounder:
In the last 10 years, the average "seasonal adjustment" (SA) jobs created for January was +256,600. Hence, this January's number of jobs added was more than double the 10-year average!  The critical part of the SA is that the actual "counted jobs" was -2,505,000 jobs lost! Yes, 2.5 million jobs vanished last month. That's a 3+ million reporting difference!
This was the largest SA in eleven years that I've studied. I would bet you can go back 50 years and never see anything like this! It is simply not credible in the current environment of large tech layoffs, no corporate hiring announcements and rising interest rates.
The U.S. government's rationale for SA is to smooth the data in reporting to not confuse the public.  With this kind of discrepancy, one has to ask if they are conning the public instead?
For the last 10 years, the average number of jobs lost every January is -2.8 million. That's mostly due to the laying off holiday workers as the retail buying season (starting around Thanksgiving till year-end) is over.
This seasonal pattern reoccurs every year, except this January was quite different!
Some economists noted that employers might not have cut as many seasonal workers as is typical at the beginning of the year, contributing to the large seasonally adjusted gain in jobs.  But we think there's a lot more going on behind the scenes.
Questioning the BLS Numbers:
No mainstream media outlet that we could find (print, on-line, TV, radio, etc.) questioned the strong jobs report.  However, John Williams of ShadowStats, a perennial bear on the U.S. economy, wrote:
"Today's (February 3rd) January 2023 Employment and Unemployment numbers were meaningfully distorted and disrupted by major Payroll benchmark revisions and series re-definitions. Although not exactly comparable with December 2022, headline January 2023 Unemployment U.3 moved lower from 3.47% to 3.43%, but the broader headline U.6 moved higher from 6.53% to 6.64%, with the more comprehensive ShadowStats measure rising from 24.4% to 24.5% on top of the U.6."
Our question is this: "Does the Fed ever talk to the BLS or influence government agencies?"    
The BLS has not been asked if they manipulate the jobs data in order for the Fed to hike rates to control what they call "financial conditions."   
One might think that such a high level of job openings (as reported by the BLS) is alarming to the Fed because it means Fed Chairman Jerome Powell has failed at his mission at cooling off what appears to be a red-hot jobs market.
Our take is that the Fed will use the BLS job numbers to continue to raise rates and keep them elevated for much longer than the markets expect in order to lower inflation.
Victor's Conclusions:
The BLS and BEA are coordinated to show data that enables the Fed to manipulate the markets and economy to their own ends, using BLS/BEA data as an excuse.  These organizations are in cahoots.  Their collusion is unchallenged, because it's in the elite's interest to keep the con game going. It is pure evil from top to bottom!
The Fed is the execution agent (the owner of the guillotine).  They use distorted or fake BLS/BEA data to fraudulently manipulate monetary policy to raise rates and tighten financial conditions in order to lower the CPI by hook or by crook.  Never mind that might impoverish the poor and middle class, as per these charts from BofA Global Research:
<![if !supportLineBreakNewLine]>
<![endif]>

<![if !vml]>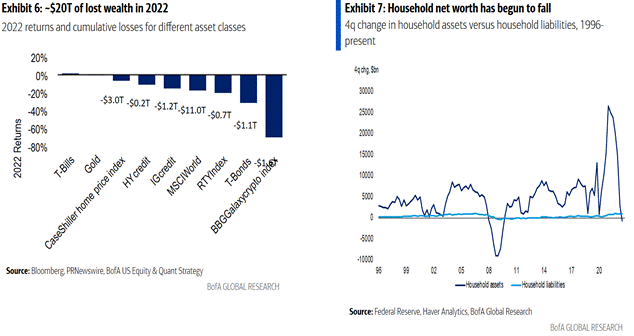 <![endif]>
The Fed is losing trust through their actions, i.e. waiting far too long to tighten ("inflation is transitory") then overcompensating by raising rates too high and too quickly.  More people are talking about the Fed's mistakes, errors, and pie in the sky talk. 
I believe you'll see more bad calls by the Powell led Fed such that a wise politician will eventually start an initiative to seriously end the Fed (as Milton Friedman suggested decades ago).  
Cartoons of the Week:
<![if !vml]>
<![endif]>

<![if !vml]>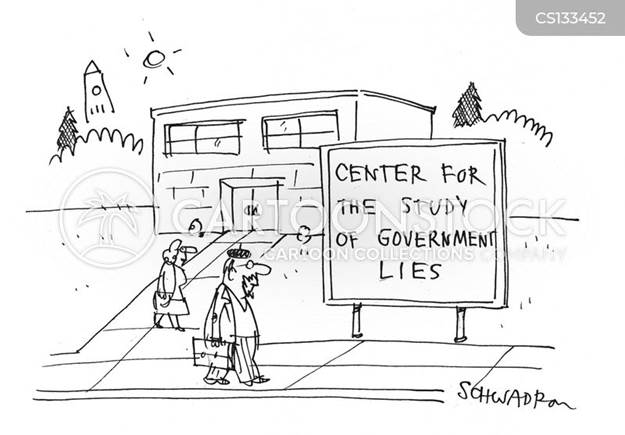 <![endif]>
……………………………………………………………………………………………………….
End Quote:
"When it becomes serious you have to lie."   Jean-Claude Juncker
Jean-Claude Juncker is a Luxemburg politician who served as the 21st Prime Minister of Luxembourg from 1995 to 2013 and 12th President of the European Commission from 2014 to 2019.
……………………………………………………………………………………………………….
Be well, stay healthy, warm, and dry. Till next time…...
The Curmudgeon
ajwdct@gmail.com
Follow the Curmudgeon on Twitter @ajwdct247
Curmudgeon is a retired investment professional. He has been involved in financial markets since 1968 (yes, he cut his teeth on the 1968-1974 bear market), became an SEC Registered Investment Advisor in 1995, and received the Chartered Financial Analyst designation from AIMR (now CFA Institute) in 1996. He managed hedged equity and alternative (non-correlated) investment accounts for clients from 1992-2005.
Victor Sperandeo is a historian, economist and financial innovator who has re-invented himself and the companies he's owned (since 1971) to profit in the ever changing and arcane world of markets, economies, and government policies. Victor started his Wall Street career in 1966 and began trading for a living in 1968. As President and CEO of Alpha Financial Technologies LLC, Sperandeo oversees the firm's research and development platform, which is used to create innovative solutions for different futures markets, risk parameters and other factors.
Copyright © 2023 by the Curmudgeon and Marc Sexton. All rights reserved.
Readers are PROHIBITED from duplicating, copying, or reproducing article(s) written by The Curmudgeon and Victor Sperandeo without providing the URL of the original posted article(s).