Explosive Market Moves, Mid-Term Elections and Requirements to Work at the Fed
By Victor Sperandeo with the Curmudgeon

Introduction:
<![if !supportLineBreakNewLine]>
<![endif]>
We review last week's markets and assess the mid-term elections with profound disappointment and skepticism.
For readers that are interested in Victor's recent views on the markets and economy, please visit https://fiendbear.com/ and scroll down to Current Links of Interest.
Market Review and Outlook:
The two most obvious market drivers last week were Thursday's CPI release, and the mid-term election results.
<![if !supportLists]>· <![endif]>Equity markets rallied on Monday and Tuesday anticipating strong GOP gains but then sold off on Wednesday when it became apparent there was no "Red Wave."
<![if !supportLists]>· <![endif]>The CPI came in better than expected at a 7.75%, year-over-year and 0.4% month-over-month. That sparked a massive rally that included stocks, bonds, notes, REITs, gold, and commodities.  The U.S. dollar declined sharply after Thursday's CPI release (the DXY dropped from 110.85 at 8:30am Thursday to 106.42 at Friday's close).
-->I follow more than a dozen various professional traders and money managers, but none saw this coming. Most are still bears.
It appears that the markets were washed out when the better-than-expected CPI report was released.  The incredible damage done to U.S. and Corporate Bonds, NASDAQ 100 (S&P 500 and DJI to a lesser degree), REITs, Gold mining shares, Bit Coin/Cryptos, etc. set the stage for a strong rally on any good news -- like the better-than-expected CPI report.
The meaning of last week's across the board rally, and what it portends for the future, is extremely important for investors. 
The key index to watch to determine the intermediate stock market trend is the Dow Jones Transportation (DJT) average, which is leading the way forward as per this graph:
<![if !vml]>

<![endif]>
Nov 7                 Nov 8               Nov 9               Nov 10             Nov 11
……………………………………………………………………………………………….
As of today, one has to be Bullish on the intermediate and short-term stock market trends.  Short term, the market is overbought, but the intermediate trend can still be bought (e.g. via stock index ETFs or mutual funds) for a trade on weakness. The long-term trend is still Bearish.
Curmudgeon Comment:
Sharp but short rallies are a defining characteristic of bear markets. In 2008 there were 19 days where the S&P 500 went up by more than 3% in a day (12% was the highest daily move).
2023 Markets and the Fed:
After the Fed raises rates by 50 bps at the FOMC meeting in December (as widely advertised) and 25 bps in January, the markets are hoping for a pause.  That could lead to a change in long term market trends in 2023. However, lots of work (price action supported by higher volume) has to be done for the markets to be considered long term bullish.
So far, the FOMC members have not come out jawboning the markets down as they've done on other rallies this year.  This must be closely watched, but for now it's a positive sign.
Mid-Term Election Results:
As of this moment, the Democrats will continue to have control of the Senate (either 50 or 51 seats depending on the December 6th Georgia run-off election).  Control of the House of Representatives has not yet been determined, due to extremely slow vote counting in many Congressional districts.  CBS News predicts Republicans will win a narrow majority of House seats as per this graphic:
<![if !vml]>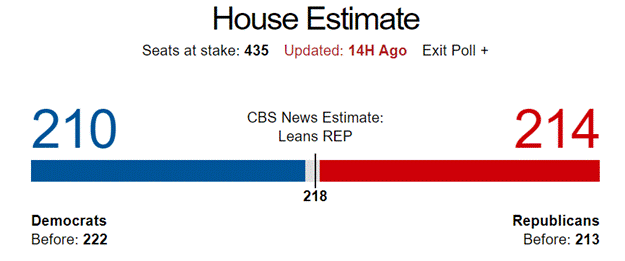 <![endif]>
………………………………………………………………………………………………..
The election results have been a huge disappointment for many people (like me) who were hoping for a strong change in the U.S. government.  Please see my Opinions below for more.
<![if !vml]>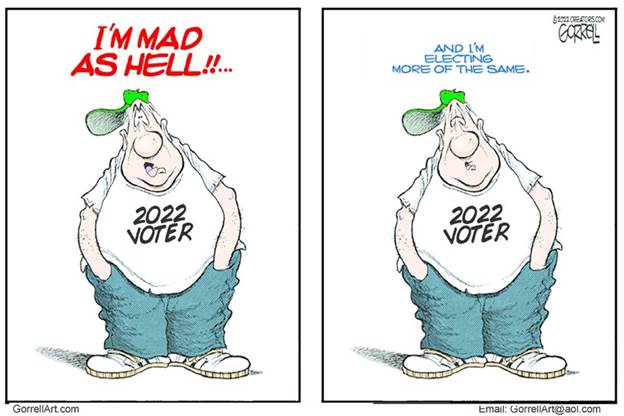 <![endif]>

Comparing 1994 vs 2022 Mid-Term Elections:
Mid-Term Election gains usually go to the political party that does not hold the White House. The example I relied on as a model was 1994.  Interest rates (Fed Funds) were raised six times in 1994 for a total of 2.5% and the Democrats lost 54 House seats, eight Senate Seats, and 10 Governors. In sharp contrast to this year, there was no recession in 1994 and the CPI increased only +2.67% for the entire year.
Small cap stocks were up +6.56% YTD on October 30, 1994 (before the midterm elections), the S&P 500 was +3.61%, U.S. intermediate T-Notes were -4.98%.  The Fed Funds Rate was 4.75% in August 1994 through the election.
In addition, crime was not rising in 1994, the U.S. southern border was stable, gasoline prices averaged $1.11 a gallon and there were no major increases in deaths due to drug overdoses. Compared to today, those numbers are terrific!
After the 1994 election the GOP held power in both Chambers of Congress (House and the Senate), while Bill Clinton was still President.  The greatest five-year stock market returns in American history followed.  The S&P 500 compounded annually at +28.5% from 1995-1999.
Contrast 1994 with this year:  the Fed has raised rates six times in 2022, while the Fed Funds rate went from 0% to 0.25% to 3.75% to 4%, inflation has increased the most in 40+ years, and all major markets have tanked.  Hence, one might be deeply puzzled on how the GOP didn't win more seats and by landslides? Everyone was looking for a "Red Wave" for the above reasons, but it didn't happen.
Victor's Opinions:
The election expectations, except for Florida Republicans, was a virtual disaster!  Why is question?  One reason, according to my research, was President Biden's College Loan Forgiveness plan. It worked!  (The Curmudgeon detests this "gift" because it is incredibly unfair to those students that have repaid their loans.)
"According to exit polls, 63% of voters ages 18 to 29 voted for the left in the 2022 midterm elections. That means a majority of Gen Z support destructive left-wing policies, such as socialism, open borders, student loan forgiveness, higher taxes, and late-term abortion."
This is the outcome of an unconstitutional, but legal tactic, to buy votes. The offer to these voters was $10,000 deducted from their college loan debt for votes, and implied if the Dems remain in power there may be more to come?
Very honestly, I've seen nothing positive from the Biden Administration since its inception.  A standout example of his failed diplomacy is the Saudi's pushing OPEC+ in October to cut oil output which will raise gas prices.  That comes after Biden's MBS fist-bump Saudi trip in July to persuade the Kingdom to lower oil prices. 
In 2019 the U.S. was a net oil exporter, but due to Biden's suppression of domestic energy production in the name of "climate change," the U.S. is now a net energy importer.  As a result, Biden has had to tap the U.S. Strategic Petroleum to curtail rising gas prices.
Congress has also been a huge disappointment.  Hence, I was hoping for stronger GOP leadership in 2023 and beyond.  So was the Curmudgeon!
Let me stress the Republican leadership --Mitch McConnell in the Senate and Kevin McCarthy in the House -- are as bad as it gets! They are phonies and really do not care about society or the people as a whole.  They're only concerned about themselves and retaining their power.
-->In order for America to get back on track these so-called "leaders" have to go! (the Curmudgeon concurs 100%).
Unfortunately, the policies of the Democrats are causing the country to decline into an abyss. Sadly, the election results indicate that decline will continue. Our representatives don't seem very concerned and seem content to just do minor complaining if anything at all!
At best if these policies continue the U.S. political system will be nothing more than the old USSR or a Banana Republic (think South American dictatorships). We will become Serfs and Slaves to the State. This is not about power; it's about following the laws of our country and liberty. Without the rule of law and adherence to the U.S. Constitution we will become a country like Cuba or (even worse) an autocratic Communist regime like China/North Korea.
The 2022 Election Process:
My extensive research into the 2022 election outcome is controversial and beyond the scope of this commentary. I encourage readers to investigate and judge for themselves why the Republicans did so poorly in the Mid-Terms?   Here's a clue:
Tucker Carlson of Fox News (the most watched show on TV) recently suggested to end computer voting machines. His reason was the breakdown of the ability to count the votes in Arizona.
"Fox News host Tucker Carlson called for an end to the use of electronic voting machines Tuesday night, citing issues in Arizona where nearly one-fifth of the machines broke down. At least 20% of tabulation machines in Maricopa County, Arizona, malfunctioned, leading Republicans to file litigation seeking extended voting hours."
Sadly, there are far more reasons to end these machines and mail-in ballots. It is my opinion that American's need confidence in the election system to move forward.
What was an "election day" has now become an election week and election month. We can go to Mars, but counting votes can't be done?
-->This causes a loss of confidence in the system as a whole.
.………………………………………………………………………………………………...
Want to Work at the Fed?
The Federal Reserve controls the economy, prints trillions of dollars so they can make you poorer without taxing you, and they raise interest rates to overcompensate for past mistakes. Is a job at the Fed something you'd be interested in?

<![if !vml]>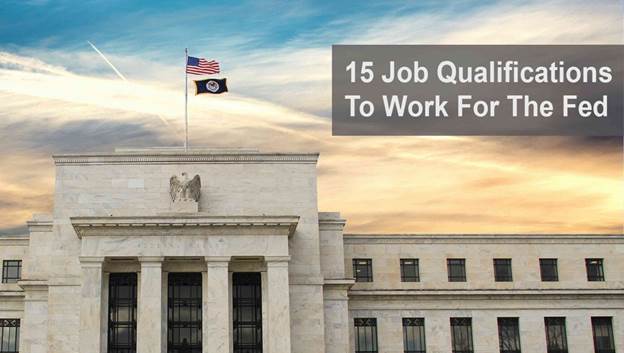 <![endif]>
Check out this list of key job requirements to work at the Fed from The Babylon Bee -  "15 Job Qualifications To Work For The Fed":
<![if !supportLists]>· <![endif]>Must be a United States citizen
<![if !supportLists]>· <![endif]>Up to date with all 20 COVID boosters
<![if !supportLists]>· <![endif]>Know how to change an ink cartridge on a money printer
<![if !supportLists]>· <![endif]>Must possess all fingers and toes (for counting purposes)
<![if !supportLists]>· <![endif]>Little to no knowledge of economics, basic math required
<![if !supportLists]>· <![endif]>Ability to go on TV and look concerned whenever there's a recession brewing
<![if !supportLists]>· <![endif]>Must think Paul Krugman is the greatest living economist
<![if !supportLists]>· <![endif]>Make a 1% into a 2% and vice versa
<![if !supportLists]>· <![endif]>Must be proficient in double speak, always leaving ambiguity in your words
<![if !supportLists]>· <![endif]>Experience with blame shifting
<![if !supportLists]>· <![endif]>Must be able to call a hundredth of a percent "one basis point" to sound smarter
<![if !supportLists]>· <![endif]>Able to sound 2000% certain about something that has a 5% chance of happening
<![if !supportLists]>· <![endif]>Communists preferred; socialists accepted
<![if !supportLists]>· <![endif]>Must be out of touch with the American people
<![if !supportLists]>· <![endif]>Experience with Microsoft Office preferred, but not required."
End Quote:
One of the most important comments about the Fed was from House Member Charles A. Lindbergh Sr. (the father of the first man to fly across the Atlantic Ocean).  It was recorded in the Congressional Record, Vol. 51, p. 1446 on December 22, 1913:
"This [Federal Reserve Act] establishes the most gigantic trust on earth. When the President Woodrow Wilson signs this bill, the invisible government of the monetary power will be legalized.... the worst legislative crime of the ages is perpetrated by this banking and currency bill."
"The new law will create inflation whenever the trusts want inflation. It may not do so immediately, but the trusts want a period of inflation, because all the stocks they hold have gone down... Now, if the trusts can get another period of inflation, they figure they can unload the stocks on the people at high prices during the excitement and then bring on a panic and put them back at low prices.…The people may not know it immediately, but the day of reckoning is only a few years removed."
― Charles A. Lindbergh Sr., Lindbergh on the Federal Reserve
………………………………………………………………………………………………..
Be well, stay healthy, try to cope with our extremely volatile markets. Wishing you peace of mind and contentment. Till next time………
The Curmudgeon
ajwdct@gmail.com
Follow the Curmudgeon on Twitter @ajwdct247
Curmudgeon is a retired investment professional. He has been involved in financial markets since 1968 (yes, he cut his teeth on the 1968-1974 bear market), became an SEC Registered Investment Advisor in 1995, and received the Chartered Financial Analyst designation from AIMR (now CFA Institute) in 1996. He managed hedged equity and alternative (non-correlated) investment accounts for clients from 1992-2005.
Victor Sperandeo is a historian, economist and financial innovator who has re-invented himself and the companies he's owned (since 1971) to profit in the ever changing and arcane world of markets, economies, and government policies. Victor started his Wall Street career in 1966 and began trading for a living in 1968. As President and CEO of Alpha Financial Technologies LLC, Sperandeo oversees the firm's research and development platform, which is used to create innovative solutions for different futures markets, risk parameters and other factors.
Copyright © 2022 by the Curmudgeon and Marc Sexton. All rights reserved.
Readers are PROHIBITED from duplicating, copying, or reproducing article(s) written by The Curmudgeon and Victor Sperandeo without providing the URL of the original posted article(s).