Why America is in a Steep Decline - Part II
By Victor Sperandeo with the Curmudgeon

Introduction:
As a follow-on to our Part I article posted yesterday, we provide a deeper perspective on how the U.S. has lost its way.  We explain how America's current economic and political systems strongly conflicts with Adam Smith's Wealth of Nations. Free trade vs. tariffs is cited as a standout example.
It's important to note that Smith attacked government intervention in the economy and provided a blueprint for free markets and free trade. Those two principles eventually would become the hallmarks of U.S. capitalism which no longer exists – we don't have free trade (due to excessive tariffs) and free markets are a thing of the past (thanks to the Fed and PPT intervention).
Point- Counterpoint – Adam Smith vs. U.S. Today:
<![if !supportLists]>1. <![endif]>Smith's "laissez-faire capitalism" would require very few regulations.  However, the U.S. economic system is totally regulated today.  In general, regulations reduce efficiency and inhibit innovation.  Here's a table tracking regulatory changes in the Biden administration.
<![if !supportLists]>2. <![endif]>Smith argued that "by giving everyone the freedom to produce and exchange goods as they pleased (free trade) and opening the markets up to domestic and foreign competition, people's natural self-interest would promote greater prosperity than could stringent government regulations."  Today, we use tariffs for virtually all foreign trade.
<![if !supportLists]>3. <![endif]>Smith advocated "limited Government."  Yet the U.S. federal government has become a Leviathan and has the largest budget in its history of over $6 trillion.
<![if !supportLists]>4. <![endif]>"Solid Currency and Free-Market Economy," was one of Smith's axioms.  The U.S. gave up its hard money system in stages over the last 110 years and has been on a fiat money system since August 1971 when America went off the gold standard.
<![if !supportLists]>5. <![endif]>Smith wanted to use "hard currency as a check on spending," but since the Fed started QE in 2008, there hasn't been any checks on spending.  The U.S. federal government has financed almost all its needs by "printing" dollars (aka Keystroke entries; see Modern Monetary Theory).
<![if !supportLists]>6. <![endif]>The Wealth of A Nation- puts forth this proposition: "The State is opulent where the NECESSARIES and convenience of life are easily come at … To talk of wealth of nations is to talk of the abundance of its PEOPLE. Therefore, whatever raises the market price diminishes public opulence and the wealth of the State, and hence it diminishes the necessaries and happiness of the people."  Today, the people are NOT happy!  The U.S. has the highest inflation rate in over 40 years, the average citizen can't make ends meet and is suffering mightily.
Free Trade vs Tariffs and the U.S. – China Trade War:
Restrictions on trade like tariffs make a nation poorer. In Smith's words:
If a foreign country can supply us with a commodity cheaper than we ourselves can make it, better buy it of them with some part of the produce of our own industry employed in a way in which we have some advantage. […] The value of [a country's] annual produce is certainly more or less diminished when it is thus turned away from producing commodities evidently of more value than the commodity which it is directed to produce [by trade policies]. […] The industry of the country, therefore, is thus turned away from a more to a less advantageous employment, and the exchangeable value of its annual produce, instead of being increased, according to the intention of the lawgiver, must necessarily be diminished by every such regulation.
A recent example of tariffs that were (and are still) costly to U.S. companies and residents were the tariffs on goods produced in China (solar panels, electronics, PCs, washing machines, etc.).  Indeed, the China tariffs have indeed hurt both U.S. industry and workers. Another consequence of the U.S. imposed tariffs is that they invited retaliatory tariffs, primarily from China, on U.S. exports. Retaliatory tariffs have further hurt American firms and workers, with certain geographies and industries bearing the brunt of the impact.
The U.S. – China trade war has not yielded any tangible benefits for U.S. firms and workers. While the U.S. tariffs were intended to protect American industries, they have largely hurt the U.S. economy. And they incentivized foreign countries to retaliate with their owns tariffs, which have damaged the economy even more.
Conclusions:
We conclude with a few cartoons as a picture speaks louder than 1,000 words!
Free Trade vs Protectionism:
<![if !vml]>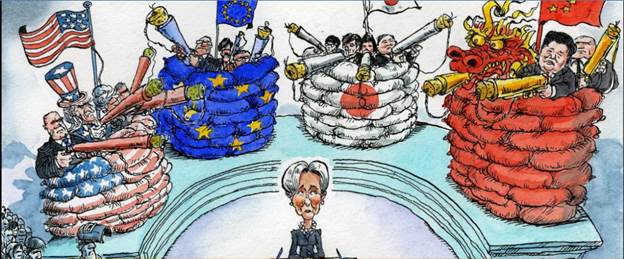 <![endif]>

Down with capitalism, says the millennial:
<![if !vml]>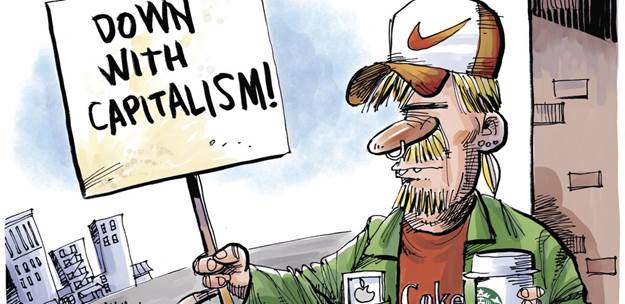 <![endif]>

Cartoon by Alexei Talimonov from Devon, England:
<![if !vml]>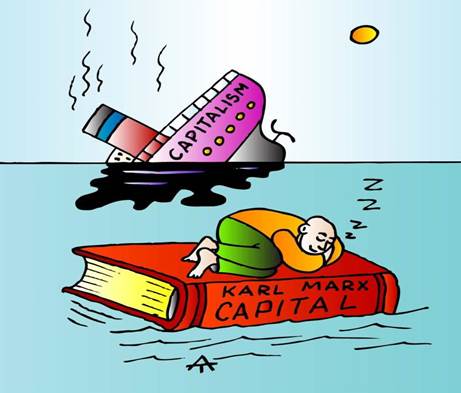 <![endif]>

………………………………………………………………………………………………………………………...
Be well, stay healthy, try to find diversions to uplift your spirits. Wishing you peace of mind, and till next time………
The Curmudgeon
ajwdct@gmail.com
Follow the Curmudgeon on Twitter @ajwdct247
Curmudgeon is a retired investment professional. He has been involved in financial markets since 1968 (yes, he cut his teeth on the 1968-1974 bear market), became an SEC Registered Investment Advisor in 1995, and received the Chartered Financial Analyst designation from AIMR (now CFA Institute) in 1996. He managed hedged equity and alternative (non-correlated) investment accounts for clients from 1992-2005.
Victor Sperandeo is a historian, economist and financial innovator who has re-invented himself and the companies he's owned (since 1971) to profit in the ever changing and arcane world of markets, economies, and government policies. Victor started his Wall Street career in 1966 and began trading for a living in 1968. As President and CEO of Alpha Financial Technologies LLC, Sperandeo oversees the firm's research and development platform, which is used to create innovative solutions for different futures markets, risk parameters and other factors.
Copyright © 2022 by the Curmudgeon and Marc Sexton. All rights reserved.
Readers are PROHIBITED from duplicating, copying, or reproducing article(s) written by The Curmudgeon and Victor Sperandeo without providing the URL of the original posted article(s).