Classic Movie Quote Analogy, Small Business Formation, and the Next Fed Chairman
By Victor Sperandeo with the Curmudgeon
A Classic Movie Quote related to today's Stock Market:
One of the greatest western movies ever made was "The Good, The Bad, and The Ugly."  Let's examine a memorable quote from that film:
Tuco: "I like big fat men like you. When they fall, they make more noise and sometimes they never get up!"
Here's the analogy with today's financial markets:
Substitute "big fat men" with "the fattest valuation market" of all time, and it will surely make the "loudest noise when it falls."

The Good

is when the Fed lowers rates and does QE.

The Bad

is the systemic risk from the inflation it creates by doing so.

The Ugly

will be the severe damage from the market's fall (or crash), which always occurs after a parabolic rise.

They Never Get Up

implies the dippers will be destroyed.
For a little color, I included the theme song played by "The Danish National Symphony Orchestra."  It's very well done, so please give it a listen.
IMHO, the (stock market) fall will be the 100% the fault of the Fed. They've used the excuse that rising asset prices benefits the economy as it creates more jobs.  Really?
As the Curmudgeon and I have noted many times, the Fed boosting stock prices hasn't created any material good jobs or helped the real economy grow.  Instead, QE and ZIRP have stimulated share buybacks (often paid for by cheap borrowed money) and created extreme wealth for those who have assets in equities, real estate, and certain other traditional real assets. 
Contrary to Fed lies as to "why" QE and zero interest rates are "The Good," they are actually "The Bad."  
Low productivity is one reason for that.  Despite increasing by 2.1% in Q2 2021, worker productivity has been weak for many years (see chart below). It fell in 13 of 29 selected service-providing industries in 2020, while in 2019 labor productivity decreased in 14 of 29 industries. It's likely to stay low as scarcity is the norm under the Fed's ultra-easy monetary policy.

<![if !vml]>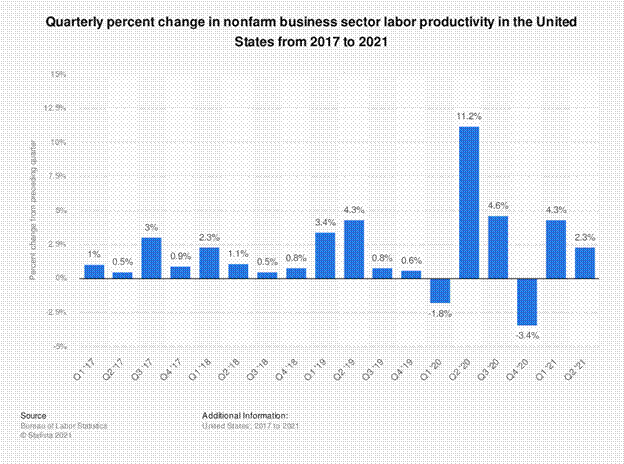 <![endif]>
The Difficulty of Small Business Formation:
Small businesses are the lifeblood of the U.S. economy.  They create the overwhelming majority of net new jobs and drive U.S. innovation and competitiveness. According to the Small Business Administration, there are approximately 30 million small businesses across the U.S., accounting for 99% of all business establishments in the U.S.  These businesses are responsible for more than 41% of net job creation, 45% of GDP and 34% of all U.S. exports.
Yet instead of encouraging small business formation, the U.S. government has created the fear of opening a business where investment is required.  Mandatory compliance with onerous federal/state/local regulations is the main reason.
The sheer volume of government regulations on business can make your head spin, whether or not you're just starting out or are a seasoned small business professional. And even finding the locations of these regulations can seem overwhelming. But despite the high volume of government regulations on business, understanding the general rules of the road isn't actually as scary as it sounds.
In additional, a state governor or local health officer, can shut down a small business via pandemic lock downs, without any compensation to the small business owner(s).  Ughhhh!!!
Who will be the next Fed Chairman?
This brings up a prediction I'd like to make: the next Fed Chairman will (odds on) be Raphael Bostic.  He is currently President and CEO of the Federal Reserve Bank of Atlanta. During his academic career, Bostic served as chair of the Department of Governance, Management, and the Policy Process at the Price School of Public Policy at the University of Southern California.  Throughout his career, Bostic has been mentioned as a potential nominee for a variety of roles in the federal government. In November 2020, Bostic was named as a potential candidate for Secretary of the Treasury in the then-upcoming Biden Administration, a position that ultimately went to Janet Yellen.
Mr. Bostic is an African American and "openly gay" (nothing wrong with that).  These traits are desired by the Biden Administration for "diversity."  He is described as "Jerome Powell on steroids" and master of "mental gymnastics" by The Maverick on Wall Street in this provocative You Tube video  Meet the next Chairman of the Federal Reserve [1.] The first 25 minutes are about Bostic and are very enjoyable. 
Note 1. This video is highly recommended by the Curmudgeon who enjoyed it immensely!

<![if !vml]>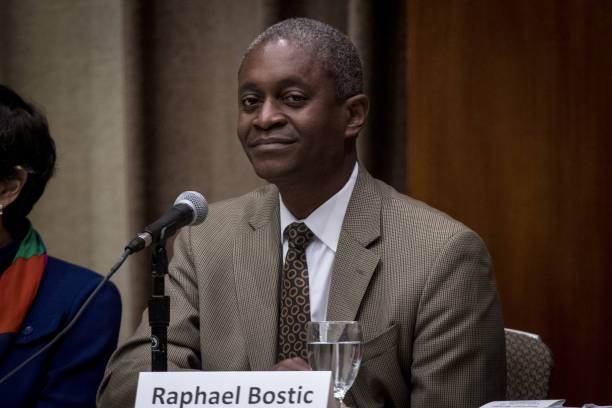 <![endif]>
When questioned about the inequality the Fed creates by boosting asset prices Bostic says, "If it helps creates jobs, so be it."
When asked about the harm inflation causes as an effective regressive tax he says, "Having a healthy level of inflation is fine if the economy is healthy, if the economy is dynamic and growing. And that should translate into (more) jobs. So, if we don't have an economy that gets people employed so that they can get on a more sustainable trajectory, then we'll have a more difficult challenge to face."  In summary, high inflation "should result in better fortunes for basically everyone in the economy."
End Quotes:
Bostic implies that inflation is good for the poor.  Do you agree? The appropriate quotes for that garbage rhetoric are from George Orwell:
"Doublethink means the power of holding two contradictory beliefs in one's mind simultaneously, and accepting both of them."
"War is peace. Freedom is slavery. Ignorance is strength."
………………………………………………………………………………………………………………….
Stay healthy, enjoy life, success, good luck and till next time…. 
<![if !supportLineBreakNewLine]>
<![endif]>
The Curmudgeon
ajwdct@gmail.com
Follow the Curmudgeon on Twitter @ajwdct247
Curmudgeon is a retired investment professional. He has been involved in financial markets since 1968 (yes, he cut his teeth on the 1968-1974 bear market), became an SEC Registered Investment Advisor in 1995, and received the Chartered Financial Analyst designation from AIMR (now CFA Institute) in 1996. He managed hedged equity and alternative (non-correlated) investment accounts for clients from 1992-2005.
Victor Sperandeo is a historian, economist and financial innovator who has re-invented himself and the companies he's owned (since 1971) to profit in the ever changing and arcane world of markets, economies and government policies.  Victor started his Wall Street career in 1966 and began trading for a living in 1968. As President and CEO of Alpha Financial Technologies LLC, Sperandeo oversees the firm's research and development platform, which is used to create innovative solutions for different futures markets, risk parameters and other factors.
Copyright © 2021 by the Curmudgeon and Marc Sexton. All rights reserved.
Readers are PROHIBITED from duplicating, copying, or reproducing article(s) written by The Curmudgeon and Victor Sperandeo without providing the URL of the original posted article(s).