Guaranteed Income Payments – Welfare on Steroids

By the Curmudgeon
Introduction:
Andrew Yang's call for a "universal" or "guaranteed" income – handing every American adult (over 18 years old) $1,000 a month – was deemed a fanciful curiosity when he made the idea the linchpin of his 2020 Democratic U.S. presidential campaign.
A guaranteed income is a monthly, cash payment given directly to individuals. It is unconditional, with no strings attached and no work requirements. A guaranteed income is meant to supplement, rather than replace, the existing social safety net and can be a tool for racial and gender equity.
To the surprise of many (including the Curmudgeon), Yang's thesis is playing out in a growing number of U.S. cities that are conducting "guaranteed income" pilot programs.  Groups of mostly lower-income residents are given a few hundred dollars to $1,000 monthly with no strings attached for up to two years.
Similar money handout programs are also taking shape in Congress through a variety of proposed tax credits or allowances.  We examine all that and more in this article.
The Stockton Experiment:
An experiment in Stockton, CA, gave dozens of residents free cash each month, reduced their financial instability, improved their mental health and helped many of them get better jobs.  That's according to a study released last week by the Stockton Economic Empowerment Demonstration (SEED).  It claims to be the nation's first mayor led guaranteed income demonstration.
Launched in February 2019 by former Mayor Michael D. Tubbs, SEED gave 125 randomly selected residents $500/month for 24 months. The cash was completely unconditional, with no strings attached and no work requirements.
During the first year of the experiment, the more predictable income allowed recipients to pay down debt and make future plans, researchers Stacia West of the University of Tennessee and Amy Castro Baker of the University of Pennsylvania found. They reported feeling less anxious and depressed compared with a control group of about 200 other residents of the city of 310,000.
The money also helped many participants take time off from work so they could seek better jobs, Ms. West and Ms. Castro Baker said at a virtual news conference last week. When the program began, 28% of participants were employed full-time, compared with 40% at the end of the first year, shortly before the coronavirus pandemic. Among the control group, the number jumped from 32% to 37%.
37% of the funds allocated in the Stockton, CA trial were spent on basic needs such as food; 22% on merchandise such as clothing and home goods; and 11% on utilities.  A year into the trial, 40% of the participants were employed full-time, up from 28% when the trial started. More than half were able to pay for unexpected expenses with cash or cash equivalents, up from 25% a year earlier.
The experiment ended in February 2021. The research team is collecting data for a study on the second year, which Castro Baker said would look at "to what degree did that $500 serve as a financial vaccine as people were entering into the pandemic."
The $3 million program was funded by dozens of organizations and private donors, many of them connected to tech industry leaders who believe a guaranteed income could help workers who lose their jobs to automation.
Tubbs, who lost his re-election bid in November, continues his advocacy as part of Mayors for a Guaranteed Income, a group he founded last year that is setting up similar experiments in other cities.  It's a new coalition of 15 U.S. mayors who want to explore the idea of universal basic income in their cities.
<![if !vml]>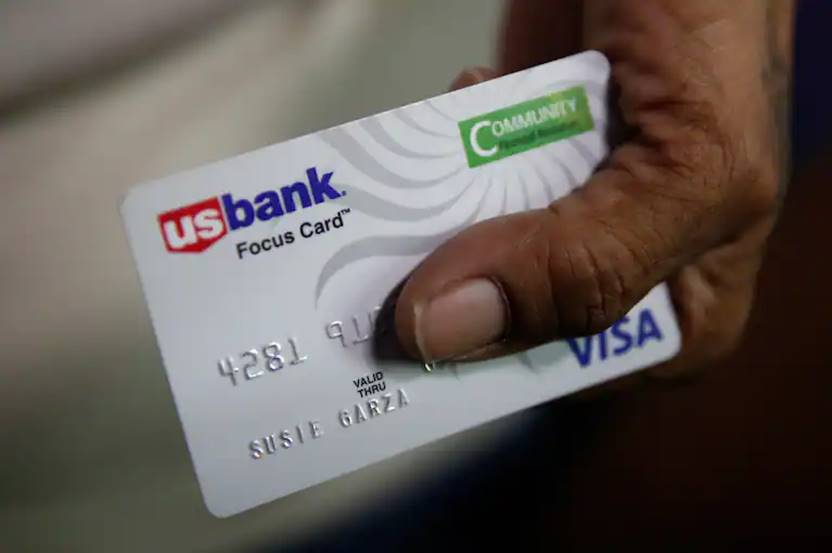 <![endif]>
A city-provided debit card from a basic-income trial program in Stockton, California.
Photo Credit: Rich Pedroncelli/AP
Several U.S. cities – including Compton, CA; St. Paul, MN; Patterson, NJ; Atlanta, GA; Seattle, WA; Richmond, VA; Long Beach, CA; Oakland, CA; and Pittsburgh, PA – launched or are about to launch guaranteed income pilots this year.  Los Angeles, Atlanta and Newark, New Jersey, are among more than 25 cities seriously considering guaranteed income programs.
On February 25, 2021,  the Newark City Council voted unanimously in support of a resolution to establish a guaranteed income.
In December, Compton, CA, which has a 20% poverty rate, launched the nation's largest guaranteed income pilot, giving 800 residents varying amounts of money. Ex-offenders and undocumented immigrants were eligible.
"Like most Americans, my family was only one emergency away from financial disaster, and now I am working to ensure this is no longer the case," says Compton Mayor Aja Brown. The money, she says, lets participants "take more risks, tailor government assistance to their needs and ultimately accumulate wealth."
In Jackson, Mississippi, Springboard to Opportunities, a nonprofit group, has provided 130 Black mothers $1,000 a month in two trials since 2018, and a third is set to begin.
"Those who have been harmed the most (by discrimination) are Black mothers," Springboard CEO Aisha Nyandoro says. During the first round, the number of participants with a high school equivalency education rose from 63% to 85%. Some participants moved out of subsidized housing. "If (public assistance) isn't working, why not try something different?" Nyandoro suggests.
New $1.9 Trillion Stimulus Bill Contains Huge Child Tax Credit:
The new, largely unpublicized child tax credit in the latest stimulus bill is definitely a form of guaranteed income.  It raises the maximum benefit most families will receive by up to 80% per child and extends it to millions of families whose earnings are too low to fully qualify under existing law. Currently, a quarter of children get a partial benefit, and the poorest 10% get nothing.  More than 93 percent of children — 69 million — would receive benefits under the plan, at a one-year cost of more than $100 billion.
While the current program distributes the money annually, as a tax reduction to families with income tax liability or a check to those too poor to owe income taxes, the new program would send both groups monthly checks to provide a more stable cash flow.
An analysis by Sophie M. Collyer of underscored the plan's broad reach. She found that in Georgia, the child allowance would bring net gains per child of $1,700 for whites, $1,900 for Latinos and $2,100 for Blacks.
Welfare critics warn the country is retreating from success of getting welfare recipients back to work. Child poverty reached a new low before the pandemic, and opponents say a larger child allowance could reverse that trend by reducing incentives to work.
Scott Winship of the conservative American Enterprise Institute wrote that the new benefit creates "a very real risk of encouraging more single parenthood and more no-worker families."
Congress Bills in the Works:
Proposals in Congress would provide some form of recurring guaranteed income that does away with work mandates, which can pose an undue burden when parents are taking care of kids or sick relatives, supporters say.
Bills by Rep. Rashida Tlaib, D-Mich., and Vice President Kamala Harris would give tax credits of $3,000 yearly to individuals and $6,000 to married couples even if they don't have children and aren't working. The Harris proposal would cost about $3 trillion over a decade. Sen. Mitt Romney, R-Utah, wants to provide a $3,000 to $4,200 yearly per-child benefit, even for stay-at-home parents, offsetting the cost by scrapping other programs and tax deductions.
Supporters:
"I think COVID made it more urgent and more politically feasible," says Jonathan Morduch, an economist and professor of public policy at New York University who helped design a pilot in Compton, California.
Many believe that "Guaranteed income" has become more important for the nation's gig economy which has resulted in a growing population of freelance and contract workers who don't receive benefits and whose income fluctuates from week to week, Morduch says.
"What we saw was tremendous savvy in the way that people leveraged the money to either gain full-time employment or more security at home," Castro Baker added.
"The social safety net is frayed," says Halah Ahmad, a vice president of PR and policy communications for the Jain Family Institute, which helps design guaranteed income programs and researches their effects. "It's not meeting people's needs, and people are falling through the cracks." She says those failings exact a huge cost on society.
Last July, Jack Dorsey, the billionaire CEO of Twitter and Square, donated $3 million to help fund Mayors for a Guaranteed Income.
Naysayers:
Critics argue that the social safety net (i.e., welfare, food stamps, disability, etc.) is the proper remedy for poverty, which afflicts 10.5% of Americans.
In contrast, Guaranteed income offers a disincentive to work and, since there are no strings attached, opens the door to misuse of the money for drugs or alcohol.
"If there's a crack (in existing programs), we can fill the crack without giving away free money," says Jon Coupal, head of the Howard Jarvis Taxpayers Association.
Matt Weidinger, a research fellow in poverty studies at the conservative American Enterprise Institute, says the proposals in Congress would largely reverse 1990s-era welfare changes that imposed work requirements on recipients and shrank welfare rolls.
"It's paying people a check to not be working," says Weidinger, who worked on the changes for a Republican-controlled House committee.
Anonymous Comment from a long time Curmudgeon reader:
"I will admit to feeling sense of despair that things have broken down to the point where it is now commonplace to talk about giving money away with no strings attached. Think of your parents or grandparents and the struggles they had to go through to succeed. Yes, there was the New Deal but even with that there was the expectation of personal responsibility. People had pride and would only accept help if they had no other alternative. We are allowing government to shackle and control us with relatively small amounts of money. I keep reading about how 80% approve of the stimulus package but would they if they weren't receiving $1,400? A nice trick to waste $1.9 trillion and make it go down easy by giving the masses a few crumbs."
Stay calm, be well, persevere, and till next time …………………...
The Curmudgeon
ajwdct@gmail.com
Follow the Curmudgeon on Twitter @ajwdct247
Curmudgeon is a retired investment professional. He has been involved in financial markets since 1968 (yes, he cut his teeth on the 1968-1974 bear market), became an SEC Registered Investment Advisor in 1995, and received the Chartered Financial Analyst designation from AIMR (now CFA Institute) in 1996. He managed hedged equity and alternative (non-correlated) investment accounts for clients from 1992-2005.
Victor Sperandeo is a historian, economist and financial innovator who has re-invented himself and the companies he's owned (since 1971) to profit in the ever changing and arcane world of markets, economies and government policies.  Victor started his Wall Street career in 1966 and began trading for a living in 1968. As President and CEO of Alpha Financial Technologies LLC, Sperandeo oversees the firm's research and development platform, which is used to create innovative solutions for different futures markets, risk parameters and other factors.
Copyright © 2021 by the Curmudgeon and Marc Sexton. All rights reserved.
Readers are PROHIBITED from duplicating, copying, or reproducing article(s) written by The Curmudgeon and Victor Sperandeo without providing the URL of the original posted article(s).