Assessment of Global Economy Amidst New Coronavirus Lockdowns
<![if !supportLineBreakNewLine]>
<![endif]>
By the Curmudgeon with Victor Sperandeo
Introduction:
The very concept of a return to normal now seems to be in the distant future and open to question. Coronavirus cases, hospitalizations and deaths have dramatically increased recently, resulting in new restrictions that are forcing many businesses to severely curtail operations or close. With the United States suffering its most rampant virus outbreak yet, and with major nations in Europe again under lockdown, prospects appear grim for a meaningful worldwide economic recovery before the middle of next year. Substantial job growth could take longer still with emerging markets lagging far behind.
We take a closer look at the impact of the virus on global growth, the promise and pitfalls of the vaccines, and economic forecasts from Oxford Economics and the IMF.  McKinsey research on the end of the pandemic is also referenced. Victor's quick takes are certainly worth your consideration.  Several quotes are included to add color and commentary to the points made in this post.
The Lockdown Hits Home:
The San Francisco Chronicle notes that testing and other tools critical to controlling the spread of the coronavirus are being severely strained as cases explode in the SF Bay Area.  The main reason more people are trying to get tested is because the virus has spread in the area as the pandemic surges locally, across California and the rest of the U.S.  The grim virus statistics will almost certainly worsen in the next week or two as post-Thanksgiving cases appear, public health experts said.
Within Santa Clara County (the Curmudgeon's home for 50+ years), a new health order went into effect at midnight November 30th.  Retail stores and shopping malls must operate at no more than 10% of capacity, hotels and motels are open ONLY for essential travel (no vacationers please), indoor dining or drinking is not permitted. Poker casinos and places of worship are closed. 
In addition, there is a mandatory 14-day quarantine upon return from ANY trip that is more than 150 miles (one-way) from the county. That means that the San Francisco 49ers, who play at Levi Stadium in Santa Clara, can NOT return home next week after their Sunday game in L.A. against the Rams.  If they did, players and coaches would be quarantined for 14 days in Santa Clara county, resulting in the next two NFL games being cancelled or forfeited.  Oh yes, no contact sports, including 49er and college football, local basketball, and San Jose Sharks hockey practices and games, are permitted in the county till at least December 21st.  And that deadline is likely to be extended with the surge in post-Thanksgiving virus cases expected.
Consumer spending makes up the largest part of the economy in most countries (it's almost 70% of U.S. GDP), and the recovery largely depends on consumers regaining the confidence to increase spending from ultra-low levels.
→That surely will not happen in Santa Clara County (aka Silicon Valley) with lockdowns and restrictions increasing. Could the county be leading economies to weaken in the rest of the U.S. and throughout the world?
Vaccines Provide Hope but Long Road Ahead:
Meanwhile, financial markets have celebrated positive test results from three vaccine candidates (Pfizer, Moderna, AstraZeneca), but significant hurdles remain before those vaccines restore any semblance of normalcy. More tests must be conducted, vast supplies manufactured and then distributed (at extremely cold temperatures). The world must navigate the complexities of managing these potentially life-saving vaccines amid a surge of nationalism.
McKinsey research said that the new vaccines are likely to only slightly accelerate the timetable to the end of the pandemic. In the United States, normalcy is not likely until the second quarter of 2021, and herd immunity is not likely until the third quarter. In other words, the pandemic will not be vanquished soon, and businesses will continue to be challenged.  From the McKinsey report:
An earlier timeline to reach herd immunity—for example, Q1/Q2 of 2021—is now less likely, as is a later timeline (2022). If we are able to pair these vaccines with more effective implementation of public-health measures and effective scale-up of new treatments and diagnostics, alongside the benefits of seasonality, we may also be able to reduce mortality enough in Q2 to enable the United States to transition toward normalcy.
A secondary effect of the recent vaccine trials is to make Q3 2021 more likely for herd immunity than Q4. That said, major questions are still outstanding, even about vaccines, such as long-term safety, timely and effective distribution, and vaccine acceptance by the population, to say nothing of lingering epidemiological questions such as the duration of immunity.
<![if !vml]>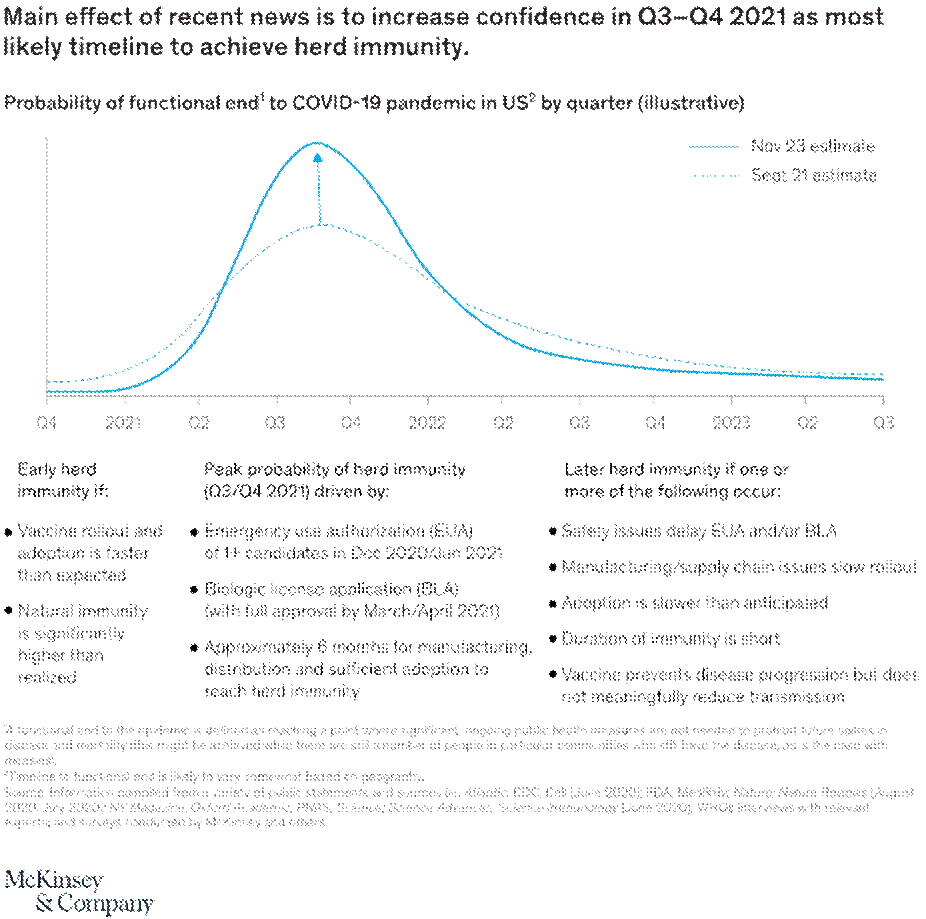 <![endif]> 
Travel and Tourism:
The Financial Times reports that tourism was one of the sectors hit worst by the strict lockdowns and travel bans in March and April. Global arrivals are set to shrink by between 58 and 78 per cent year on year in 2020, according to the UN World Tourism Organization. That U.N. body estimates 100m-120m direct tourism jobs are at risk.
<![if !supportLineBreakNewLine]>
<![endif]>
<![if !vml]>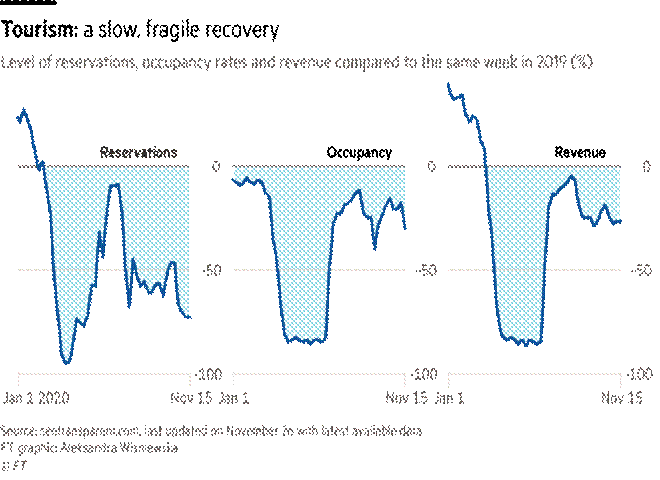 <![endif]> 
This Spring and Summer, as global lockdowns eased and borders began to reopen across Asia and Europe, flight and hotel occupancy data showed international mobility slowly resuming. However, the latest data from seetransparent.com suggest reservations have been hit by a resurgence of Covid-19 in many countries, with people remaining cautious about their future travel plans. This is shown in the graphs below.  With quarantines on the rise all over the world, both business and leisure travel are set to decline further.                                        
<![if !vml]>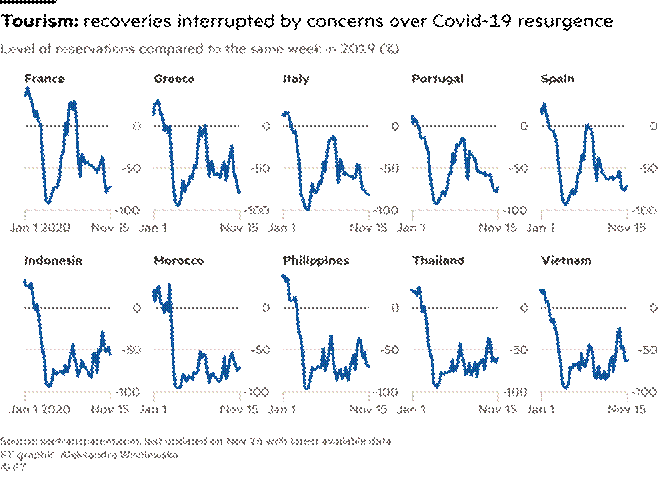 <![endif]> 
…..………………………………………………………………….……
After the Pandemic Ends:
Even after the coronavirus is tamed into something manageable like the flu, people now accustomed to keep their distance from others will be very slow to return to restaurants, shopping malls and entertainment venues. 
Now that videoconferencing (hello ZOOM) has been established as a replacement for business travel, it's unlikely that companies will send their employees on as many business trips as before.  Vacations and family visits will also be curtailed. Businesses will be slow to (re) hire for fear of another outbreak.  That will surely hurt already imperiled airlines, hotels, and restaurants. 
"If you're a business, you might be a bit more wary about taking on staff again," said Ben May, a global economist at Oxford Economics in London. "You might make do with overtime for a while. Households might behave more cautiously. If that's the case, you run the risk of economic scarring further down the line."
At a time when companies are under pressure to make their workforces more diverse, the likelihood that many people will continue working from home threatens to impede entry and promotion for women and minorities. Breaking into established ranks and altering corporate culture is not a process best conducted over videoconference.
"Growing inequality is terrible for economies because consumption is reduced," said Ian Goldin, a Professor of globalization and development at Oxford University, and author of "Terra Incognita: 100 Maps to Survive the Next 100 Years." "A smaller share of your economy is able to buy your goods and services," he added.
Forecasts for the Global Economy:
Most economists assume that Europe will register a contraction during the 4th quarter of 2020. Britain's economy is expected to shrink by more than 11% this year, according to Oxford Economics, and will struggle to mount a full recovery before 2022. Among the worst-performing major economies is India: Its economy contracted 7.5% in the three months that ended in September compared with a year earlier, government figures showed on Friday.  
The world economy will contract by 4.4% this year, the International Monetary Fund forecast in its most recent assessment. World trade is on track to fall by as much as 9 percent this year, according to an assessment from the United Nations Conference on Trade and Development.
Last month, the IMF forecast a 2020 global contraction of 4.4%, with the global economy expected to rebound to growth of 5.2% in 2021, but the outlook for many emerging markets (developing countries) had worsened. Global growth forecast of 5.2% for 2021 is only 0.6% higher than in 2019 and far below 2018.  Also, joblessness would remain elevated, poor countries would continue to suffer a drop in earnings sent home by migrant workers, while malnutrition would increase substantially.
Developing countries went into the pandemic facing alarming levels of debt. Promised aid from international institutions like the International Monetary Fund and the World Bank have proved disappointing. Private creditors have withheld debt relief.  While fiscal spending of nearly $12 trillion and monetary policies had averted even worse outcomes, poverty and inequality were increasing, and more support was needed, the IMF said. 
The pandemic has also accelerated a pushback against globalization that may inspire multinational companies to make more goods in their home markets, while cutting costs through automation which would limit job and wage growth.
Victor's Comments:
The states want to cause lots of financial problems as they believe that under the Biden administration, they will get huge reimbursements and other federal aid which they desperately need.
While I'm far from a medical expert, I do question the reported number of coronavirus induced hospitalizations and deaths which in many cases may be due to other ailments, especially amongst the elderly.  If that's true, then many of the severe pandemic restrictions could be relaxed.
Conclusions:
New outbreaks and more stringent mobility restrictions, and delays in vaccine development and distribution could reduce global economic growth, increase public debt, and worsen economic scarring.  IMF Managing Director Kristalina Georgieva cautioned that the economic path ahead remains "difficult and prone to setbacks."
The strains of the corona catastrophe - from failed businesses and elevated joblessness to disrupted education - appear likely to endure, potentially for years to come.
Professor Goldin concludes, "What I'm allergic to at the moment is the notion of going back, bouncing back.  It's business as usual that got us to where we are."
…..…………………………………………………………………….
Good health, good luck, stay calm and safe, till next time….
The Curmudgeon
ajwdct@gmail.com
Follow the Curmudgeon on Twitter @ajwdct247
Curmudgeon is a retired investment professional. He has been involved in financial markets since 1968 (yes, he cut his teeth on the 1968-1974 bear market), became an SEC Registered Investment Advisor in 1995, and received the Chartered Financial Analyst designation from AIMR (now CFA Institute) in 1996. He managed hedged equity and alternative (non-correlated) investment accounts for clients from 1992-2005.
Victor Sperandeo is a historian, economist and financial innovator who has re-invented himself and the companies he's owned (since 1971) to profit in the ever changing and arcane world of markets, economies and government policies.  Victor started his Wall Street career in 1966 and began trading for a living in 1968. As President and CEO of Alpha Financial Technologies LLC, Sperandeo oversees the firm's research and development platform, which is used to create innovative solutions for different futures markets, risk parameters and other factors.
Copyright © 2020 by the Curmudgeon and Marc Sexton. All rights reserved.
Readers are PROHIBITED from duplicating, copying, or reproducing article(s) written by The Curmudgeon and Victor Sperandeo without providing the URL of the original posted article(s).