New Asia-Pacific Trade Pact Poses Challenges
<![if !supportLineBreakNewLine]>
<![endif]>
By the Curmudgeon with Victor Sperandeo
Introduction:
Leaders from 15 Asia-Pacific nations on Sunday signed what analysts have said may be the largest free trade agreement in history. The 10 members of the Association of Southeast Asian Nations (ASEAN) joined up with Australia, China, Japan, New Zealand, and South Korea to cement the Regional Comprehensive Economic Partnership (RCEP), which could add nearly $200 billion to the global economy by 2030, according to some estimates.
At a ceremony Sunday, which was conducted via video conference due to the pandemic, ministers from the 15 countries signed the agreement and held up their signatures to the cameras.
The pact covers over 2.2 billion people – more than any previous regional free trade agreement.  It could help further cement China's image and influence in Southeast Asia at a time of uncertainty over Washington's economic ties with the region.  It is the first free trade deal between China, Japan, and South Korea. 
Premier Li Keqiang, China's second-highest official after Xi Jinping, oversaw the Beijing event. In a statement released by the state news media, he called the pact, "a victory of multilateralism and free trade."  (See Victor's comments below for another perspective on "free trade")
Trade Pact Overview:
The RCEP encompasses the 10 countries of the Association of Southeast Asian Nations plus Australia, China, Japan, New Zealand, and South Korea. [India's absence is viewed as significant].  It eliminates tariffs mainly for goods that already qualify for duty-free treatment under existing free trade agreements. The pact allows countries to keep tariffs for imports in sectors they regard as especially important or sensitive.
This new trade agreement is considered significant because it will result in a more unified trading system. That should make it easier for the region's manufacturers to import raw materials from around the bloc without facing high tariffs, and export finished products throughout the region with lower tariffs, trade experts familiar with the deal say.
The RCEP's rules of origin will set common standards for how much of a product must be produced within the region for the final product to qualify for duty-free treatment. These rules could make it simpler for companies to set up supply chains that span several different countries.
Officials across Asia said they expect the agreement will help countries better fight the economic hit from the coronavirus pandemic. Mohamed Azmin Ali, Malaysia's international trade minister, called the deal an "economic recovery tool" that will help to open markets and strengthen supply chains.
"Encouraging free trade is even more important now that the global economy is in a slump and there are signs of countries turning inward," Japanese Prime Minister Yoshihide Suga said during the RCEP meeting with other leaders, according to a Japanese government official.
The deal's completion comes after several years of growing trade tensions, particularly between the U.S. and China, that raised questions about the future of globalization and free trade. The pact still needs to be ratified by national governments before going into effect.
<![if !vml]>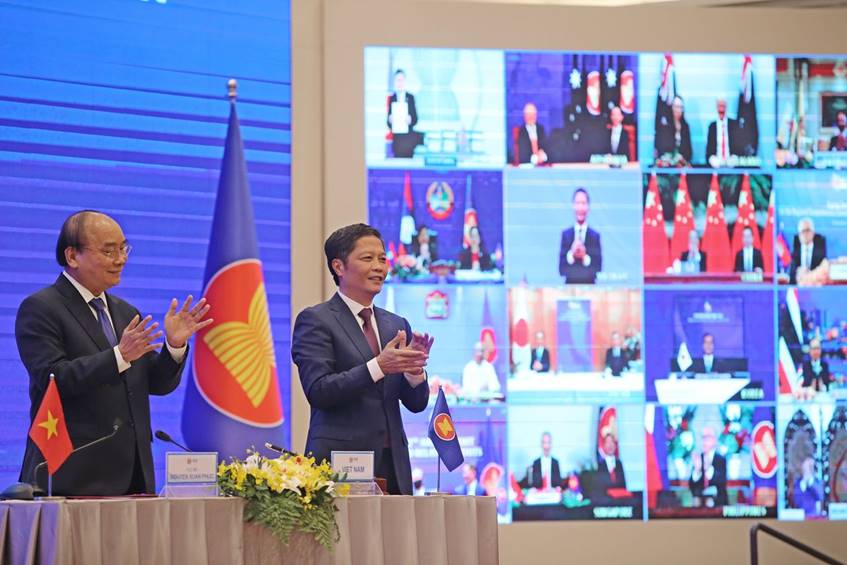 <![endif]>
Vietnam's Prime Minister Nguyen Xuan Phuc, left, and Minister of Industry and Trade
Tran Tuan Anh on Sunday at a virtual signing ceremony in Hanoi. 
PHOTO CREDIT: LUONG THAI LINH/SHUTTERSTOCK
………………………………………………………………………………………………….
He Weiwen, a former Commerce Ministry official in Beijing and prominent Chinese trade policy expert, said that Sunday's pact represented a big step forward.  "The Regional Comprehensive Economic Partnership, due to its size, will certainly contribute to world free trade," he said.
"The fact that you could reach an agreement with all those parties including China is a significant accomplishment," said William Reinsch, a trade expert at the Center for Strategic and International Studies, a Washington, DC.-based think tank.  He said the U.S.'s absence from the agreement sends a message to U.S. President-elect Biden's incoming administration "that they need to give a lot more thought to what policy we want to maintain in the Pacific."  More on this below.
<![if !vml]>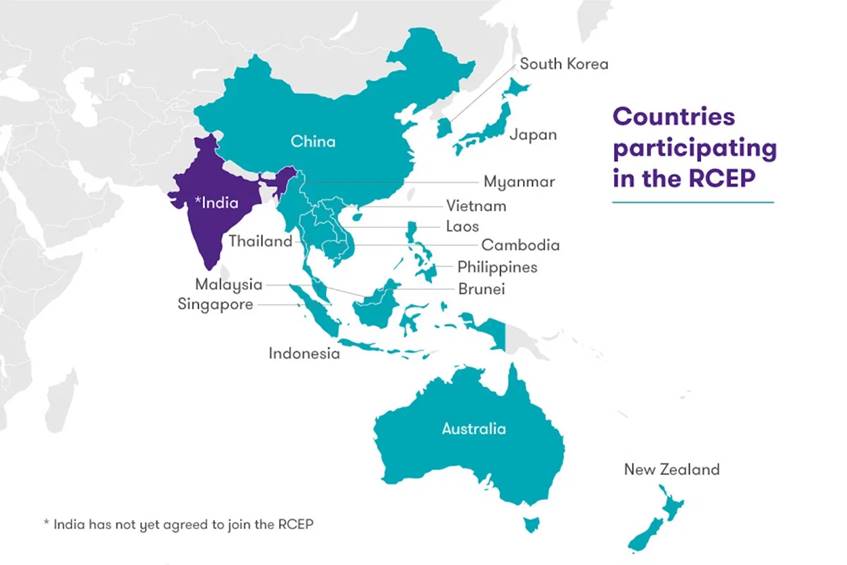 <![endif]>

Impact on the U.S.:
By staying outside trade alliances, the U.S. has in effect left a vacuum to be filled by China, William Reinsch of the Center for Strategic and International Studies told the Bloomberg. With Washington absent from global trade deals, Beijing can expand its influence unhindered and tie more economies in the Asia Pacific closer to its own aims.
Indeed, RCEP increases pressure on U.S. President elect Joe Biden to deepen U.S. trade engagement in the Asia-Pacific region.  Biden warned last year that if America doesn't write the rules of the road, China will, and said he would try to renegotiate the Trans Pacific Partnership or TPP (which Trump pulled the U.S. out of in 2017, while the remaining 11 countries continued on their own after renaming it).
The TPP came under fire from both Republicans and Democrats for exposing American businesses to foreign competition.  Indeed, Victor and I were dead against the TPP and said so loud and clear in our article titled, "Trans Pacific Partnership: A Deal Made in Secret by the Devil?"
It remains contentious, and Mr. Biden has not said whether he would rejoin the deal — renamed the Comprehensive and Progressive Agreement for Trans-Pacific Partnership — once he enters office. But analysts say it is unlikely to be a high priority.
Mr. Biden has said he would wait to negotiate any new trade deals. He wants to focus his energy on the pandemic, the economic recovery and investing in American manufacturing and technology.
"While the United States is currently focused on domestic concerns, including the need to fight the pandemic and rebuild its economy and infrastructure, I'm not sure the rest of the world is going to wait until America gets its house in order," said Jennifer Hellman, a senior fellow for trade and international political economy at the Council on Foreign Relations. "I think there are going to have to be some responsive actions to what China is doing," Ms. Hillman added.
Victor's Comments:
Let us all agree that free trade is a good thing under almost any circumstances. For Asian countries, such as those in this new RCEP deal, it's fine and I'm all for it.
However, "free trade" today is not what Adam Smith and David Ricardo [1.] wrote about, especially as it relates to the U.S. and China.  The U.S. lost about 10 million manufacturing jobs from the peak in 1993 to 2016. About 40% of those were manufacturing jobs that went to China.
Note 1.  Adam Smith was a staunch supporter of free markets, which allowed the natural laws of supply and demand to function properly. Smith became an influence for David Ricardo, who read his work Wealth of Nations before embarking on his own economic studies. Ricardo was also a proponent of laissez-faire economics.
…………………………………………………………………………………………………...
The U.S. BLS reported that the average hourly manufacturing compensation estimated for China in 2002 was $0.57, about 3% of the average hourly compensation of manufacturing production workers in the United States and of many developed countries of the world.  Hence, China's manufacturing sector became much more competitive, resulting in massive U.S. manufacturing job losses.
Corporate America jumped all over this new China gravy train and did very well building factories in China.  At the same time, middle America (e.g. the man on the street) did very poorly.
Meanwhile, China's middle class expanded substantially as its urban population grew from constituting 19% of its population in 1980 to reach 58% in 2017. In 2000, just 4% of China's urban population was considered to be middle class, rising to over 30% in 2018.  A study by consulting firm McKinsey & Company projects that 76% of China's urban population will enter the middle-income bracket by 2022. Their study defined middle class urban household earnings at US$9,000 to US$34,000 a year.
Median U.S. household income from 1967 appreciated about 70 bps per year through 2016. China makes about $575 per person a month or income of $13,000 per household. 
So, the tradeoff for free trade was to kill the middle class in the U.S. while creating a new middle class in China. The U.S. trade deficit with China also increased exponentially.  The U.S. goods trade deficit with China was $345.2 billion in 2019.
Now this "$200 billion in trade" via the R.C.E.P. is approximately 0.25% of the world's estimated $80 trillion in GDP.  So, it really isn't such a big deal.  It seems to me (and many others), that the U.S, has far greater problems to deal with.
Conclusions:
The ASEAN trade bloc leapfrogged the European Union to become China's largest trading partner in the first eight months of 2020, with total trade worth $416.6 billion, according to recent data from the Chinese government.   Forecasts suggest that the ASEAN bloc could be the fourth-largest economy in the world by the end of this decade. The region had a combined GDP of $2.57 trillion last year.
The RCEP's signing, just two months before Biden's inauguration, could put the U.S. on the defensive next year, as the Biden administration will likely face huge domestic opposition if it seeks to rejoin the now-named Comprehensive and Progressive Agreement for Trans-Pacific Partnership (CPTPP).
The Financial Times expects Japan and South Korea to be among the biggest winners from the deal, but the benefit of cheaper goods will spread as far as Europe and (possibly) to the U.S.
Closing Quotes on RCEP:

"We signed [RCEP] today, after a tough slog of eight years," said Lee Hsien Loong, Singapore's prime minister, on Sunday. "This is a major step forward for our region. At a time when multilateralism is losing ground, and global growth is slowing, the RCEP shows Asian countries' support for open and connected supply chains, freer trade and closer interdependence."

"Covid has reminded the (Asia-Pacific) region of why trade matters and governments are more eager than ever to have positive economic growth.  RCEP can help deliver it," said Deborah Elms, executive director of the Asian Trade Center, a Singapore based consultancy.
"The RCEP solidifies China's broader regional geopolitical ambitions around the Belt and Road initiative", said Alexander Capri, a trade expert at the National University of Singapore Business School, referring to Beijing's developing world investment project that envisions China's influence as the world's infrastructure building leader.
……………………………………………………………………………………………………….
<![if !supportLineBreakNewLine]>
<![endif]>
Good health, good luck, stay calm and safe, till next time….
The Curmudgeon
ajwdct@gmail.com
Follow the Curmudgeon on Twitter @ajwdct247
Curmudgeon is a retired investment professional. He has been involved in financial markets since 1968 (yes, he cut his teeth on the 1968-1974 bear market), became an SEC Registered Investment Advisor in 1995, and received the Chartered Financial Analyst designation from AIMR (now CFA Institute) in 1996. He managed hedged equity and alternative (non-correlated) investment accounts for clients from 1992-2005.
Victor Sperandeo is a historian, economist and financial innovator who has re-invented himself and the companies he's owned (since 1971) to profit in the ever changing and arcane world of markets, economies and government policies.  Victor started his Wall Street career in 1966 and began trading for a living in 1968. As President and CEO of Alpha Financial Technologies LLC, Sperandeo oversees the firm's research and development platform, which is used to create innovative solutions for different futures markets, risk parameters and other factors.
Copyright © 2020 by the Curmudgeon and Marc Sexton. All rights reserved.
Readers are PROHIBITED from duplicating, copying, or reproducing article(s) written by The Curmudgeon and Victor Sperandeo without providing the URL of the original posted article(s).