China's Economy Now the World's Largest; CCP 5 Year Plan Outlook
<![if !supportLineBreakNewLine]>
<![endif]>
By the Curmudgeon
Introduction:
Earlier this month the IMF presented its 2020 World Economic Outlook, which provides an overview of the global economy and the challenges ahead. Measured by a metric that both the IMF and CIA now judge to be the single best metric for comparing national economies, the IMF Report shows that China's economy is now the world's largest – one-sixth larger than the U.S. economy ($24.2 trillion versus the U.S.'s $20.8 trillion).   
China's GDP grew by 4.9% in Q3-2020, the government reported on October 19th. While that was one of the best rates of economic growth in the world, it disappointed economists which had forecast China GDP of about 5.5%. 
Of course, China government stated economic numbers have very little credibility as the Economist magazine reports.
China's Communist Party (CCP) meets this week to approve a new Five-Year Plan, and with global trade tensions high, there will be particular focus on domestic demand.  This article looks at what we might expect from the CCP's new Plan and reviews the "Made in China 2025" initiative.
Forecasts for China's GDP in 2020:
The International Monetary Fund (IMF) forecasts China GDP growth of 1.9% for this full year, with Oxford Economics suggesting there could be some upside to 2020 growth with a 2.3% forecast. That's down from 6.1% in pre-pandemic 2019.
<![if !supportLineBreakNewLine]>
<![endif]>
<![if !vml]>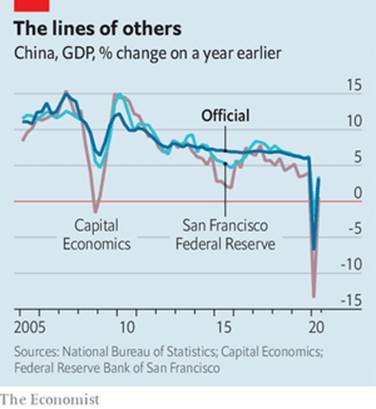 <![endif]>

The 2020 full-year figures would make China the only major economy to increase its economy for this year, with the IMF predicting a 4.4% contraction in the global economy. But China's numbers would also result in the slowest pace of growth since 1976, when China was in the final throws of the Cultural Revolution. Q1 resulted in a 6.8% shrinking in the economy, the first contraction since China started keeping quarterly data in 1992.
Outlook for China's 14th Five Year Plan:
Bank of America economist Helen Qiao expects the China government to target growth more than 5%, but well below the 6.5% in the last 5 Year Plan. She believes China will emphasize global integration coupled with boosting domestic demand, innovation, and urbanization.
Private consumption of goods represents less than 40% of GDP as compared to 70% in the U.S. and the government is likely to encourage more spending on services and higher quality domestic products.
The CCP will also likely speed up the opening of China's economy, especially financial market and service sectors, to attract foreign investment. China is likely to focus on domestic sectors of its economy largely because of its increasingly hostile relations with the U.S.
In addition to the ongoing tariff battle, the trade war raised the probability that tighter U.S. technology sanctions may choke future industrial development in China. It seems imperative for Chinese policy makers to increase the country's self-dependence to continue its industrial activities.
Among a wide range of potential macro policies, B of A thinks the key drivers of domestic growth will be technology innovation, consumption upgrade and further urbanization spurred by development of metropolitan areas.
Here's how a command economy works:
The Chinese Communist Party ordered factories back into operation before they were even willing to bring their workers into the workshop - and before the factories had orders for goods to be produced. 
The CCP is obsessed with keeping people in jobs, since unemployment breeds discontent, and discontent breeds dissent against the party, which retains staying in power as its primary goal.  They also subsidize certain industries (see below) by providing R & D spending as well as generous tax breaks.
"Made in China 2025" Progress Report:
The "Made in China 2025" program, released in 2015, identified 10 industries in which China strives to become globally competitive by 2025.  The list included R&D spending as % of revenue of above-scale manufacturers, number of patents per RMB 100M of revenue, Competitiveness Quality Index of manufacturing sector, and broadband Internet penetration (as a %).
China has already accomplished many of its "Made in China 2025 targets," such as number of approved patents (1.1 vs 1.1 2025 goal) and broadband network coverage (86.1% vs 82% 2025 goal). 
The government is shifting its focus to new infrastructure like 5G cellular networks, an ultra-high voltage grid, software, biotech, semiconductors, and higher-end components. Urbanization will remain a key focal point, but the Plan will emphasize the development of the surrounding suburbs and satellites of major cities rather than further densification of downtown areas. 
China has prioritized technology innovation in the last decade, as it sought to upgrade the industrial sector and move up the global value chain. But technology security and independence have become ever more urgent, with the U.S. banning most component supplies (license now required) to Chinese companies such as Huawei and ZTE. That effective embargo threatens to choke the nation's technology supply-chain.
China's economy must "make breakthroughs" and "win the critical battle of" key technologies, President Xi stated in August to a group of experts advising the new Plan. In September, the National Development and Reform Commission (NDRC) issued guidelines on investing in "strategic emerging industries" such as 5G, semiconductors and biotechnology.  Tax breaks, state-led investment and research funding will likely be offered to businesses in key sectors such as semiconductors, especially considering the U.S. embargo against Huawei.
Unfavorable Views of China Reach New All Time High:
Views of China have grown more negative in recent years across many advanced economies, and unfavorable opinion has soared over the past year, a new 14-country Pew Research Center survey shows.
A majority in each of the surveyed countries has an unfavorable opinion of China. And in Australia, the United Kingdom, Germany, the Netherlands, Sweden, the United States, South Korea, Spain and Canada, negative views have reached their highest points since the Center began polling on this topic more than a decade ago.
<![if !vml]>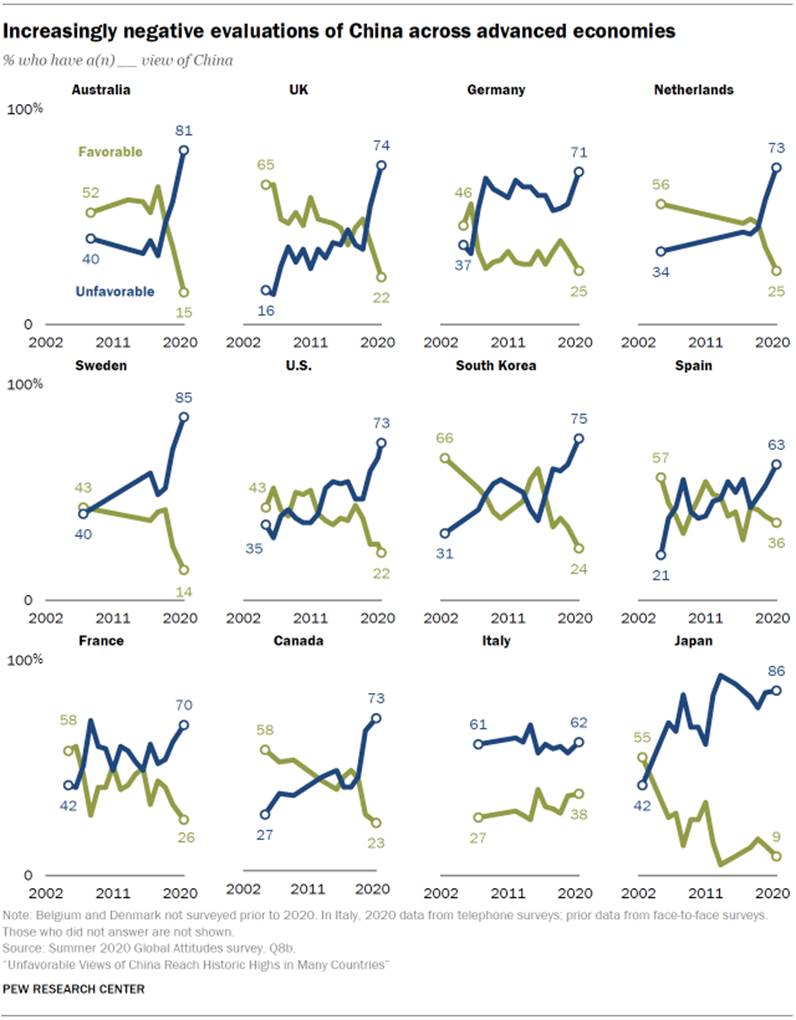 <![endif]>

Conclusions:
With another five months to go before its official release, it is perhaps too early to compare the next Five-Year Plan with previous Plans. However, the challenges China faces in the next five years have undoubtedly grown much bigger than before.  They include: high leverage (China's total debt/GDP ratio will rise from 231% in 2015 to 284% this year), supply chain disruptions (largely due to U.S. sanctions/tariffs and higher priced labor), and the global political environment (especially the icy U.S.-China relationship)
China has yet to develop a coherent storyline to convince the rest of the world of its peaceful ascendance, which could become more problematic with its growing economic influence.
………………………………………………………………………………………………...
Be well, stay safe and calm, good luck and till next time…….
The Curmudgeon
ajwdct@gmail.com
Follow the Curmudgeon on Twitter @ajwdct247
Curmudgeon is a retired investment professional. He has been involved in financial markets since 1968 (yes, he cut his teeth on the 1968-1974 bear market), became an SEC Registered Investment Advisor in 1995, and received the Chartered Financial Analyst designation from AIMR (now CFA Institute) in 1996. He managed hedged equity and alternative (non-correlated) investment accounts for clients from 1992-2005.
Victor Sperandeo is a historian, economist and financial innovator who has re-invented himself and the companies he's owned (since 1971) to profit in the ever changing and arcane world of markets, economies and government policies.  Victor started his Wall Street career in 1966 and began trading for a living in 1968. As President and CEO of Alpha Financial Technologies LLC, Sperandeo oversees the firm's research and development platform, which is used to create innovative solutions for different futures markets, risk parameters and other factors.
Copyright © 2020 by the Curmudgeon and Marc Sexton. All rights reserved.
Readers are PROHIBITED from duplicating, copying, or reproducing article(s) written by The Curmudgeon and Victor Sperandeo without providing the URL of the original posted article(s).