U.S. vs China Cold War, Economic Comparison, Gold Holdings
By Victor Sperandeo with the Curmudgeon
Introduction:
This is the third article in our series about China, which several readers have requested.  We focus here on China's economy, its gold holdings, and a new trade agreement with the EU.
We strongly suggest you listen or read U.S. Secretary of State Michael Pompeo's speech on Communist China and the Free World's Future.  In that speech, Pompeo declared that the U.S. -China relationship should be based on the principle of "distrust and verify," saying that the diplomatic opening orchestrated by President Richard Nixon nearly half a century ago had ultimately undermined American interests.
We also recommend reading this past Sunday's NY Times lead story on deteriorating U.S.-China relations. 
Week and Month in Review – the Downward Spiral Continues:
Last week's tumultuous events brought U.S.-China relations to an all-time low:
<![if !supportLists]>· <![endif]>On Tuesday, the U.S. State Department ordered China to shut down its Houston consulate, prompting diplomats there to burn documents in a courtyard.
<![if !supportLists]>· <![endif]>On Friday, in retaliation, China ordered the United States to close its consulate in the southwestern city of Chengdu.
<![if !supportLists]>· <![endif]>The Chinese Foreign Ministry the next day denounced what it called "forced entry" into the Houston consulate by U.S. law enforcement officers on Friday afternoon.
<![if !supportLists]>· <![endif]>The U.S. Department of Justice announced criminal charges against four members of China's People's Liberation Army for lying about their status in order to operate as undercover intelligence operatives in the United States. All four have been arrested.
<![if !supportLists]>· <![endif]>A visiting Stanford University researcher (a MD) was charged with visa fraud.  The affidavit alleges that a recovered document from Song Chen's hard drive was a letter to the Chinese Consulate in New York, which explained that she was extending her time in the U.S. for another year.  She wrote that her stated employer, Beijing Xi Diaoyutai Hospital, is a false front, and that she had obtained approval for her extension from the PLA Air Force and FMMU.  The letter further allegedly explained that, as these Chinese military approval documents were classified, she could not transmit them online.
<![if !supportLists]>· <![endif]>Secretary of State Pompeo's speech infuriated China and drew criticism from several former U.S. government officials.  Chinese Foreign Ministry spokesman Wang Wenbin calling it malicious and ideologically biased.
The above events comes on top of a month in which the U.S. government announced sanctions on senior Chinese officials, including a member of the ruling Politburo, over the mass internment of Muslims; revoked the special status of Hong Kong in diplomatic and trade relations; and declared that China's vast maritime claims in the South China Sea were illegal. There were also unconfirmed reports of a clandestine buildup of China's nuclear program.
The Trump administration has also imposed a travel ban on Chinese students at graduate level or higher with ties to military institutions in China. Officials are discussing whether to do the same to members of the Communist Party and their families, a sweeping move that could put 270 million people on a blacklist.
<![if !vml]>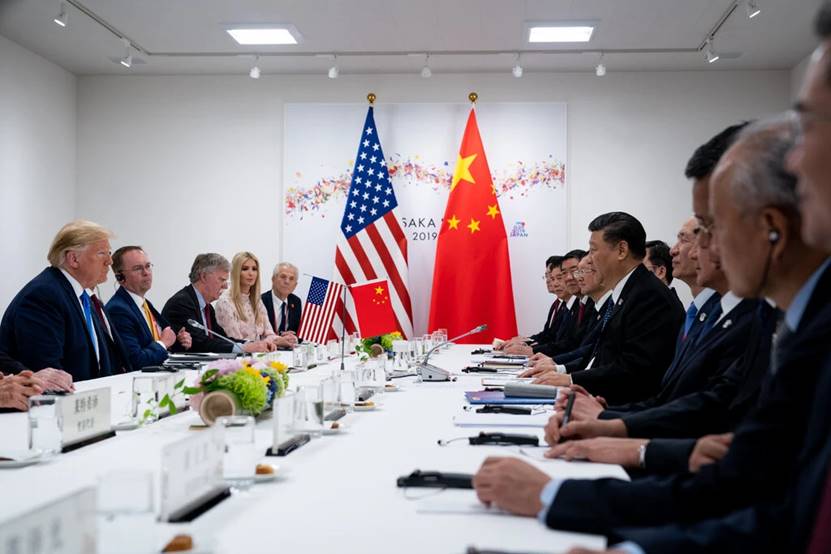 <![endif]>President Trump meeting with China's leader, Xi Jinping, center right, in Japan last year.  Photo Credit...Erin Schaff/The New York Times
…………………………………………………………………………………
China vs U.S. Economy:
China is in better economic and financial shape than the U.S., according to their official press reports (which few people believe are accurate). 
China's GDP was +3.2% for the second quarter! The U.S. reports second quarter GDP on July 30th with the closely watched Atlanta Fed The GDPNow model estimate at -34.3% (seasonally adjusted annual rate) as of July 27th. That whopping decline is approximately what the Blue Chip consensus expects for second quarter GDP.
-->That's a HUGE DIFFERENCE favoring China!  China's unemployment rate is stated to be MUCH lower than that in the U.S. However, the China unemployment numbers don't count the large number of migrant workers that have lost their jobs.
It is crucially important to note that China's communist government can expropriate property and wealth of its citizens, whereas the U.S. (as a constitutional republic) can't.  The Communist Chinese government owns the capital goods and means of production, as well as all consumer goods (i.e. all the peoples' possessions).  People have no individual or property rights in China. In effect, they own "nothing." The public can use what they have, until the time at which China's government decides they need to confiscate their wealth. 
Don't think that could happen?  Read on….
Look at how China has persecuted the Muslim Uyghurs in in Xinjiang province and the Falun Gong to get a feeling for what the government can do to its people.  China's atheist and dictatorial Chinese Communist Party (CCP) fears all groups outside its control – particularly ones that subscribe to a different ideology.  To this day Roman Catholics, many Protestants, and Tibetan Buddhists cannot worship freely in China and are at constant risk of detention and torture.
So, it is reasonable to expect the CCP to expropriate property and savings accounts if there is a serious economic or financial crunch in China.
New China Trade Deal with EU:
After 10 years of negotiation, the European Council earlier this week authorized the EU to sign a trade agreement with China. The deal covers just 100 products from each side, and some EU members are more represented than others on the list of products. French goods, for example, represent a quarter of the protected products. However, it is notable that the EU, at this critical time, is laying the groundwork for a broader trade agreement with China.
In 2019, China was among the EU's largest export destinations, second only to the U.S., and top source of imports. In the past decade, European exports to China have more than doubled – from 77 billion euros ($88 billion) in 2009 to 198 billion euros in 2019 – and imports from China have also increased. China's top trade partner in the EU is Germany, followed by the Netherlands and France. These three countries' trade with China accounted for more than half (58 percent) of the EU's total.
<![if !vml]>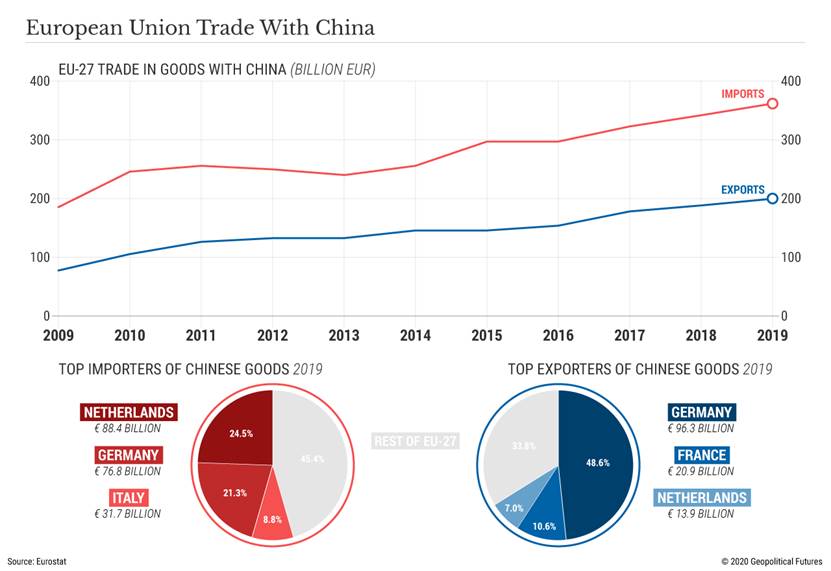 <![endif]>The EU reaching this agreement with China may be an indication that
it may be closer to signing a larger trade deal with China than with the United States.
China vs U.S. Gold Holdings:
Few people are aware that gold closed at an all-time high Friday, July 24th as per the September Gold futures contract and the GLD ETF.
China has been accumulating gold since 1979.  How much gold they own is unknown, as they never tell you the truth, but it is surely a monster amount.
According to one estimate, China has 1,948.3 tonnes of gold in its reserves,  It is also the world's biggest gold producer, accounting for 12% of global mine production according to US Global Investors Inc., and the local demand for gold has been boosted by the burgeoning wealth of its growing middle class.  On May 26, 2016, Forbes reported that China owns 1,797.5 tonnes of gold. Some reports today estimate China has as much as 30,000 tonnes.
The U.S. has said to have 8,133.5 tonnes (number one in the world), but the U.S. gold stock has not been audited since 1986.  That amount is in question as the audits from 1975 -1986 are said to be lost. How could that be?  A great deal of confusion of these audits abound, and the speculation today is that there is "no gold" in U.S. vaults, as it was all loaned out and or sold.  If the U.S. still OWNs the gold, why not SHOW it?
We just don't know, as the U.S. government is no different than China in making up stories on what is actually true or not.  As I don't believe hardly anything the U.S. government says, I give the financial advantage to China, which definitely has gold.  The question is how much?
China's Control Limits Protests:
China is one of the most restrictive and evil nations in the history of the world. However, because they are (and can be) ruthless in their actions they are effective. Does anyone seriously believe the riots, (aka protests), we see across the U.S. related to "institutional racism" could take place in China?
Recall the 1989 Tiananmen Square protests, when the China government forcibly suppressed a peaceful protest, declared martial law and sent the military to occupy central parts of Beijing. Estimates of the death toll vary from several hundred to several thousand, with thousands more wounded.  That 1989 event would be like a picnic in the park if U.S.-like destructive riots were to take place in China.
Victor's Conclusions:
China is an authoritarian Communist dictatorship and can use the Chinese people's assets if it must, but the U.S. cannot do so.
The claim that the U.S. has leverage over China because China owns $1.1 trillion in U.S. Treasury debt is false! The U.S. Fed Balance Sheet on 2/26/20 stood at $4.158 trillion and as of 7/23/20 was $6.964 trillion, which was an increase of +67.5% or $2.806 trillion in less than five months.
The talk on the street is the Fed's balance sheet is headed for $10 trillion by year end. The Fed can buy all of China's U.S. debt, and the markets wouldn't blink. The Fed has to inflate or die.
U.S. fiscal policy will spend another trillion dollars on the Care's Act II shortly. To put this in perspective, the U.S. government alone will spend $22 billion A DAY this fiscal year (which ends September 30, 2020).
Tax the rich to pay for it? In 170 days, all of the estimated 600 U.S. billionaires net worth (with a mean of $ 6.3 billion) would be gone. Of course, that is not liquid value, which would only last an estimated 25 days.
In summary, China is in far greater shape economically and politically.  Unless the American people start electing leaders that follow the Constitution and local laws, China can win its objective to overturn and dominate the western world without firing a shot.  If Joe Biden wins the U.S. Presidential election in November, I think America will be defeated by Chinese Communism.
End Quote:
As Sun Tzu said 2,800 years ago: 
<![if !vml]>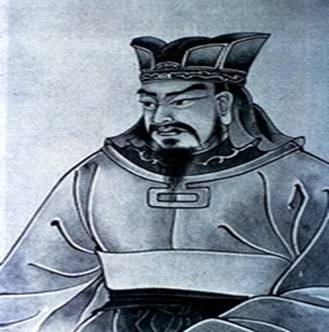 <![endif]>
"The supreme art of war is to subdue the enemy without fighting."
And its Sister quote………………………………………..                            
https://www.goodreads.com/quotes/608916-the-greatest-victory-is-that-which-requires-no-battle
―The Art of War"
………………………………………………………………………………
Stay safe and be healthy.  This too shall pass and life will be better again.  Good luck and till next time……
The Curmudgeon
ajwdct@gmail.com
Follow the Curmudgeon on Twitter @ajwdct247
Curmudgeon is a retired investment professional. He has been involved in financial markets since 1968 (yes, he cut his teeth on the 1968-1974 bear market), became an SEC Registered Investment Advisor in 1995, and received the Chartered Financial Analyst designation from AIMR (now CFA Institute) in 1996. He managed hedged equity and alternative (non-correlated) investment accounts for clients from 1992-2005.
Victor Sperandeo is a historian, economist and financial innovator who has re-invented himself and the companies he's owned (since 1971) to profit in the ever changing and arcane world of markets, economies and government policies.  Victor started his Wall Street career in 1966 and began trading for a living in 1968. As President and CEO of Alpha Financial Technologies LLC, Sperandeo oversees the firm's research and development platform, which is used to create innovative solutions for different futures markets, risk parameters and other factors.
Copyright © 2020 by the Curmudgeon and Marc Sexton. All rights reserved.
Readers are PROHIBITED from duplicating, copying, or reproducing article(s) written by The Curmudgeon and Victor Sperandeo without providing the URL of the original posted article(s).