Mnuchin's Re-Reversal on Disclosing PPP Loan Recipients; Large Corporations favored over Small Business
By the Curmudgeon with Victor Sperandeo
Overview:
Last week, U.S. Treasury Secretary Steven Mnuchin, a former Goldman Sachs partner (see Victor's comments below), refused to identify what companies received $511 billion in taxpayer-backed coronavirus loans. 
"The Trump administration believes names of borrowers from the Paycheck Protection Program (PPP) along with the amounts they received are proprietary and confidential," Mnuchin said during a Senate committee hearing on June 10th.
Yet the applications for PPP loans, which are forgivable if borrowers meet certain criteria, state that such data will "automatically" be released. That was corroborated in April when the Small Business Administration (SBA), which oversees the lending program, told Bloomberg News that such loan-specific information would be made public "in the near future." 
Similarly, a SBA spokesman told the Washington Post in an April 16th email that the agency "intend[s] to post individual loan data in accordance with the information presently on the SBA.gov website after the loan process has been completed," and it made a similar commitment in response to an April 17th open records request by the Post. 
So why the reversal in U.S. government policy which exhibited a total lack of transparency?
U.S. Treasury Department Re-Reversal:
Not to worry or debate the "proprietary" nature of the loans, because Mnuchin has reversed course again!  This Friday, June 19th, the U.S. Treasury Department announced that they would release a data set showing which businesses received many PPP loans, reversing the previous reversal that all of the business names would remain hidden because the Trump administration considered them "proprietary."
The disclosures will include the names of recipients who received PPP loans of more than $150,000 and it will also reveal a dollar range for each loan, such as whether it was between $1 million and $2 million. Precise dollar amounts will not be disclosed, the Trump administration said. Borrowers who obtained loans of less than $150,000 will not have their identities disclosed. The administration said nearly 75 percent of all loans were for $150,000 or more, so most borrowers would be revealed.
"We are striking the appropriate balance of providing public transparency, while protecting the payroll and personal income information of small businesses, sole proprietors, and independent contractors," Mnuchin said in a statement.
The announcement came after several weeks of tense negotiations with congressional leadership, in which members of both parties pressed for some form of disclosure. The plan announced Friday amounts to an attempted compromise in which most loan recipients will be made public while specific details would be obscured.
"The Treasury Department finally gave in to public pressure from Democrats because their position of hiding which businesses have received PPP loans was untenable," Senate Minority Leader Charles E. Schumer (D-N.Y.) said in a statement.
Discussion and Analysis:
The program was designed to extend loans of up to $10 million to smaller firms, those that have 500 or fewer employees. But it was built in such a way that many larger firms found ways to obtain the loans. Some of those larger firms gave the money back to the SBA after their identity was revealed (we name names below). 
The Curmudgeon believes that in trying to quickly pump loan dollars into the economy, the program's architects did away with many of the usual safeguards designed to prevent banks and the federal government from fraud. Lenders were empowered to take borrowers at their word regarding need and eligibility, requiring very basic checks on the part of regulators.
There have been widely reported cases in which large, cash-rich operations managed to get small business loans.
Some national restaurant and hotel chains took advantage of a legal loophole allowing franchisees and other business affiliates to qualify. The Auto Nation car dealership, for example, received nearly $80 million in PPP loans through their nationwide dealership, coordinated by national executives.
Other wealthy organizations receiving the small business loans included Shake Shack, the Ashford Hospitality Trust, the Los Angeles Lakers (are they a small business?), an exotic cruise operator, and the Aspen Institute. At least 300 publicly traded companies received small business loans, prompting the SBA to retroactively change its rules with respect to those organizations.
A number of firms returned the funds after it was disclosed that they received huge PPP loans.  The Ruth's Chris steakhouse chain said they would return two loans totaling $20 million, The Wall Street Journal and Forbes reported on April 23rd.
The SBA has previously said it would release "individual loan data" for PPP recipients in accordance with the information currently on its Freedom of Information Act page, which includes specific loan data for various SBA subsidized loan programs going back to 1991. A lawsuit filed by 11 news organizations, including Bloomberg, Dow Jones & Co, NY Times, and Washington Post, seeks business names and loan amounts for all PPP recipients, including those receiving smaller amounts of funding.
….……………………………………………………………………………...
Victor's Comments – Globalism Rules:
We all know Goldman (GS) is a major proponent of Globalism. Goldman's Globalist [1.] roster is quite long.  It includes both Democrats (like Robert Rubin, U.S. Treasury Secretary under the Clinton administration, and Republicans (like Henry Paulson, U.S. Treasury Secretary under the George W. Bush administration).
Note 1.   According to the Cambridge English dictionary, a Globalist is someone who believes that economic and foreign policy should be planned in an international way, rather than according to what is best for one particular country.  In general, globalists consider themselves to be "citizens of the world," rather than of any one country.
……………………………………………………………………………..
The Council of Foreign Relations (CFR) is by definition the most Pro-Globalist club/membership in the world. Robert Rubin (see above), whom I knew, was Chairman Emeritus of the CFR.
Founded in 1921, CFR's mission is to be "an independent, nonpartisan membership organization, think tank, and publisher dedicated to being a resource for its members, government officials, business executives, journalists, educators and students, civic and religious leaders, and other interested citizens in order to help them better understand the world and the foreign policy choices facing the United States and other countries."
In 1973, then CFR Chair David Rockefeller founded the Trilateral Commission, which has been the subject of many global elite conspiracy theories.
The CFR currently has approximately 4,425 members who are among the most powerful people in the world.  Those super privileged elites have been criticized by conservatives due to their alleged support for globalism and a one world government.  CFR has also been criticized by conspiracy theorists and others who feel they are a part of the "New World Order."
For example, the CFR wants to control and use climate change to tax the public.  But in reality, those taxes end up in the coffers of multi-national corporations which CFR members own a large shares of stock.
I believe that Munchin sees small companies as competition for the major corporations (many of which CFR elites hold stock in).  For Mnuchin to handout U.S. government money via the PPP makes him seem like a king. The reason he did not want the SBA to disclose the names of the PPP recipients who got the money, was to keep secret certain large corporations that did receive the loans.  Meanwhile, many small businesses were deprived of those loans or are still waiting [2.] for their loan application to be approved.
Note 2.  The Curmudgeon's company (which shall remain anonymous) filed a SBA loan application on April 9th.  Only yesterday (June 20th), did I receive an email inviting me to create an account for review by a SBA loan officer.  After provided proof of the company's ongoing business, I am still waiting for the loan officer's decision.
………………………………………………………………………………...
Victor's Conclusion:
Transparency implies full disclosure and honesty. 
Yet dishonesty seems to be the essence of secrecy in the U.S. government's allocation of money.
End Quote:
From "None Dare Call It Conspiracy" ... by Gary Allen and Larry Abraham
"If one understands that socialism is NOT a share-the- wealth program, but is in reality a method to -consolidate and control -the wealth, then the seeming paradox of the super-rich men promoting Socialism becomes no paradox at all."
<![if !supportLineBreakNewLine]>
<![endif]>
<![if !vml]>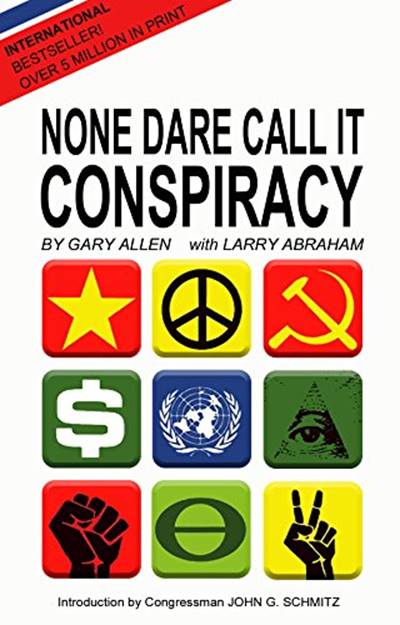 <![endif]>

<![if !supportLineBreakNewLine]>
<![endif]>
………………………………………………………………………………….
<![if !supportLineBreakNewLine]>
<![endif]>
Be healthy, safe, calm, wishing you success and good luck. Till next time…..                                
The Curmudgeon
ajwdct@gmail.com
Follow the Curmudgeon on Twitter @ajwdct247
Curmudgeon is a retired investment professional. He has been involved in financial markets since 1968 (yes, he cut his teeth on the 1968-1974 bear market), became an SEC Registered Investment Advisor in 1995, and received the Chartered Financial Analyst designation from AIMR (now CFA Institute) in 1996. He managed hedged equity and alternative (non-correlated) investment accounts for clients from 1992-2005.
Victor Sperandeo is a historian, economist and financial innovator who has re-invented himself and the companies he's owned (since 1971) to profit in the ever changing and arcane world of markets, economies and government policies.  Victor started his Wall Street career in 1966 and began trading for a living in 1968. As President and CEO of Alpha Financial Technologies LLC, Sperandeo oversees the firm's research and development platform, which is used to create innovative solutions for different futures markets, risk parameters and other factors.
Copyright © 2020 by the Curmudgeon and Marc Sexton. All rights reserved.
Readers are PROHIBITED from duplicating, copying, or reproducing article(s) written by The Curmudgeon and Victor Sperandeo without providing the URL of the original posted article(s).