Perspective: U.S. Economy and Stock Market Implode in just 21 Trading Days!
By the Curmudgeon with Victor Sperandeo
Economic Overview:
It's ultra-frightening and super scary! The coronavirus is having a significant negative impact on U.S. economic activity and future prospects, with predictions emerging for losses of up to five million jobs this year and a drop in economic output of as much as $1.5 trillion.  
A recession is now all but certain, according to a Wall Street Journal survey of 34 economists, which projects a downturn that would last months at least, and might even surpass the severity of the 2007-09 "great recession," which was triggered by the housing collapse and subprime loan debacle.
Let's examine a few recent economic numbers and forecasts:
-->The staggering economic and social implications of the coronavirus outbreak in the U.S. are only now beginning to become clear.  No one can accurately forecast when this will end, and life returns to normal.
Gulp!  The stock market declines have been breathtaking: The S&P 500 has declined 31.93% from 2/19/2020 to 3/20/2020, while the Russell 2000 has cratered 40.22% from 2/20/2020 to 3/20/2020. That fall occurred in only 21 trading days!
For Dow Theorists, please note that the DJI has dropped 35% from 2/12/2020 to 3/20/2020, while the DJT has imploded by 38% from 2/20/2020 to 3/20/2020 (again that was only 21 trading days).  We are deep into Dow Theory bear market territory.
Past is Prologue:
History sets the context for the present.  In the past, when a crisis or shock fades and fears abate, the next twelve months consistently delivers a strong stock market comeback, as per this table courtesy of Blackrock:
<![if !vml]>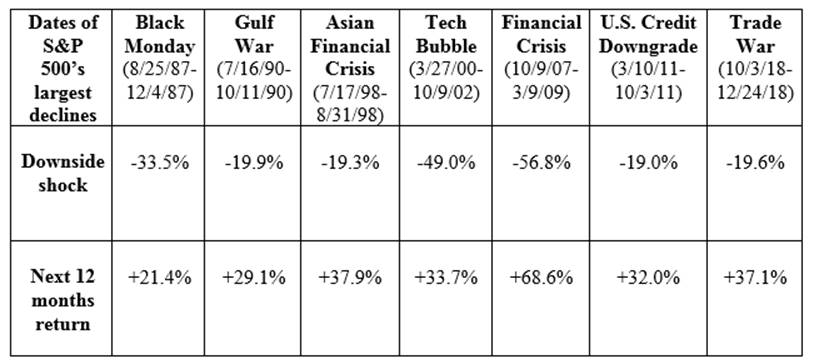 <![endif]>………………………………………………………………..
<![if !supportLineBreakNewLine]>
<![endif]>
Victor's Comments:
When will the states stop the "Shelter in Place" orders?  It seems the cure is worse than the disease. For example, why is California governor Gavin Newsom predicting that roughly 25.5 million Californians (or 56% of the state's population) will get the virus over an eight week period? On what is he basing that number? If he assumes a 3% mortality rate, he must expect 500,000 to 1 million deaths just in California. But based on what?
Wayne Allyn Root today suggested that the U.S. should follow the South Korean model to defeat the virus. Or at least as closely as possible.  That country has had the most success in the world in fighting and surviving the coronavirus pandemic.  In a nation of 51 million (about 10 million more than the population of California), South Korea has had under 9,000 cases and under 100 deaths.
In Italy –the deadliest COVID-19 country to date, with a higher death rate than China– 23% of the population are over 65. The youngest Italian to die was 55 years old.
The point is if we don't stop the shutting down of the economy a 1930's depression is a sure thing.  There will not be a V bottom and recovery as many predict.
The budget deficit and national debt will explode to $3 to 4 trillion this fiscal year, depending on the extent of the government bail-out programs.
Fortunately, we have not seen any announcements of bankruptcies yet or derivative blowups by banks or hedge funds.
A few points on a future U.S. economic recovery - once the current recession has ended (who knows when?):
1.  No more corporate stock buybacks with government money, e.g. loans and grants or tax cuts to companies who then use the money to buy back shares and pay dividends.
2. Do not repeat the Japan "lost decade(s)" syndrome.
3. After this crash people will be cautious. This time, I do not believe consumers will quickly forget what befalls them.
……………………………………………………………
Victor's Stock Market Forecast and Perspective:
I expect the U.S. stock market to rally in April, after the poor earnings are announced.  However, the Bull has been killed by the virus and U.S. matador. Its over as we know it.  So don't expect an advance to new high's anytime soon!
-->Stocks down 30-40% in 21 or 22 trading days is a "come to Jesus (watershed) moment" for many investors and traders. 
-->What the Trump administration seems to be saying [1.] is death has no consequences and the U.S. is going to heaven.

Curmudgeon Note 1.    Kaiser Health News reported on Friday that public health professionals dismissed the President's claims that the spread of the coronavirus and the threat of a pandemic snuck up on us as being "simply astonishing" and "simply untrue." 
Check out Trump's March 9th tweet:
<![if !vml]>

<![endif]>
Curmudgeon's Conclusions:
Due to the swift and deep selloff in the last month (actually 21 or 22 trading days), we believe the U.S. and most other equity markets are positioned for a strong but short-lived rebound.  However, the recent decline has not fully discounted the economic impact of the coronavirus (COVID-19) pandemic. 
We advise readers to try to ignore financial markets and instead concentrate on protecting their health, finding "feel good" diversions (like reading a good book, listening to classical/relaxing music or doing yoga/meditating), and communicating with friends and family.
………………………………………………………………….
Closing Quotes:
"This shock is very big," said Bruce Kasman, head of economic research at JP Morgan. "You are going to see in the next two months the consequences of the actions taken in terms of economic activity. That set of trade-offs is not really clear in policy makers' minds right now."  (See Kasman's final quote below).
"What a recession from something like this should look like is a sudden stop and recovery," said R. Glenn Hubbard, a Columbia University economist who was a top White House economist for President George W. Bush. "What could happen, though, is a doom loop."
"A public health emergency is morphing into an economic emergency," said David Shulman of the UCLA Anderson School of Management. "The basic outlines of the economy will be determined more by biology than by economics."
"Things look so gloomy right now that perhaps we should be grateful if we can get out of this health crisis with a brief recession," said Bernard Baumohl of the Economic Outlook Group.  "You just cannot rule out the prospect of a longer, more destructive depression.  What is clear is that we are in a race against time."
"You need an unemployment system that in this moment can pivot to 100 percent reimbursement to 100 percent of people who are not at work," said Heather Boushey, President of the Washington Center for Equitable Growth, a think tank focused on inequality and growth. "And wage replacement for people who have hours cut back."
Let's end with a more optimistic quote from Bruce Kasman:
"Unlike the 2007-09 downturn, the economy will likely rebound quickly if the government can slow the spread of the disease and lower the death rate. I don't think the economy is fundamentally imbalanced or at a fragile position at this point," said Kasman. "I don't think it has to play out like 2008, 2009 where you had most longer-lasting problems unwound."
…..……………………………………………………………
Good luck and till next time….
The Curmudgeon
ajwdct@gmail.com
Follow the Curmudgeon on Twitter @ajwdct247
Curmudgeon is a retired investment professional. He has been involved in financial markets since 1968 (yes, he cut his teeth on the 1968-1974 bear market), became an SEC Registered Investment Advisor in 1995, and received the Chartered Financial Analyst designation from AIMR (now CFA Institute) in 1996. He managed hedged equity and alternative (non-correlated) investment accounts for clients from 1992-2005.
Victor Sperandeo is a historian, economist and financial innovator who has re-invented himself and the companies he's owned (since 1971) to profit in the ever changing and arcane world of markets, economies and government policies.  Victor started his Wall Street career in 1966 and began trading for a living in 1968. As President and CEO of Alpha Financial Technologies LLC, Sperandeo oversees the firm's research and development platform, which is used to create innovative solutions for different futures markets, risk parameters and other factors.
Copyright © 2020 by the Curmudgeon and Marc Sexton. All rights reserved.
Readers are PROHIBITED from duplicating, copying, or reproducing article(s) written by The Curmudgeon and Victor Sperandeo without providing the URL of the original posted article(s).