Phase One Trade Agreement Signed, but Tariffs Remain in Place
<![if !supportLineBreakNewLine]>
<![endif]>
By the Curmudgeon
Executive Summary:
China and the U.S. signed the "Phase One" trade deal Wednesday, but it won't likely end the trade war.
The eight-part agreement is really only a pause in a two-year trade war that has fixated world equity markets, decreased global economic growth and caused China's exports to the U.S. to plummet.  The Phase One agreement maintains the threat of additional punishment if Beijing does not live up to the terms of the deal.
The deal leaves in place U.S. tariffs on about $370 billion in Chinese goods, or about three-quarters of Chinese imports to the U.S.  That leaves the United States with an overall tariff rate higher than that of any other advanced nation, as well as China, India and Turkey.
China will still tax 57 percent of imports from the U.S. in retaliation, although some trade experts say that it's possible some of those levies may be waived in the weeks to come.
The market was hoping for most of the tariffs on both sides to be eliminated.  Nope – not even close! 
Possible tariff reductions will be left to later negotiations, which will cover a host of difficult issues at the heart of the trade battle, including Chinese subsidies to domestic companies and Beijing's oversight of Chinese state-owned firms. Those talks are expected to begin fairly soon but won't conclude until after the U.S. presidential election this November.
President Trump told a packed audience of business and political leaders in the White House today that the remaining tariffs "will all come off" if the talks produce a second agreement.
Naturally, Trump called the deal a "momentous step" as per this statement:
"Today we take a momentous step, one that has never been taken before with China toward a future of fair and reciprocal trade with China.  Together we are righting the wrongs of the past."
While the deal contains some wins for the U.S., the fact that most tariffs will remain on Chinese imports clouds prospects for growth in business investment between the two countries, said John Frisbie, a China expert at the trade consulting firm of Hills & Co. 
"Overall uncertainty is not reduced much because there is no removal of existing tariffs [and] questions whether China can buy the quantities of goods and services the administration wants," he said.
Stock Market Impact:
U.S. stocks have surged for many months since China and the U.S. said they were nearing a deal (which seems like forever).  Every tweet on that topic by Trump or a U.S. government official produced a very strong stock market rally, which (astonishingly) was not retraced when the deal failed to materialize. 
While the DJI closed above 29,000 for the first time on Wednesday, with the S&P and NASDAQ making new all-time highs almost every day, market reaction to the actual signing was muted with smaller gains in the popular stock market averages.  That suggests investors saw little that was surprising within the text of the agreement.
"Basically, we've been told repeatedly that this deal was done," said Mike O'Rourke, chief market strategist at Jones Trading.
<![if !vml]>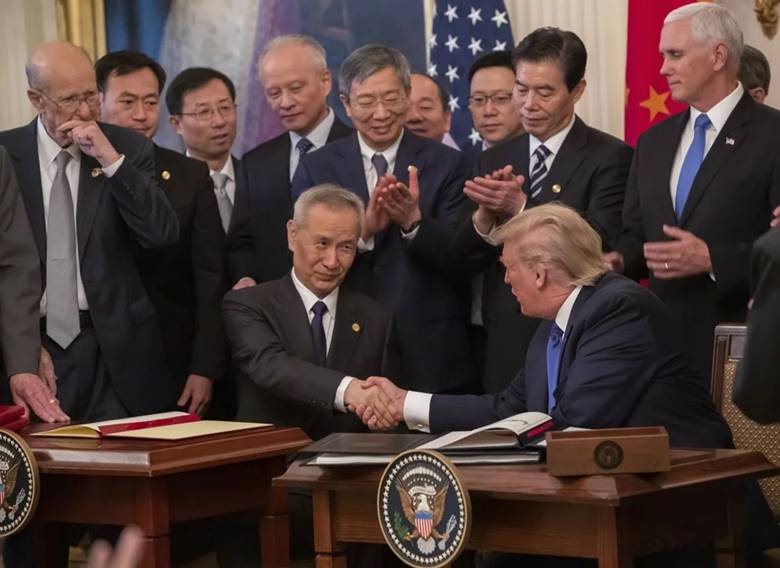 <![endif]>
Analysts have warned that despite the glitz of the White House signing ceremony, US-China relations remain fraught. Photo: EPA-EFE
…………………………………………………………………………………………………………………
Expert Opinions:
Geopolitical Futures (on-line subscription required) had this comment:
"Additional tariff relief for China is unlikely to be on the table for at least 10 months as the U.S. conducts a review of whether China is adhering to the deal. Another area of deepening bilateral tension is in the competition over so-called emerging and fundamental technologies — especially in the information and communications technology space — where both sides have been moving to address potential national security concerns (real and imagined). Earlier this week, for example, the U.S. Treasury Department rolled out new rules on implementation of the Foreign Investment Risk Review Modernization Act of 2018, in which Congress gave the executive sweeping new powers to scrutinize investment flows from abroad, particularly by Chinese entities. New powers on blocking exports of sensitive technologies abroad are also slowly being finalized.
Uncertainty about just how far the U.S. will push for decoupling is starting to sting Chinese tech sectors, with U.S. venture capital investment in Chinese start-ups estimated to have dropped below $4 billion in 2019, according to a report published by Rhodium Group. Chinese telecom giant Huawei, though, appears to still be thriving, posting an 18 percent jump in sales last year and breaking into the top 10 recipients of U.S. patents. There's a new U.S. Senate bill that would allocate $1 billion to development of a homegrown competitor to Huawei, but don't expect that to do much to alter the course of bilateral tech tension anytime soon."
……………………………………………………………………………………………………….
Shen Jianguang, chief economist at Chinese Fintech giant JD Finance and a veteran China policy watcher, said that despite the agreement, the road ahead remains full of obstacles.
"The repeated ups and downs of the economic and trade situation between the two countries since last year indicate that we should still be alert to the possibility of future disputes," Shen said. "In addition, even if the trade agreement is implemented in the short term, the losses caused by the tariffs that have been imposed are difficult to recover.
"Since the trade war started, the strategic mutual trust between China and the United States has retrogressed. Frictions and disputes in other areas have also occurred frequently. We need to prepare comprehensively for the complexity of Sino-US relations and long-term battle."
……………………………………………………………………………………………………………..
Critical Analysis of Phase One:
The biggest section of the deal covers Chinese purchases. Beijing pledged to buy an additional $200 billion in goods and split across 2020 and 2021, with the deal calling for $77 billion in additional trade the first year and $123 billion the second year.
The provisions of the deal are subject to an enforcement mechanism that calls for several rounds of consultations. If the two sides don't reach an agreement, the complaining party could take "remedial measure in a proportionate way"—trade jargon for re-imposing tariffs. The U.S. would likely be the party bringing the complaint, because it is China that is pledging to make changes and increase purchases.
"Neither party shall require or pressure persons" to transfer technology to do business or to get regulatory approvals, the agreement said. The deal also banned pressure "formally or informally" on companies to use a certain technology to get a license.
However, the section doesn't require China to change any law or regulation to fulfill its obligations. A draft agreement that fell apart in May required dozens of changes in Chinese law. Top officials in Beijing nixed that deal, and the U.S. negotiators sought to retain as much of the tentative deal as possible.
The Phase One deal also has some terms that China could use to claim that the U.S. is at fault if it doesn't meet the purchase targets. For instance, China could request consultations if China's purchases are "affected by an action or inaction by the United States," according to the Phase One text. That could come into play if U.S. export rules limit the technology products the U.S. government lets China buy (or prevent them from buying like components and software for Huawei).
The NY Times states that the Phase One agreement has plenty of critics in both parties, who say that Mr. Trump's tactics have been economically damaging and that the deal leaves many important economic issues unresolved.   Those include cybersecurity and China's tight controls over how companies handle data and cloud computing. China rejected demands that the text includes promises to refrain from hacking American companies, insisting it was not a trade issue.
The Phase One deal is written in legalese and trade jargon that will be pored over by trade experts and lawyers for many months.
Closing Quote:
"There is a strong element of Yogi Berra's quip about déjà vu all over again," said James Green, a former U.S. trade negotiator in Beijing under Mr. Trump. "The dispute resolution section will have the same problem we've always faced—U.S. companies are reluctant to become poster children for market access problems or discriminatory treatment."
……………………………………………………………………………………………
Good luck and till next time….
The Curmudgeon
ajwdct@gmail.com
Follow the Curmudgeon on Twitter @ajwdct247
Curmudgeon is a retired investment professional. He has been involved in financial markets since 1968 (yes, he cut his teeth on the 1968-1974 bear market), became an SEC Registered Investment Advisor in 1995, and received the Chartered Financial Analyst designation from AIMR (now CFA Institute) in 1996. He managed hedged equity and alternative (non-correlated) investment accounts for clients from 1992-2005.
Victor Sperandeo is a historian, economist and financial innovator who has re-invented himself and the companies he's owned (since 1971) to profit in the ever changing and arcane world of markets, economies and government policies.  Victor started his Wall Street career in 1966 and began trading for a living in 1968. As President and CEO of Alpha Financial Technologies LLC, Sperandeo oversees the firm's research and development platform, which is used to create innovative solutions for different futures markets, risk parameters and other factors.
Copyright © 2020 by the Curmudgeon and Marc Sexton. All rights reserved.
Readers are PROHIBITED from duplicating, copying, or reproducing article(s) written by The Curmudgeon and Victor Sperandeo without providing the URL of the original posted article(s).