Italian Referendum Fails, PM Resigns; Possible EU Breakup?

by the Curmudgeon with Victor Sperandeo
<![if !supportLineBreakNewLine]>
<![endif]>
Background:
Italian citizens voted against constitutional reform this Sunday in what many analysts say is the most significant European political event of 2016. The reforms would've removed power from Italy's Senate such that proposed laws would only require the approval of the lower house of parliament. The current Italian legislative system requires approval from both houses. 
Prime Minister Matteo Renzi was campaigning for a "Yes" vote to make it easier to govern the nation moving forwards.  He resigned Sunday after the referendum was clearly defeated.  In a late-night news conference, Renzi said he took responsibility for the outcome. The "No" camp must now make clear proposals, he added.
<![if !vml]>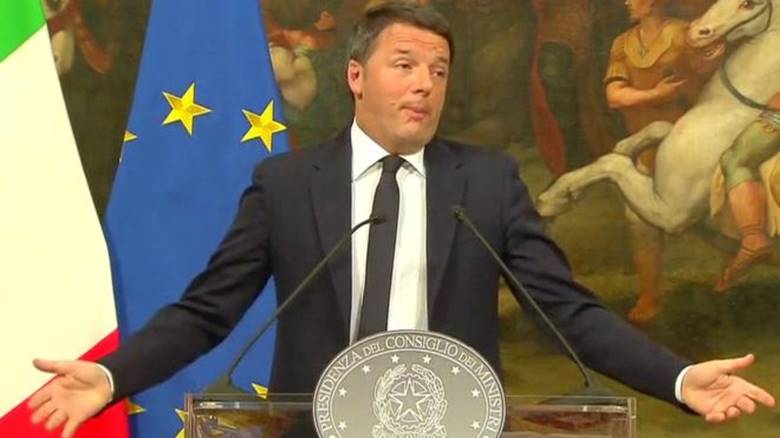 <![endif]>
"My experience of government finishes here" - Matteo Renzi after losing a reform referendum.
Photo above courtesy of Reuters
……………………………………………………………………………………….
A "No" vote, was championed by populist party 5 Star Movement1. The victorious No vote blocks proposed reforms to streamline Italy's public administration and leaves in place the extensive checks currently required in Italy's complex and very expensive political system.
Note 1. Leading the charge against Prime Minister Renzi's referendum is a comedian-turned politician Beppe Grillo, founder of the 5 Star Movement, which started in the wake of the 2008 global financial crisis and has gained strength as Italy's economy has struggled in the years since.
……………………………………………………………………………………….
Opinion:  The Curmudgeon believes that Renzi's resignation will lead to a period of intense uncertainty as Italy tries to form a new government.  That's significant because some Italian banks are teetering on the edge of insolvency (see Mauldin and Sperandeo comments below).
One of Italy's leading banks, Monte dei Paschi di Siena, is planning to sell new shares this week to shore up its balance sheet.  The bank needs to raise 5 billion euros by year end to avert the risk of closing (i.e. going bankrupt).
The referendum outcome could be taken as another sign of rising anti-establishment sentiment in the core of Europe, potentially eroding investor confidence in the euro ahead of elections in France and Germany next year.  Indeed, the euro is down approximately 1% vs the US dollar as this article is being submitted for publication.
John Mauldin's Comments (edited for clarity and conciseness): 
Many people think the real question is whether the current government should stay in power and whether Italy should remain in the Euro-zone.  Coming up with an answer isn't necessarily helpful when you can't even agree on the question. However, Italians vote, it may take some time to figure out exactly what the result means to Italy, the Euro-zone, the EU, and the global economy. I am confident that the ultimate outcome won't be good, no matter what they choose. The problems are deeper than simple structural reform can cure.
Politically and economically, Italy is an ungovernable mess heading straight for a Greek-style banking and debt crisis – but with an Italian flare.
Viewed from a historical perspective, this prospect shouldn't surprise anyone. The territory we now call Italy was a shifting collection of smaller city-states for centuries. They came together as a Republic only after World War II, so they still have some issues to sort out. Creating a stable banking system is high on the list. But Italy can't have that until it has a stable political system, which has been elusive: Italy has had 65 different governments in the postwar era. They last just over a year, on average.
Italy's economy and markets increasingly depend on electoral politics, geopolitics, and politically charged policy decisions. That's just a fact of life now, one I suspect Italians must accept for many years to come.
Now, it's true that economic forces usually prevail over politicians in the long run. How long is that? I'd say a generation – twenty years or more. But political forces are very important if we're trying to forecast the next twelve months or the next five years. Ignoring them is not an option.
It's not just Italy, either. Political, economic, and social changes are afoot almost everywhere in the world. As an investor, what are you to do when these inputs are crash-landing on your portfolio?
There is a high degree of probability (approaching 90%, I'd say) that Italy will experience a severe banking crisis in the next few quarters. Perhaps they can stave off the problem for a year, but something must be done about the banks. We'll go into that later in the letter, since the plight of the banking system is the root cause of all the country's other problems. Without a banking crisis, Italy would still be the political mess it has been for 65 years, but the banking mess turns the political mess into an economic mess.
There is a significant chance Italy will decide to leave the Euro-zone and/or the European Union in the next year or so. Is it likely? No, but we've seen less likely things happen recently. Just the discussion of the possibility could be destabilizing to markets that already have enough worries.
On the left side of the chart below, you can see that Italy's GDP per person has lagged the EU since 1995. Worse, it's been falling after 2009 (when the global recession supposedly ended) even as Italy's neighbors recovered.  The real drop-off in Italian economic performance began shortly after the introduction of the Euro in 19992 as can be seen from the chart on the left:
<![if !vml]>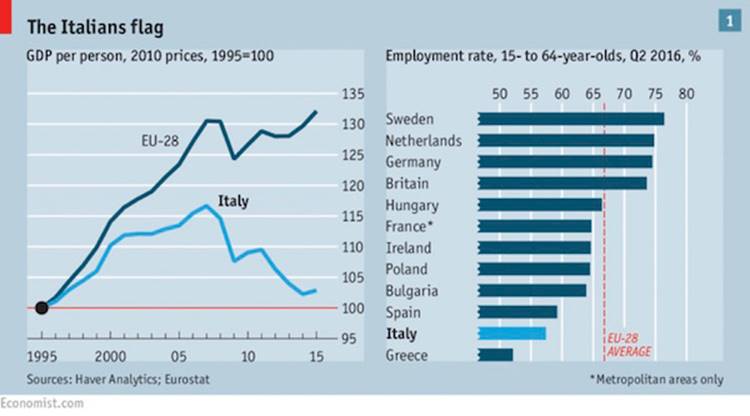 <![endif]>
Chart courtesy of Economist magazine.
Note 2.  Euro coins and currency were not put into circulation till January 1, 2002.  The Euro was used for electronic payments and selected banking transactions from 1999-2001.  During that time, each Euro-zone country continued to use their own currency.  For Italy, it was the Lira.
……………………………………………………………………………………….
Eighteen percent of the total loans made by Italian banks are now considered to be nonperforming. Nonperforming loans occur everywhere, of course, but not to this level. On an aggregated basis, the Italian banking system has less than 50% of the capital it would require to cover the bad debts. Estimates are that Italian banks may need €40 billion just to remain solvent.
Writing off a massive loan as a loss will render the bank insolvent, so instead it goes into "extend and pretend" mode, allowing endless payment delays on the flimsiest premises, hoping against hope that you will win the lottery and resume paying your loan. That's what is happening in Italy and indeed throughout Europe.
……………………………………………………………………………………….
Victor: EU is Terminally Ill!
A key theme that should continue is the "the end" of turning from the political establishment towards the liberty of the people throughout the world.
Thereby, the Italian referendum vote to change the Constitution this Sunday (today) should be a" NO" vote which will indicate a potential END of the European Union (EU) experiment.  There will be several critical elections in European countries in the new year that will "confirm the potential EU break-up" as several countries vote to leave the EU via a Brexit like referendum.    
Evidence is everywhere that the EU is terminal ill:
1. From a November 30, 2016 Zero Hedge blog post:                                                 
European Commission President, Jean-Claude Juncker issued a warning to Austrian presidential candidate Norbert Hofer, regarding referendums.  Hofer, an anti-immigration, candidate is in a tight race for the election coming up on December 4.  If he wins, Hofer said he would hold in-out referendums if Brussels seeks to expand it power.
2.  In a related article in the UK Daily Mail, "European president Jean-Claude Juncker pleads with EU leaders not to hold 'in-out' referendums - because voters will choose to LEAVE:"
Jean-Claude Juncker has urged EU leaders not to hold referendums on their membership of the bloc because he fears their voters will also choose to leave.
The European Commission president said giving people a vote would be 'unwise' as they could seek to replicate Brexit.
His remarks come as one of the contenders to become Austrian president has threatened to hold a referendum if the EU integrates further.
<![if !vml]>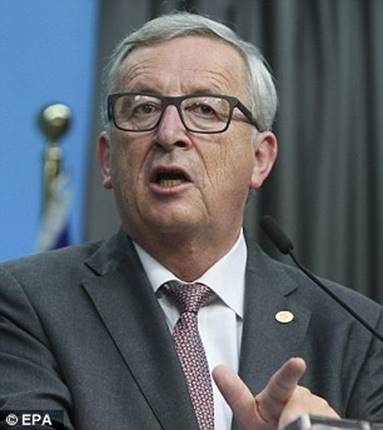 <![endif]>
European Commission President Jean-Claude Juncker has urged EU leaders not to hold referendums
The EU, like the Chinese Communist Politburo, can't ask the "people" what they democratically want even if it's in their best interest.  If it's not in the elites' best interests (or what they want), they might lose control of the people and their POWER!
This is insolence expanded to the point of suicide for the EU. It should be clear the European Commission is appointed (the EU people don't vote for them). Thereby, they can't be fired!     
3.  France is a major nation that will maintain, or kill the EU if far right candidate Marine Le Pen (of the National Front party) wins the French Presidential elections in April 2017.
Former UK Prime Minister David Cameron seems to concur.  He told the UK Independent that a "Le Pen win would be a "body blow" for the European project."  Mr. Cameron also said he was hoping for a victory of "a mainstream party that can unite people behind their candidacy" in April's presidential elections in France.
An EU break-up would be a major "deflationary" negative that will lead to depression, then hyperinflation.
[The election in the US may have the opposite effect as Trump's fiscal policies are "inflationary."  However, they will not be enacted until June-September time frame at the earliest.  I've previously written that those policies (what we know of them) will be bullish for US GDP and stocks, but we're in pause or wait and see mode right now.]
Victor's Conclusions:
The ECB backing all the pretty engraved paper (fiat) money has brought CONFIDENCE in the EU.  If that's lost, the game is over. 
Curmudgeon Note:  I'm surprised the Euro hasn't sunk to parity with the US dollar (or lower) in view of the ECB's continuing monthly QE, negative short term interest rates, and Draghi's "talk the talk." Meanwhile, the Fed is poised to finally raise rates again at the December FOMC meeting.
……………………………………………………………………………………….
Europe is heading into a perfect storm within the next seven months where confidence will be effectively voted on by the people.
Central banks have failed long ago to create growth, but they fool themselves pretending that keeping the (paper) game going will somehow solve the problem of getting out of the mess they got us into.

The major Italian banks are bankrupt, Italy is the third largest sovereign bond issuing nation on earth, and they have a 132.8 debt to GDP ratio.

This is Greece to the 10th power in nominal size. everyone should be concerned.
Figuratively, it looks like ECB President Mario Draghi is about to meet the Duke of Wellington and Gebhard Leberecht von Blόcher (a Prussian field marshal) at the battle of Waterloo. Perhaps he'll win, but it's not the way to bet.
……………………………………………………………………………………….

On Sunday, Austria voted against the Freedom party's Norbert Hofner, which is a plus for the EU.
……………………………………………………………………………………….
End Quote:
Permit me to quote the long time Wall Street researcher and author Doug Casey as stated in the Coming Collapse of the World's Biggest Economy:
"Oddly, the Europeans can't seem to imagine a libertarian alternative of private charities, limited government, minimal taxes, an unregulated economy, and intellectual/psychological freedom. It's another reason the Continent is a sinking ship." --- And this "ship" is far bigger than the Titanic.
Good luck and till next time...
The Curmudgeon
ajwdct@sbumail.com
Follow the Curmudgeon on Twitter @ajwdct247
Curmudgeon is a retired investment professional. He has been involved in financial markets since 1968 (yes, he cut his teeth on the 1968-1974 bear market), became an SEC Registered Investment Advisor in 1995, and received the Chartered Financial Analyst designation from AIMR (now CFA Institute) in 1996. He managed hedged equity and alternative (non-correlated) investment accounts for clients from 1992-2005.
Victor Sperandeo is a historian, economist and financial innovator who has re-invented himself and the companies he's owned (since 1971) to profit in the ever changing and arcane world of markets, economies and government policies.  Victor started his Wall Street career in 1966 and began trading for a living in 1968. As President and CEO of Alpha Financial Technologies LLC, Sperandeo oversees the firm's research and development platform, which is used to create innovative solutions for different futures markets, risk parameters and other factors.
Copyright © 2016 by the Curmudgeon and Marc Sexton. All rights reserved.
Readers are PROHIBITED from duplicating, copying, or reproducing article(s) written by The Curmudgeon and Victor Sperandeo without providing the URL of the original posted article(s).