Euphoric Bullish Sentiment on Wall Street Contrasts With Economic Pessimism on Main Street!

by The Curmudgeon
This rampant bullishness on stocks is off the charts and in sharp contrast to the pervasive pessimism of the general public, corporate insiders, and company finance departments that have cut back on capital spending.
Checkout the Barron's cover story this week: DOW 16,000 in large font with a glowing picture:
<![if !supportLineBreakNewLine]>
<![endif]>
<![if !vml]>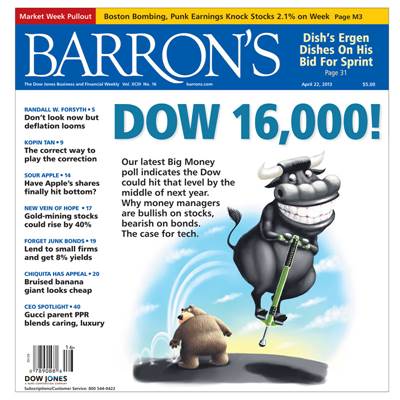 <![endif]>
<![if !supportLineBreakNewLine]>
<![endif]>
"The stock market isn't the only thing that has set records this spring. Barron's semiannual Big Money poll of professional investors also is setting a record — for bullishness, that is. In our latest survey, 74% of money managers identify themselves as bullish or very bullish about the prospects for U.S. stocks — an all-time high for Big Money, going back more than 20 years. What's more, about a third of managers expect the Dow Jones industrials to scale the 16,000 level by the middle of next year, notwithstanding a dismal week of selling that left the blue-chip index at 14,547.51 on Friday."

Here are some more eye-popping bullish data points:
<![if !supportLists]>· <![endif]>A mere 7% of respondents were bearish, compared to 27% last fall.
<![if !supportLists]>· <![endif]>86% are bullish on stocks for the next 12 months
<![if !supportLists]>· <![endif]>94% are bullish for the next 5 years
<![if !supportLists]>· <![endif]>Real estate has similar approval ratings
"Robert Lutts of Cabot Money Management expects the Dow to scale to 17,500 by mid 2014."  He says, "The amount of money that's playing defensive is astronomical."
Indeed, the new Barron's Big Money Poll bullishness is just the opposite of the bearishness expressed in the last poll:  Bye-Bye, Bull?  OCTOBER 29, 2012:
"Bearishness rises among Big Money poll respondents, who see Obama winning, but think Romney would be better for stocks.  Economic, political and fiscal worries boost pessimism among respondents to Barron's Big Money poll."
That pessimism was definitely misplaced as the U.S. stock market has rallied sharply in the last six months with new all-time highs in many of the popular indices.  Could the just announced Big Money Poll be equally WRONG?
Let's now look at inflows into U.S. stock mutual funds and ETFs in the last week and first quarter of this year.
Mutual funds investing in U.S. stocks picked up $375 million of investor cash in the latest week, the lowest amount this year, according to Lipper. The prior week, investors sent $5.5 billion of cash into stock mutual funds.
ETFs investing in U.S. stocks took in $95.7 million in the week ended April 17. The previous week, ETFs lost $189 million of investor cash.  "Just when you think the party's over, ETF investors get involved," said Mr. Tjornehoj.
For the first quarter of 2013, U.S.-stock funds gathered inflows of $21.5 billion, marking the first positive quarter for the asset class since the beginning of 2011 and the best quarter since 2004. Investors continue to embrace international-stock funds, which took in $12.1 billion in March and $47.0 billion for the quarter.
Not to be outdone, investors sent $70.1 billion into ETFs and products during the first three months of the year, up 7% from a year ago, according to BlackRock, the world's biggest money manager by assets. Some $65 billion, or 93%, of those flows went to U.S. stock funds, marking the third best quarter on record for equity flows.
These inflows are the opposite from 2012, when investors withdrew $84 billion from stock funds and ETFs. In 2011, investors yanked $94 billion from those asset classes.
But look who's selling. Insider selling at the biggest technology companies hit a record pace over the last six months even as investors snatched up shares, pushing the Nasdaq Composite Index to a 12-year high. More than 55 million shares were sold versus 1,780 shares bought for a sell-buy ratio of an eye-popping 31,109 to 1 at the 10 biggest tech companies.
Let's check up on the mood of Main Street which doesn't reflect any bullishness at all!
Here's a recent article from Yahoo Finance: Americans Grow More Pessimistic on Economy

"Not surprisingly, the sluggish economy has led to increased pessimism among American consumers. According to a new Associated Press-GfK poll, only one in four Americans expects their financial situation to improve over the next year. And only 46% of Americans now approve of President Barack Obama's handling of the economy."
"The profit margins of big American corporations now have hit all-time highs. Meanwhile, when measured as a percent of the economy, the employee wages paid by these corporations have hit an all-time low. Unemployment, meanwhile, remains depressingly high."
Closing Comment:  The CURMUDGEON is now even more perplexed and bewildered by the sharp contrast between Wall Street and Main Street.  Who's got it right, the stock market or the real economy?   Place your bets -long, flat, or short!
Till next time.....................................
The Curmudgeon
Curmudgeon is a retired investment professional. He has been involved in financial markets since 1968 (yes, he cut his teeth on the 1968-1974 bear market), became an SEC Registered Investment Advisor in 1995, and received the Chartered Financial Analyst designation from AIMR (now CFA Institute) in 1996. He managed hedged equity and alternative (non-correlated) investment accounts for clients from 1992-2005.