Fewer Stocks Matching the Dow and S&P 500's New Record Highs

by The Curmudgeon
"We like to buy expectations and not prices," says Ryan Detrick, Sr. Technical Strategist at Schaeffer's Investment Research.  "As a bullish contrarian, Detrick loves nothing better than to buy stocks making new highs in the face of skepticism," according to this article.
But there's one huge fly in the ointment here:  new 52 week highs have been declining since January 2, 2013 when there were 454 on the NYSE.  On January 24th there were 424 new 52 week highs.  Yet at today's (April 10th) all time high closes in the DJI and S&P 500 (breakout above 2007 intra-day S&P 500 high), the total number of new 52 week highs were only 320. 
The New Highs-New Lows Index ($NYHL) measures the number of stocks that have reached new 52 week highs or lows on any given day. As a bull (or bear) trend expands, so should the bullish (or bearish) psychological stance of the majority of stock market participants. If "investors" think the bull trend is likely to continue, they'll buy stocks that have been rising and push them up over previous highs.  That's not happening now, as can be seen in the declining trend line in the $NYHL index as shown in the chart below:
<![if !vml]>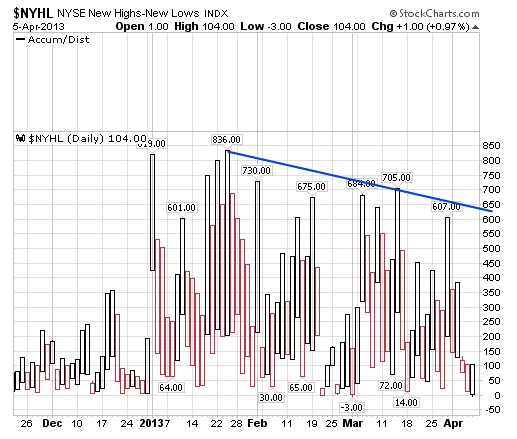 <![endif]>
                                                                                                       Stockcharts.com
CURMUDGEON COMMENT:  Have you noticed that in addition to contracting new 52 week highs during the powerful 2013 stock market rally, overseas markets in Canada, China, Hong Kong, Emerging Markets composite, etc. have broken down?  So have commodities (e.g. CRB index), especially copper and silver which are industrial metals.  Or that the minutes of the last Fed meeting hinted that QE Infinity could end by this summer?  (We doubt the Fed will take the punch bowl away anytime soon- the U.S. economy is too weak).
Are those potential problems or warning flags for the U.S. equity market?  Of course not!  In this market good news and bad news are both bullish for the market.  Sound familiar?  Check back to 1987, 1999, and 2007 when the same "never ending" bullish sentiment prevailed.  But remember, "this time it's different."
Till next time.....................................
The Curmudgeon
Curmudgeon is a retired investment professional. He has been involved in financial markets since 1968 (yes, he cut his teeth on the 1968-1974 bear market), became an SEC Registered Investment Advisor in 1995, and received the Chartered Financial Analyst designation from AIMR (now CFA Institute) in 1996. He managed hedged equity and alternative (non-correlated) investment accounts for clients from 1992-2005.