Integrity of "News Reporting" Has Become Extinct!

by Victor Sperandeo with the Curmudgeon
<![if !supportLineBreakNewLine]>
<![endif]>
Introduction (Curmudgeon):
It's important to distinguish "news reporting" from editorials, columns analyzing or taking a stand on an issue(s), and other opinion pieces.  "News reporting" should be objective, fair and balanced.  When information or facts are mentioned, the source or reference should always be cited.  Vagueness should be avoided at all costs.  We believe there is an OBLIGATION to cover important news items and ineffective government policies rather than cover them up to serve the media's vested interests.
For a very long time, Victor and I have felt that "news reporting" had greatly deteriorated.  That's largely due to the onslaught of biased TV and mainstream media press coverage of news stories, on line blogs and social media.  But the integrity of reporting seems to have hit new all-time lows recently.
Victor expands on this in essay format while the Curmudgeon recounts his disappointing experience critiquing two USA Today columns which we claim to be inaccurate and misleading.  We also ask if mainstream newspaper columnists (NOT investment papers/magazines like Investors Business Daily and Barron's) should be making "strong buy" recommendations.  We quote a leading blogger's assessment of on line media (the blogosphere) to amplify our point.  Victor ends with a stunning quote on "the delusion of the day" which we should all ponder and think about.
Discussion (Victor):
Let's review what information you might be reading in print or on-line or watching on TV:
1. There are stories where the reporter writes what is dictated to him by commentators or sponsors, which is actually an infomercial.
 
2. "Old school" reporting where investigative journalists "seek and search" for the truth and explain it based on the evidence collected.  It's best exemplified by the Bob Woodward and Carl Bernstein reporting of the Nixon administration's cover up of the Watergate in 1973-1974.  "Old school" reporters that find the truth is what the First Amendment allowed for and the public expected.  Sadly, it may be a "thing of the past."
3. "News stories" to fill space, without concern for accuracy is (unfortunately) what you generally read in most newspapers today.
<![if !supportLineBreakNewLine]>
<![endif]>
4. The writing for an agenda, to change people to the writer's point of view, which is effectively to disseminate propaganda.
Of course, writing novels and textbooks for education, and/or to develop a business within a blog niche are not much different than reporting on the news. Virtually all Hollywood movies also sell an agenda. Usually they paint a businessman as the greedy bad guy, and the green movement as the good.
I have found that virtually ALL magazines and newspapers of today are written to market an agenda. In the past, that was what the editorial page was for. But it's now become a virus that's infected the entire news source such that almost all "reporting" is biased rather than objective and balanced.
For example, the Economist and the Financial Times are now left wing news sources with a little Globalist Establishment mixed in for flavor.  In the US, The National Review and The Weekly Standard are full blown Establishment NEO-CON propaganda machines under the guise of being "conservative." None of the stories are objective, but simply brain-washing to the author's point of view.  Almost never is there a libertarian and/or a US Constitutional article to educate the reader to a different point of view.
Bloomberg Businessweek is a Michael Bloomberg mindset of government which is good.  It's a magazine that knows best what is right for you. Reason Magazine is libertarian and free market, along with the Barron's editorial page and Investors Business Daily (now weekly).  They are as close to "Free Market" as I know of.
………………………………………………………………..
Curmudgeon Add-On Note:  Fox News and Fox Business are far right conservative, while MSNBC tends to be left wing/liberal in their TV news reporting.  The Wall Street Journal (WSJ) has moved further to the right of the political spectrum since it was taken over by Rupert Murdoch's News Corp. several years ago.  The NY Times considers to be mostly liberal, but the news and analysis stories are more biased to the author's views than ever before.
Victor continues:  I cannot stress enough to not read anything without knowing "the source" of where the information comes from.  References and/or sources should be cited in the articles you read.  The facts being presented should be "crystal clear," rather than vague, nebulous or ambiguous.  
Unfortunately, the so called "press" or "main stream media" has deteriorated to that of an infomercial.  Statistics are usually structured to sell you something that is bogus, especially when it's from the government, which is always trying to make the US economy look better than it actually is.
With this background, let's look at an example in economic propaganda – a July 25th WSJ article titled "Nations Aim for Inclusive Growth," by Ian Talley and Mark Magnier. The article attempts to summarize the G-20 meeting for finance ministers and central bank governors, held July 23-24th in Chengdu, China (see pic below). 
<![if !vml]>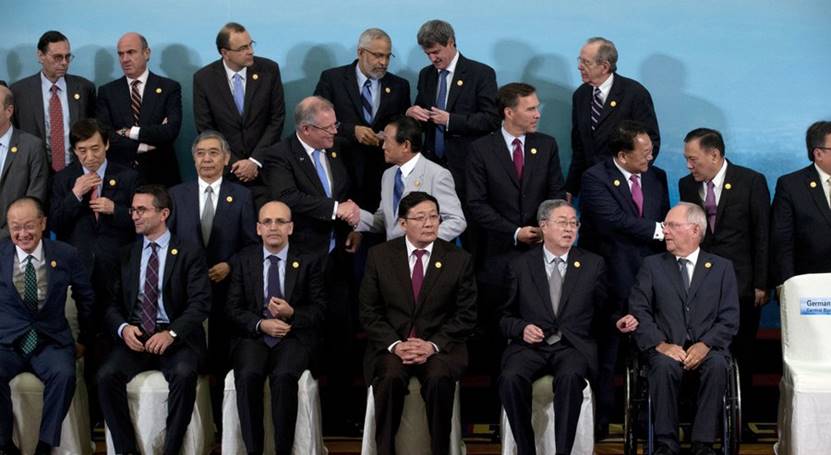 <![endif]>
Finance Ministers and Central Bank Governors of the 20 most developed economies met in the southwestern city of Chengdu on July 23-24, 2016.  Photo courtesy of the Associated Press.
………………………………………………………………………………………………….
Curmudgeon Note:  The communique (summary report) for that G20 meeting is here. 
The WSJ reporters wrote as dictated by the government authorities.  In other words, it was an infomercial (or parrot) for the G-20. The finance chiefs added the word "inclusive" growth to their statement and voila – the G-20 has now fixed the world's problems!  The word "Inclusive" was added due to a political backlash against globalization.
Here is a quote from US Treasury Secretary Jacob Lew that should make you laugh:  "The benefits of growth must accrue not just on the bottom lines of business and investors, but also in working families and the middle class." 
REALLY -WHAT A NOVEL IDEA OR PROFOUND DISCOVERY!  Lew's statement comes across as some sort of "new goal."  It's as if working families and the middle class were never before intended to share in economic growth?                                         
The WSJ reporters never ask how or why.  Perhaps, that was never their goal or intention.  Consider this article excerpt:  "Failure to address PERCEPTIONS of inequality both within and between countries could foster broader political momentum for nations to pull inward."
………………………………………………………………..
Sidebar: A Laughable Example of Income Inequality Personified
On Friday, July 29th, US 2nd quarter GDP was reported to be 1.2% (the consensus estimate of economists was 2.6%), while the 1st quarter GDP was revised down from 1.1% to 0.8%.  The Saturday, July 30th NY Times Business section lead story - "U.S. Economy Stays Stuck in Low Gear," by Nelson D Schwartz states:
The economic recovery may be durable, but it is anything but dynamic.  Weighed down by anemic business spending, overstocked factories and warehouses, and a surprisingly weak housing sector, the American economy barely improved this spring after its usual winter doldrums.
The April-June quarter was the third consecutive period in which the economy advanced at less than a 2 percent annual rate, the weakest stretch in four years.
The new economic data underscores the continuing frustration about the current growth cycle, which has now gone on for seven years — longer than most economic upswings — but which has repeatedly failed to break out into a higher orbit.
-->It's imperative to note that economic growth benefits workers and the middle class, which continue to struggle 7 ½ years into an economic expansion (if you believe <2% growth is an expansion?). 
Meanwhile, Wall Street celebrated this past week by pushing stock prices ever higher.  The S&P 500 and NDX 100 indexes closed at new all-time highs!  That's despite weaker economic growth this year and many consecutive quarters of negative profit growth (as the CURMUDGEON reported last week.)    
Note:  One pundit says that the US government won't allow stocks to fall before the November Presidential election.  Charles Payne said July 30th on the Fox Business TV show: "The Plunge Protection Team (PPT) will not allow stocks to decline till after the election."
The economy at a 1% economic growth rate in the first six months of 2016, while the S&P is now +6.34% and NDX +2.98% YTD (having recovered from a severely steep sell-off that ended February 11th, with the Dow and S&P 500 at or near two year lows).  Stock price gains mostly benefit wealthy people that own stock, equity mutual funds, ETFs, hedge funds, etc.  Higher stock prices don't help the working or middle class increase their standard of living through better jobs, increased wages, or formation of new business' where there's a reasonable Return on Investment (ROI).
Also, low interest rates benefit corporations, but not savers or retired folks that previously could live on their interest income.  QE, and zero (or negative) interest rate policies are truly trickle-down economics. Who gets the benefit of extraordinary low interest rates? 
<![if !supportLists]>· <![endif]>Not the average person who can't borrow at low rates.  Instead, people borrow at "credit card rates" range from 9.9%-29.5%.  A $9,028.88 credit card debt at 18.49% paying the minimum will take 21 years and cost an additional $21,171.00 to pay off.  The average credit card debt from the "2015 Household Credit Card Debt Study" was $15,762, mortgages $168,614, auto loans $27,141, and student loans $48,172.  Indeed, the rise in the cost of living has outpaced income growth over the past 12 years.
<![if !supportLineBreakNewLine]>
<![endif]>
<![if !supportLists]>· <![endif]>Corporate America surely benefits from low rates.  They are borrowing at 1-to-3% to buy back stock, pay dividends, and raise the price of their shares and stock options. In doing this companies are not investing in new plant, equipment/machines, or much of any capital improvements.  The 2nd Quarter 2016 GDP report noted that this was the third consecutive quarter of reduced business investment.  That's one big reason US productivity is so low.  More importantly, corporate financial engineering (like borrowing money to buy back shares) doesn't benefit the real economy and is largely counter-productive for economic growth.
Rising debt, low interest rates, globalism, and the mega trend towards socialism have collectively caused the minuscule rates of economic growth and contributed to income inequality.  Raising taxes along with overwhelming increases in regulation haven't helped either. 
Do you now think that "perceptions" of inequality" are being addressed in the US? Yet the mainstream media never seriously questions or critiques the flawed government policies that lead to even greater inequality.  Why not? 
………………………………………………………………………………………………...
Curmudgeon Comments:
The deterioration in main stream media reporting continues unchecked.   Victor and I found several errors in two USA Today columns1 which I summarized and sent to the newspaper's Accuracy Dept. (accuracy@usatoday.com) as two separate emails.  I also cc'd the Editor with a note that each email was a potential "Letter to the Editor." 
Note 1.  Please note that we're not picking on USA Today, but are only using this as an example of flawed journalism with no attempt by the editors to correct or even clarify what was written.
Despite our documentation showing the two articles were vague, without references, partially wrong and inaccurate, the reply received from Laura Petrecca, USA TODAY's NYC Bureau Chief only addressed the 1st stated:
 "We've reviewed your points and stand by the veracity of our reporting.  We invite you to submit a letter to the editor if you wish to point out anything else regarding this particular issue."
After submitting a more comprehensive "Letter to the Editor" that critiqued a misleading Mark Hulbert column on Gold2,  I didn't receive a reply from a real person (only an auto-reply that my message was received by the Editor).  
Note 2.  Interested readers are invited to email the Curmudgeon (ajwdct@sbumail.com) for a copy of that letter (.docx file).  
In sharp contrast, on July 29th the NY Times printed an article titled: Hedge Fund Calls New York Times Article a 'Distortion.'  The article summarizes Ray Dalio's response to the scathing NY Times article the day before on the environment at Bridgewater Associates – the world's largest hedge fund firm.
Separately, here's just one of many examples of "news analysis" that's actually an infomercial:
Facebook should be the core holding for tech investors, by John Shinal –  a July 29th USA Today analysis/evaluation of Facebook's earnings report and its stock appeal in light of the company's fast revenue growth.  Here are the first two sentences of the article: 
"Facebook's (FB) second-quarter financial results show why its shares should be among the one or two technology issues in every growth investor's portfolio.  The No. 1 social network's year-over-year revenue growth accelerated in the latest period to 59%, up from 52% in the first quarter."
Since when did mainstream newspaper columnists become sell side analysts issuing "strong buy" recommendations?  Why not just compare Facebook's growth rates and profit margins to those of Google, Amazon, and other Internet high fliers without making any stock recommendations?

Finally, we've observed that the blogosphere has sharply deteriorated into an "echo chamber" of sameness.  In a Q&A session in the July 30th NY Times, successful blogger Andrew Sullivan wrote:  
"Also, coming back to the (worldwide) web, I'm struck by how so many outlets are doing so many similar things. It feels to me that before, where we had a bunch of very different voices, in a kind of diverse cacophony, it's now one big algorithmic wave of sameness. You go from one site to another, and they're all chasing the same stories, the same quick hot takes." 
<![if !supportLineBreakNewLine]>
<![endif]>
-->Our thoughts exactly!
Victor's Conclusion:
What is the end goal and strategy?  This quote from Fredric Bastiat, a famous and great pamphlet and book written in the 1840's in French and later translated – The Law:   
"The delusion of the day is to enrich all classes at the expense of each other; it is to generalize plunder under pretense of organizing it.  Now, legal plunder may be exercised in an infinite multitude of ways.  Hence, come an infinite multitude of plans for organization: tariffs, protection, perquisites, gratuities, encouragements, progressive taxation, free public education, right to work, right to profit, right to wages, right to assistance, right to instruments of labor, gratuity of credit, etc.  And it is all these plans taken as a whole, with what they have in common, legal plunder, that takes the name of socialism."
This man would have been a great investor.
<![if !supportLineBreakNewLine]>
<![endif]>
Good luck and till next time...
The Curmudgeon
ajwdct@sbumail.com
Follow the Curmudgeon on Twitter @ajwdct247
Curmudgeon is a retired investment professional. He has been involved in financial markets since 1968 (yes, he cut his teeth on the 1968-1974 bear market), became an SEC Registered Investment Advisor in 1995, and received the Chartered Financial Analyst designation from AIMR (now CFA Institute) in 1996. He managed hedged equity and alternative (non-correlated) investment accounts for clients from 1992-2005.
Victor Sperandeo is a historian, economist and financial innovator who has re-invented himself and the companies he's owned (since 1971) to profit in the ever changing and arcane world of markets, economies and government policies.  Victor started his Wall Street career in 1966 and began trading for a living in 1968. As President and CEO of Alpha Financial Technologies LLC, Sperandeo oversees the firm's research and development platform, which is used to create innovative solutions for different futures markets, risk parameters and other factors.
Copyright © 2016 by the Curmudgeon and Marc Sexton. All rights reserved.
Readers are PROHIBITED from duplicating, copying, or reproducing article(s) written by The Curmudgeon and Victor Sperandeo without providing the URL of the original posted article(s).