Puerto Rico's Debt Crisis and How U.S. Government Could Help

by the Curmudgeon
Overview:
Popular with hedge funds, ETFs and mutual fund investors, Puerto Rico's "triple-tax-free" bonds have fallen hard due to the island's economic crisis.  The threat of default now looms large.
Puerto Rico's governor Alejandro Garcia Padilla stated last Monday that the budget gap is bigger than previously thought and Puerto Rico will not be able to repay its $73 billion of debt.  He said the U.S. territory needs to declare bankruptcy in order to restructure its debt, but bankruptcy is not an option for Puerto Rico under current law, and at this point it doesn't appear that the White House or Congress is willing to change the law.
Governor Garcia Padilla has called for the U.S. Congress to let the island's governmental entities file for municipal bankruptcy, which is currently available only to local governmental units in the 50 states.  Congress has yet to act, but if it changes the law to give Puerto Rico access to Chapter 9 bankruptcy proceedings, its bonds could be at risk.  Most Puerto Rico bonds are uninsured, experts say, exposing institutional bondholders to significant cuts in interest payments in the event of a bankruptcy.
<![if !vml]>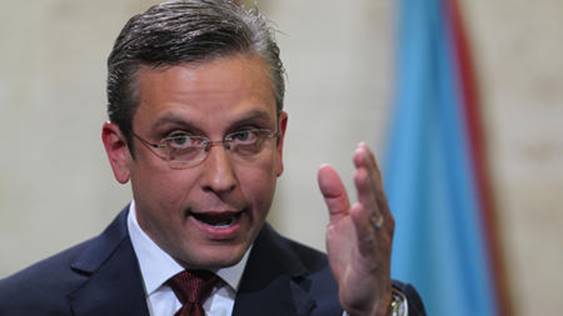 <![endif]>
CAPTION:  Puerto Rico Gov. Alejandro Garcia Padilla speaking about the island's $73B debt                                              
Sidebar:   Puerto Rico's Uncertain Status as a U.S. Territory
Puerto Rico (PR) is between a rock and a hard place.  It has been for a long time (at least since The Curmudgeon lived and worked there in the summer of 1967).  PR became a U.S. territory in 1898, when it was acquired from Spain after the Spanish-American War.
People who are born in PR are U.S. citizens and travel internationally on a U.S. passport.  They pay IRS income taxes, serve in the U.S. military, vote in the Presidential Primaries but NOT in the Presidential election (as only States have electoral votes).  PR is subject to all U.S. federal laws, even if some hurt the island economically (see discussion below).
With approximately 3.5 million residents, PR is the most highly populated of all U.S. territories. It has more U.S. citizens living there than 21 U.S. states!
The power of Congress over territories is exclusive and complete, as described under Article IV of the Constitution:  "The Congress shall have the power to dispose of and make all needful rules and regulations respecting the territory or other property belonging to the United States." Some say that a law passed by Congress in 1952 changed Puerto Rico's Constitutional status from a territory to a "Commonwealth."  However, the term "commonwealth" has no special legal status in the United States.  A compendium of official government statements on PR's status as a U.S. territory is here.

How PR's Finances Deteriorated:
<![if !supportLineBreakNewLine]>
<![endif]>
Experts offer various reasons for Puerto Rico's downward financial spiral. They include decades of poor fiscal management, failure to build up the tourism industry to its full potential, an oil-dependent energy sector, and the phasing out in 2006 of an IRS tax code that offered incentives to U.S. firms operating on the island. That led to job losses when firms moved elsewhere.  Through it all, successive administrations piled on debt by selling more bonds to pay the bills.
Since 2000 PR's public debt has risen from 60% of gross domestic product to more than 100%.  PREPA, Puerto Rico's troubled electric power authority, has ~ $9 billion.  Other large public enterprises that have outstanding debt, provide highways, drinking water, ports and telephone service on the island.
Puerto Rico avoided a July 1st default as it paid back $645 million of general obligation bonds as well as $415 million for bonds associated with PREPA. It also managed to pay back a short-term bank loan of about $245 million.
Ratings Cut & Investment Implications=>Haircuts Coming:
S&P recently said default by Puerto Rico was inevitable and cut the rating of Puerto Rico's debt two notches to CCC-minus from CCC-plus. Even without bankruptcy, experts say it's extremely unlikely that Puerto Rico can meet its obligations without reducing its overall debt load. 
More than 52% of U.S. municipal bond funds have exposure to Puerto Rico, according to Morningstar. If the island's debt crisis descends further, those funds that have a large exposure to PR bonds could take a hit in the marketplace.   However, Matt Fabian, Managing Director of Municipal Market Advisors, said Puerto Rico debt investors have been limited mostly to sophisticated hedge funds in recent years.   Many hedge funds are quick to sue governments that default on debt payments. One case in point: Hedge funds have sued Argentina over it in 2001.
"Either they have to put major austerity onto a deeply economically distressed population, raise taxes — which is only going to collapse the economy further — or cut their debt," Fabian said. "So, really, the only choice possible is for deep cuts across their entire debt structure."
"The question now is how bad will the losses be when they occur, not so much if they occur," says Michael Comes, a portfolio manager at Cumberland Advisors. He says the market is now predicting Puerto Rico will be able to pay roughly 50 cents on the dollar, which would be "a larger haircut for bondholders than Detroit [and] "the largest restructuring in municipal history."
Exiting the Island:
<![if !supportLineBreakNewLine]>
<![endif]>
The LA Times reports that many young people are leaving the island. 
<![if !supportLineBreakNewLine]>
<![endif]>
One woman in a commercial building, who would not give her name because she did not want to anger her boss, grew teary-eyed as she spoke of her plan to leave PR for the U.S. mainland.  "I have two master's degrees and I'm working as a receptionist," said the woman, who is taking a teaching job in Milwaukee next year. It is the first step in launching a new life on the mainland. "I know it's freezing there," she said, "but it's only for a year."
What Should Congress & the U.S. Treasury Due to Help PR:
<![if !supportLineBreakNewLine]>
<![endif]>
Congress could help PR by progressing recent legislation known as H.R.870 - Puerto Rico Chapter 9 Uniformity Act of 2015 that would extend the provisions of U.S. bankruptcy law to Puerto Rico (Amends the federal bankruptcy code to treat Puerto Rico as a state under chapter 9 –"Adjustment of the Debts of a Municipality").   Such protection would not be a bailout, but would enable an orderly restructuring of Puerto Rico's debts.
Congress should also create an independent financial control board with the power to approve the long-term fiscal plans that Puerto Rico needs.  In many cases, PR needs less U.S. federal government oversight.  For example, laws that require mainland cargo to be carried on U.S.-flagged and -crewed ships depress trade.  The federal minimum wage puts Puerto Rican businesses at a disadvantage relative to its immediate neighbors in the Caribbean (e.g. Dominican Republic, Jamaica, etc.).
The NY Times reported that PR officials and their lawyers proposed that the U.S. Treasury guarantee some of the island's bonds to lower its borrowing costs, people briefed on the matter said. The Treasury rejected the idea, the people said.  We say it's time for the Treasury to reconsider that and selectively guarantee PR's bonds, especially now that there will be much less institutional investor demand. 
Note that the ECB and IMF bailed out Greece to help it stay in the EU.  Enabling PR to restructure its debt under Chapter 9 bankruptcy protection and guaranteeing some of its debt would be a step in the right direction for our federal government to help our #1 U.S. territory!
<![if !supportLineBreakNewLine]>
<![endif]>
Till next time...
The Curmudgeon
ajwdct@sbumail.com
Follow the Curmudgeon on Twitter @ajwdct247
Curmudgeon is a retired investment professional. He has been involved in financial markets since 1968 (yes, he cut his teeth on the 1968-1974 bear market), became an SEC Registered Investment Advisor in 1995, and received the Chartered Financial Analyst designation from AIMR (now CFA Institute) in 1996. He managed hedged equity and alternative (non-correlated) investment accounts for clients from 1992-2005.
Victor Sperandeo is a historian, economist and financial innovator who has re-invented himself and the companies he's owned (since 1971) to profit in the ever changing and arcane world of markets, economies and government policies.  Victor started his Wall Street career in 1966 and began trading for a living in 1968. As President and CEO of Alpha Financial Technologies LLC, Sperandeo oversees the firm's research and development platform, which is used to create innovative solutions for different futures markets, risk parameters and other factors.
Copyright © 2015 by the Curmudgeon and Marc Sexton. All rights reserved.
Readers are PROHIBITED from duplicating, copying, or reproducing article(s) written by The Curmudgeon and Victor Sperandeo without providing the URL of the original posted article(s).