June Jobs Report Indicates Six-year Economic Expansion is an Illusion

by the Curmudgeon
Executive Summary:
On Thursday, the BLS reported that nonfarm payrolls rose a seasonally adjusted 223,000 in June.  The pre-release consensus expectations of economists had been 233,000.  The average workweek remained 34.5 hours, unchanged both from May and a year earlier.  Wages were flat, while the unemployment rate fell to 5.3% in June, compared to 5.5% in May. 
Manufacturing jobs grew by just 4,000 last month. Construction and government employment—typically better-paying jobs—were unchanged. Job growth in June was instead concentrated in services. Retailers added 33,000 jobs to payrolls, the health-care sector added 40,000 and leisure and hospitality increased by 22,000.
Declining Unemployment Rate due to Labor Force Dropouts:
The small drop in the unemployment rate was largely due to discouraged workers dropping out of the labor force.  432,000 Americans dropped out of the labor force last month. The labor force participation rate declined fell to 62.6% in June from 62.9% in May, to reach its lowest level since 1977.
<![if !vml]>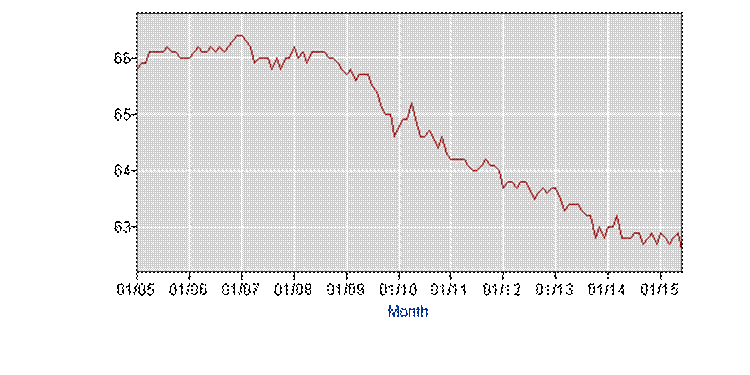 <![endif]>
BLS Labor Force Participation Rate (16 years and older)
Bureau of Labor Statistics Data
<![if !supportLineBreakNewLine]>
<![endif]>
April & May Jobs Revised DOWN:
Revisions to the prior months showed weaker job creation this spring than initially estimated.   Employers added 254,000 jobs in May, down from an initially reported 280,000. April's gain was revised to 187,000 from a previously reported 221,000. So far this year, the economy has added an average of 208,000 per month, a slowdown from last year's pace of 260,000 jobs added per month.  And that's six full years into an "economic recovery" What recovery?
Curmudgeon's Assessment:
<![if !supportLineBreakNewLine]>
<![endif]>
Six years after the economic "expansion" began, 8.3 million workers who wanted a job couldn't find one in June and another 6.5 million held part-time jobs, but prefer full-time work.   Average hourly earnings of private-sector workers was unchanged last month at $24.95. From a year earlier, wages were up 2%, about in line with wage gains for much of the current expansion.
A broad measure of unemployment that includes Americans stuck in part-time jobs or too discouraged to look for work fell to 10.5% in June from 10.8% in May.
The current expansion has already lasted longer than the average recovery since World War II and this month it will eclipse the length of the prior expansion at the start of this century.  Yet we still don't have strong growth in economic output, wages, or jobs.  Only the stock market has soared, based on artificial Fed stimulation and incredible financial engineering/chicanery.
In a normal business cycle, economic growth should be robust in the fourth or fifth year which would put upward pressure on wages.  Not this time around!
Other Voices:
"The labor markets just can't hit their stride," said Guy LeBas, an economist at Janey Capital Markets. "As has been the case with some many economic data points in the last few years, the headlines are decent, but most of the underlying details are deeply disappointing."
"It's encouraging that more Americans found work last month," House Speaker John Boehner said in a written statement, "but we must do better in order to achieve the sustained, robust economic growth we need. … Millions of Americans are still struggling to find a job or living paycheck to paycheck, and they deserve a better opportunity to get ahead."
"June is normally a seasonally strong month for labor force growth, as many new graduates and summer workers enter the labor force," Betsey Stevenson of the White House Council of Economic Advisers wrote in a blog post. "But this June, the labor force only rose 0.4 percent. Accordingly, the labor force contracted on a seasonally adjusted basis, reducing the labor force participation rate."
Nariman Behravesh, chief economist at IHS Global Insight: "This weakness [in wages], along with a historically low labor force participation rate, will bolster the arguments of those on the Federal Open Market Committee who think that there is still a lot of slack in the labor market."
John Williams of ShadowStats, commenting on the employment report: 
<![if !supportLineBreakNewLine]>
<![endif]>
"Headline labor detail was horrible.  The June payroll gain was just 163,000 net of a 60,000 downside revision to May payrolls.  The drop in unemployment from 5.5% to 5.3% reflected a decline of 375,000 unemployed, not due to their finding jobs, but because they left the headline labor force."
Neil Irwin of the NY Times on stagnating wage growth:  "Something has to give: Either employers will have to raise wages to coax more people into the labor force, creating a virtuous cycle of higher income growth and a larger economic pie, or job creation will have to slow way down to reflect the reality that the wages currently on offer aren't enough to persuade more people to work."
Conclusions:
Do you think a 38 year low in the labor participation rate was bad, especially six years into an economic recovery?  Well how about a 39.9% labor participation rate for 55+ year olds!  That astonishing statistic is from a table produced by Explistats.  It effectively means that over 60% of Americans 55 years or older either do not have a full or part time job or are not looking for one!
If the economic expansion is to accelerate into its seventh year (from the June 2009 start), employers need to boost wages to maintain the strong hiring pace and draw larger numbers of Americans back to the workplace.  Otherwise, Neil Irwin's prophecy will come true- job creation will slow to a crawl or actually reverse to a net loss!
Till next time...
The Curmudgeon
ajwdct@sbumail.com
Follow the Curmudgeon on Twitter @ajwdct247
Curmudgeon is a retired investment professional. He has been involved in financial markets since 1968 (yes, he cut his teeth on the 1968-1974 bear market), became an SEC Registered Investment Advisor in 1995, and received the Chartered Financial Analyst designation from AIMR (now CFA Institute) in 1996. He managed hedged equity and alternative (non-correlated) investment accounts for clients from 1992-2005.
Victor Sperandeo is a historian, economist and financial innovator who has re-invented himself and the companies he's owned (since 1971) to profit in the ever changing and arcane world of markets, economies and government policies.  Victor started his Wall Street career in 1966 and began trading for a living in 1968. As President and CEO of Alpha Financial Technologies LLC, Sperandeo oversees the firm's research and development platform, which is used to create innovative solutions for different futures markets, risk parameters and other factors.
Copyright © 2015 by the Curmudgeon and Marc Sexton. All rights reserved.
Readers are PROHIBITED from duplicating, copying, or reproducing article(s) written by The Curmudgeon and Victor Sperandeo without providing the URL of the original posted article(s).