Rebuttal and Counterpoints – Who's Protecting the American Worker?

by the Curmudgeon
The NYT Editorial:
"Factory Man" author Beth Macy provided several examples of the potential perils of the Trans Pacific Partnership (TPP) in a Thursday, NY Times editorial titled: Who's Speaking Up for the American Worker? 
[Note: Victor and I have written extensively about the TPP, including the just published "Trade Agreements NOT About Free Trade; TiSA Exposed."]     
Among Ms. Macy's more important points (quotation marks omitted for clarity):
Unfettered free trade has not only put the Henry County region near the top of Virginia's unemployment rankings for more than a decade, but it has also ushered in an era of soaring food insecurity and Social Security disability claims.
Even TPP proponents have acknowledged probable losses of factory jobs, especially in lower-skilled, labor-intensive manufacturing.
Most believe that TPP is simply the North American Free Trade Agreement "on steroids," a done deal driven by corporate greed-heads and the lobbyists they employ.
Consumers and journalists alike had failed to connect the dots between escalating crime in dying factory towns and page-three wire stories about Bangladesh textile factory fires.
How would the 1,350 workers at New Balance's Maine and Massachusetts factories fare, if faced with the elimination of tariffs on shoes made by Vietnamese workers who earn an average of $90 to $129 a month?
There are now more American workers on disability (8.9 million) than are working on assembly lines (8.6 million).
The biggest beneficiaries of unfettered free trade (via the TPP) are: the C.E.O. who now earns 300 times more than his average worker; the shareholders who expect quarter-after-quarter growth in corporate profits; the lawyers who helped devise the fine print in the TPP document and the lobbyists they hire who, if the leaks are to be believed, think nothing of cutting off the supply of new generic drugs for decades.
TPP will simply exacerbate income inequality (expressed as a "worry").
Anything this secretive (the TPP), and this marked by corporate influence, leaves little room for doubt: America's factory workers won't benefit from the TPP.
Curmudgeon's Reaction and Response:
This editorial hit a very raw nerve for the Curmudgeon, who has seen thousands of high tech engineering jobs disappear in Silicon Valley due to outsourcing to Asia.  [These days, real engineering is no longer considered "high tech" which is all about web/cloud software and mobile apps.  Almost all hardware design engineering has moved to Asia--more details below].  Curmudgeon tried to contact Ms. Macy, but couldn't find her email address.  While all her points are valid, they simply restate the obvious. 
What's missing is the far more serious consequences of these "free trade" pacts -- that many U.S. skilled jobs, including engineering design and high tech manufacturing, will be lost to Asian companies.  That's been happening for most of the past decade, but will surely pick up steam if TPP goes into effect.
Curmudgeon posted this entry on Ms. Macy's Facebook page: 
"Ms. Macy's NYT editorial is 100% valid, but restates the obvious: that American factory jobs were long ago lost to outsourcing and that's likely to continue with the TPP.  The key point missed: skilled jobs have already started to be out sourced to Asia (China, Taiwan, Korea, Malaysia, Singapore, Thailand, Vietnam, etc.) and that trend will GREATLY ACCELERATE if TPP is passed!"
"Already, Apple outsources the design and manufacturing of iPhones and iPads to China (Foxconn and Pegatron). Almost all other smart phones and tablets are ALL MADE IN Asia (China, Taiwan or South Korea)! The entire Wi-Fi Home Router and Access Points along with other Customer Premises Equipment are all made in Taiwan. Low cost compute servers and Ethernet switches (called "white boxes") are mostly made in China and Taiwan by Original Design Manufacturers (ODMs). There is very little IT equipment designed/ built/ manufactured in North America or Europe any more. That trend will surely accelerate with passage of the TPP!"
Expert Opinion & Effect of TPP on High Tech Manufacturing:
Former MIT President Susan Hockfield, PhD (Georgetown school of Medicine) has repeatedly remarked that bringing back high tech manufacturing is the key to igniting innovation in the U.S. Speaking at a Commonwealth Silicon Valley event in November 2011, Ms. Hockfield said: 
"It is imperative that the U.S. restart the virtuous cycle of invention and manufacturing......To make our economy grow, sell more goods to the world and replenish the work force, we need to restore manufacturing — not the assembly line jobs of the past, but the high-tech advanced manufacturing of the future."
Yet that manufacturing revival hasn't happened at all and is greatly threatened by outsourcing more U.S. engineering and manufacturing to Asia.   While the number of design and applications engineering jobs (NOT software) in the U.S. have been declining for years, there are still ~ 12 million manufacturing jobs remaining in the U.S.  Those jobs are on the line in the next wave of outsourcing.   Without a doubt, the TPP will open up countries like Vietnam and Malaysia to more U.S. Foreign Direct Investment (FDI) and outsourcing.  Let's look at Malaysia.
Malaysia has a population of about 30 million. U.S.-controlled multinational companies have already created 157,900 jobs, according to the BEA. 112,000 of those new jobs (about 71%) are in manufacturing. Of those manufacturing jobs, 83,000 are in manufacturing "computers and electronic products."  In addition, a Malaysian jobs website lists 3685 available Manufacturing/Production jobs,  1593 IT/Software, and 419 IT/Hardware jobs.  Think those numbers will increase or decrease if TPP passes?
<![if !vml]>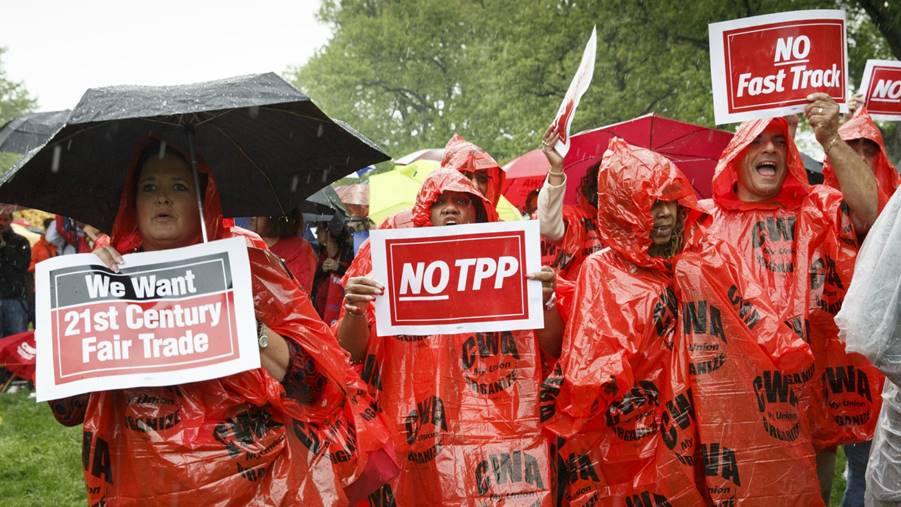 <![endif]>

The U.S. already has a large and growing trade deficit with the 11 other countries which are included in the TPP.  That deficit reached $265.1 billion in 2014. In sharp contrast, the United States had a small trade surplus with Mexico in 1993, before NAFTA took effect. Consequently, outsourcing to the TPP countries is a potentially much greater threat than it was under NAFTA with Mexico.
If China and India are allowed to join the TPP in the future, the threat of additional outsourcing will increase exponentially.  Shenzhen, China is already the hardware innovation capital of the world, while India leads in outsourced software and IT services.
Comment from Curmudgeon's Life Long Friend:
"The Globalization cat is out of the bag. There is no going back. Developed countries cannot compete in most low to moderately priced product and service sectors in which labor costs dominate.
Developed countries like the U.S. must sharply focus on ways to ensure their lead in productivity and innovation. That requires continuous investments in capital equipment, infrastructure, education and research.  U.S. has done a poor job in those areas with respect to government policy and industry investments.  In my opinion, trade treaties tend to accelerate transitions for lower value proposition industry sectors to be outsourced offshore.  In my opinion, trade treaties tend to accelerate transitions for lower value proposition industry sectors to be outsourced offshore.  
Foreign competitors also play a major role in acceleration of the trend.  Examples include steel, textile, and furniture. Trade treaties often exempt or lower duties for products which developing countries believe to be in their best interests."
Another Dissenting Opinion on the TPP:
Rev. Bruce Wright, President's Commission on Ending Homelessness, writes that The Trans-Pacific Partnership would increase poverty. 
"Major multinational corporations such as big drug companies, Walmart, Nike, Chevron, and others support the TPP because these 'trade barriers' prevent them from making the highest profit possible on their goods and services...From information gathered thus far it is known that the TPP would drive down wages even further, would further eliminate safety regulations and would ship more jobs overseas, including those in the service industry which employs many working-class and poor people in electronically-driven and telephone-oriented work. The TPP would also make it difficult to get necessary medications at affordable prices. Particularly, it would diminish significantly the use of generic drugs, which are the most affordable to those with low incomes."
"The TPP would make foreign investment in domestic real estate easier which would drive prices up, making affordable housing more difficult to find. In the end, the result of all of this would be a continued and potentially dramatic increase in poverty, unemployment, and homelessness due to decreasing wages, further joblessness, and increased health costs. This may not only be true domestically, but internationally as well. The TPP would accelerate the 'race to the bottom!'"
We end by using one of Victor's closing taglines:  "Let the reader be the judge."
Till next time...
The Curmudgeon
ajwdct@sbumail.com
Follow the Curmudgeon on Twitter @ajwdct247
Curmudgeon is a retired investment professional. He has been involved in financial markets since 1968 (yes, he cut his teeth on the 1968-1974 bear market), became an SEC Registered Investment Advisor in 1995, and received the Chartered Financial Analyst designation from AIMR (now CFA Institute) in 1996. He managed hedged equity and alternative (non-correlated) investment accounts for clients from 1992-2005.
Victor Sperandeo is a historian, economist and financial innovator who has re-invented himself and the companies he's owned (since 1971) to profit in the ever changing and arcane world of markets, economies and government policies.  Victor started his Wall Street career in 1966 and began trading for a living in 1968. As President and CEO of Alpha Financial Technologies LLC, Sperandeo oversees the firm's research and development platform, which is used to create innovative solutions for different futures markets, risk parameters and other factors.
Copyright © 2015 by the Curmudgeon and Marc Sexton. All rights reserved.
Readers are PROHIBITED from duplicating, copying, or reproducing article(s) written by The Curmudgeon and Victor Sperandeo without providing the URL of the original posted article(s).